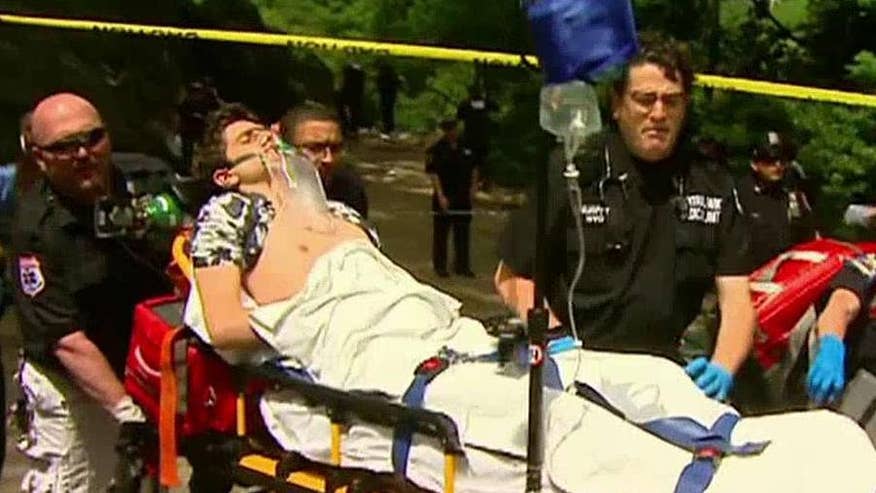 Doctors amputated the lower leg of a 19-year-old man visiting New York City after he stepped on something that exploded in Central Park, relatives said Monday.
Police said a forensics team would have results from a preliminary investigation into the explosive material within days, but they did not believe anybody planned to have a random victim stumble on it. They had previously described it as a homemade firework.
The blast injured Connor Golden, who was visiting the city from Fairfax County, Virginia.
"We don't know what happened, there was a small explosion and then dust," Connor's friends, Matthew Stabile and Thomas Hinds, told WUSA after they saw the blast.
"Were they expecting someone to just walk along there? It could have been a kid, it could have been anyone. It doesn't make sense to me," Connor's grandfather, Terence, told the news station. "I talked to my son last night and he is still pretty groggy and his parents are with him."
The commanding officer of the New York Police Department's bomb squad told reporters there was no indication it was made to harm people. Mark Torre likened the explosive to a household experiment from somebody with a basic understanding of chemistry.
Investigators don't believe Golden or his friends took part in constructing the explosive. They're asking anyone with information to come forward.
New York City Mayor Bill de Blasio warned people on Twitter to stay away from handling fireworks. He sent out a tweet saying, "Fireworks are fun -- but let's leave them to the professionals."
The explosion unfolded not far from a private memorial service for Holocaust survivor and author Elie Wiesel, though police said it was unrelated.
The Associated Press contributed to this report.