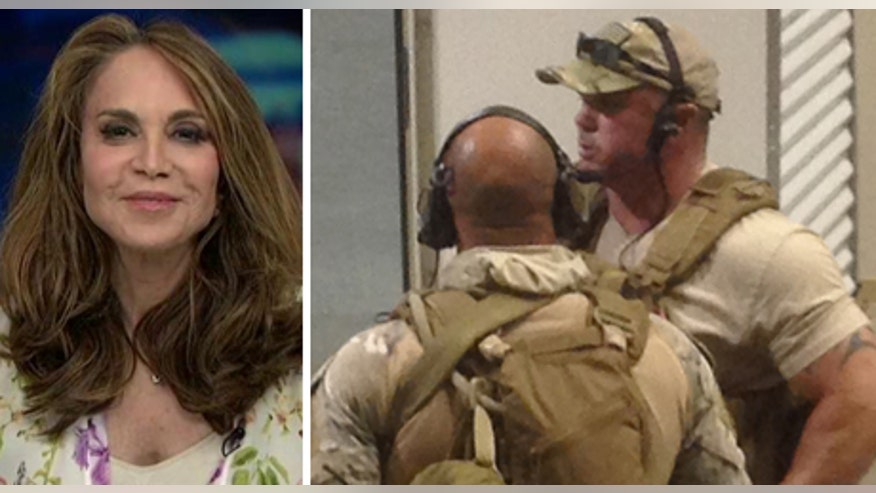 A Texas traffic cop saved untold lives Sunday night when he took down two heavily armed men bent on storming a building where a 'Draw the Prophet' Muhammad contest was taking place, killing both before they could make their way inside.
The police officer, who has not been identified by Garland Police Department officials, "probably saved lives," said police spokesman Joe Harn, who added that "his reaction, and his shooting with a pistol, he did a good job."
Harn said the two suspects, believed to have driven some 1,100 miles from Phoenix to invade the contest at a suburban Dallas venue, shot assault rifles outside, wounding a security guard and hitting at least one police car. Local police, a SWAT team, FBI and ATF agents were on hand for the event, attended by 75 people, which authorities anticipated could anger Muslim hardliners. Authorities in Garland said the men -- wearing body armor -- drove up to the Curtis Culwell Center on Sunday night and began shooting at a security officer with assault rifles.
Two tweets apparently sent out prior to the shooting from two social media accounts linked to radical Islam seemed to foreshadow the attack. One, sent at 6:35 p.m., some 15 minutes before the attack, used the hashtag #texasattack. "May Allah accept us as mujahideen," it said.
"We think [the suspects'] strategy was to get to the event center [and] into the event center," Harn said. "We were able to stop those men before they were able to... shoot anyone else."
But it was the unidentified Garland police officer, who spends most of his shift assigned to traffic duty, who killed both suspects, who were each dead at the scene.
"[The officer] did what he was trained to do," Harn said.
Police were searching a Phoenix apartment complex Monday as part of the investigation into the attack.
Police did not say whether the shooting was related to the event, a contest hosted by the New York-based American Freedom Defense Initiative (AFDI) that would award $10,000 for the best cartoon depicting the Prophet Muhammad.
The suspects were identified as Elton Simpson and Nadir Soofi, a senior federal law enforcement official told Fox News. The men were roommates.
Although the suspects' ties to a specific terrorist organization could not be immediately confirmed, Simpson was known to U.S. intelligence and had been part of a recent terror investigation for allegedly trying to travel to Africa, home of the Al Qaeda-linked militant group al-Shabaab, sources told Fox News.
Court documents show that a man named Elton Simpson was convicted in Phoenix of lying to the FBI in January 2010, about whether he'd discussed traveling to Somalia. According to trial testimony, Simpson is an American Muslim who became the subject of a criminal investigation in 2006 because of his association "with an individual whom the FBI believed was attempting to set up a terrorist cell in Arizona."
Simpson was convicted, but a judge ruled that prosecutors hadn't proven the false statement involved terrorism. Simpson was later sentenced to three years of probation.
FBI agents have been at the Phoenix apartment complex -- some 1,100 miles from the Garland, Texas, crime scene -- since late Sunday night and are reviewing computer records from materials found at the residence. Police tape continues to surround the area, KSAZ reports.
Agents had broken into a white minivan and spent hours looking at it, taking pictures and removing items. They're also are examining and photographing pages of a notebook or papers in the trunk of a second vehicle, a silver sedan. The sedan is parked in a covered spot near the building where the apartment is located.
Meanwhile, other FBI agents are knocking on the doors of other apartments to interview residents as Phoenix Police Department bomb squad members wearing protective armor and helmets continue to go in and out of the apartment being searched.
Authorities also are investigating Twitter messages from overseas posted prior to the event calling for violence. The tweets were posted by a 25-year-old American jihadi with al-Shabaab, investigators told Fox News.
Authorities also said Monday they were worried that the suspects' car in Garland could contain an incendiary device, but searches conducted on the vehicle turned up nothing but luggage, Harn said.
The Garland Independent School District, which owns and operates the Culwell Center, identified the wounded security officer as Bruce Joiner. The district said in a statement that Joiner -- who was shot in the ankle -- was treated and released from a local hospital.
The event featured speeches by Pamela Geller, president of the AFDI, and Geert Wilders, a Dutch lawmaker known for his outspoken criticism of Islam. Wilders received several standing ovations as he quoted former President Ronald Reagan and Texas founding father Sam Houston.
"Muhammad fought and terrorized people with the swords. Today, here in Garland, we fight Muhammad and his followers with the pen. And the pen, the drawings, will prove mightier than the sword," Wilders said during his speech.
Geller said during the event that her group had spent thousands of dollars on private security guards, several of whom could be seen standing on stage. Wilders left immediately after his speech, and Geller was not seen by an Associated Press reporter inside the hall after the shooting.
After the shooting, the attendees were escorted by authorities to another room in the conference center. A woman held up an American flag, and the crowd sang "God Bless America."
They were then taken to a separate location, where they were held for about two hours until they were questioned by FBI agents who took brief written statements from most people. Police officers drove some attendees to their homes and hotels, and arranged hotel rooms for others whose cars remained under lockdown.
The FBI is providing investigative assistance and bomb technician assistance, Dallas FBI spokeswoman Katherine Chaumont said.
Geller told the AP before Sunday's event that she planned the contest to make a stand for free speech in response to outcries and violence over drawings of Muhammad. Though it remained unclear several hours after the shooting whether it was related to event, she said Sunday night that the shooting showed how "needed our event really was."
In January, 12 people were killed by gunmen in an attack against the Paris office of the satirical newspaper Charlie Hebdo, which had lampooned Islam and other religions and used depictions of Muhammad. Another deadly shooting occurred the following month at a free speech event in Copenhagen featuring an artist who had caricatured the prophet.
Geller's group is known for mounting a campaign against the building of an Islamic center blocks from the World Trade Center site and for buying advertising space in cities across the U.S. criticizing Islam.
When a Chicago-based nonprofit held a January fundraiser in Garland designed to help Muslims combat negative depictions of their faith, Geller spearheaded about 1,000 picketers at the event. One chanted: "Go back to your own countries! We don't want you here!" Others held signs with messages such as, "Insult those who behead others," an apparent reference to recent beheadings by the militant group Islamic State.
Fox News' Catherine Herridge, Matt Dean and The Associated Press contributed to this report.
Click for more from Fox4News.com.