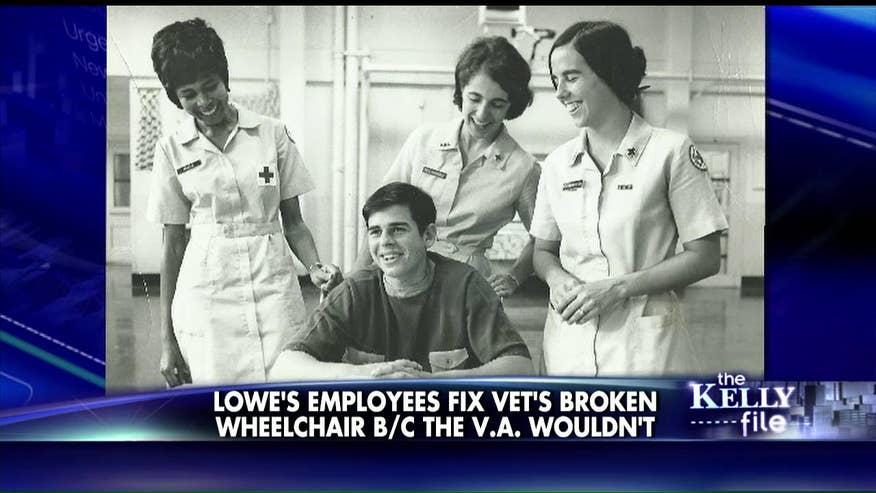 NEW YORK – Three employees at a Lowe's store on New York's Staten Island stayed well past closing time last week to repair a Vietnam veteran's wheelchair that he asked the Veterans Administration to replace two years ago.
"They said, 'You're not leaving till it's like new again,'" Michael Sulsona, the double-amputee veteran, said. The wheelchair apparently broke down in the store.
Sulsona, 62, who said up to that point he heard nothing from the VA about a replacement chair, but felt uplifted by the workers at the store. He sent a letter to his local newspaper, The Staten Island Advance, to publicly thank the employees who stayed at the store well past 10 p.m. and didn't charge him anything.
"I kept thanking them and all they could say was, 'It was our honor,'" he wrote. "The actions of these three employees at Lowe's showed me there are some who still believe in stepping to the plate. ... Someone needed help and they felt privileged to be given the opportunity."
[pullquote]
Sulsona, an ex-Marine, said he lost his legs in 1971 when he stepped on a landmine in Vietnam. After his letter to the newspaper, the VA got word of Sulsona and sent him a brand-new wheelchair Tuesday.
Sulsona's new chair arrived in the wake of months of scandal in the VA's health care unit over complaints nationwide of long wait times and poor patient care.
"We were very grateful that this was brought to our attention," said VA spokesman Jim Blue with the VA New York/New Jersey Healthcare Network. "Too many veterans wait too long to receive their health care and benefits and this has never been acceptable."
In a statement, Chris DiMaria, store manager at the Staten Island Lowe's, said he couldn't "be more proud of his team or company."
Sulsona said he is enjoying his new wheelchair and likened it to getting a new car. But he criticized the red tape that held up his new chair.
"This whole story is based around three good guys," Sulsona said. "I think it's really important that we all be like these people who wanted to help me; things would be so much easier."
Click for more from The Staten Island Advance
The Associated Press contributed to this report.