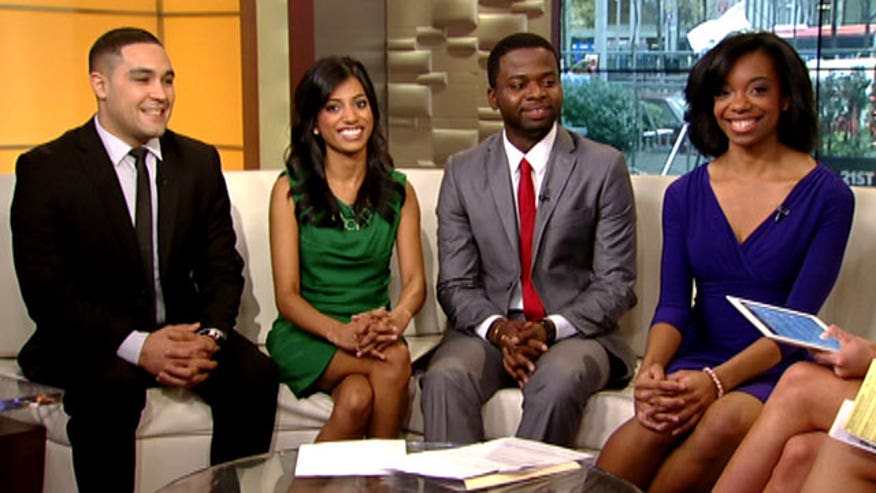 Inspiring success, one person at a time.
That's the message behind the Ailes Apprentice Program, now beginning its tenth year and celebrating its 2013 graduates. The new class of future news leaders was introduced during a commencement ceremony on Nov. 14. The 2013 apprentices — Terrell Brown, Sarah Kader, Stephen Hernandez and Joanna Preston — appeared on Fox & Friends on Friday to share their experiences in the program founded by Fox News Chairman & CEO Roger Ailes.
"It definitely opened up a lot of doors for me and just really reignited that fire within me," Hernandez told Elisabeth Hasselbeck and Maria Molina.
[pullquote]
Joanna Preston, who worked as an intern on Fox & Friends last year, lived in Washington, D.C., at the time and commuted on a bus four hours each way to New York. The grueling trip was well worth it though, she said.
"It was tough, I was tired but I wanted to do it because I really liked Fox and I wanted to work here," Preston said.
Since 2003, the Ailes Apprentice Program has focused on developing diversity candidates in broadcast and cable journalism via hands-on training, comprehensive mentoring, development seminars and partnerships with key universities. The one-year program features a full-time job with competitive salary, full benefits and a private lunch with Ailes himself. Developmental meetings and special online seminars with Fox News Channel and Fox Business Network executives are also included.
"The ultimate goal of our diversity programs is to provide lasting life changes for individuals and continued success for our company," Ailes said in a statement posted on the program's website. "I am proud of our company's achievements and I am even more proud of the individual achievements of our apprentices, who are part of these programs and who are helping to change the face of television. Our mission is to inspire success."
The program's new class of 2014 was also introduced at the ceremony. Breana Jones will work as a community engagement production assistant for FoxNews.com; Felipe Tognarelli will serve as a helpdesk analyst; Shavon White is a guest greeter for the Fox Business Network; and Megan Grogan will work as a production assistant for Fox News Edge.
For more information on the Ailes Apprentice Program, including how to apply, visit Fox News Careers at foxnews.com/careers.