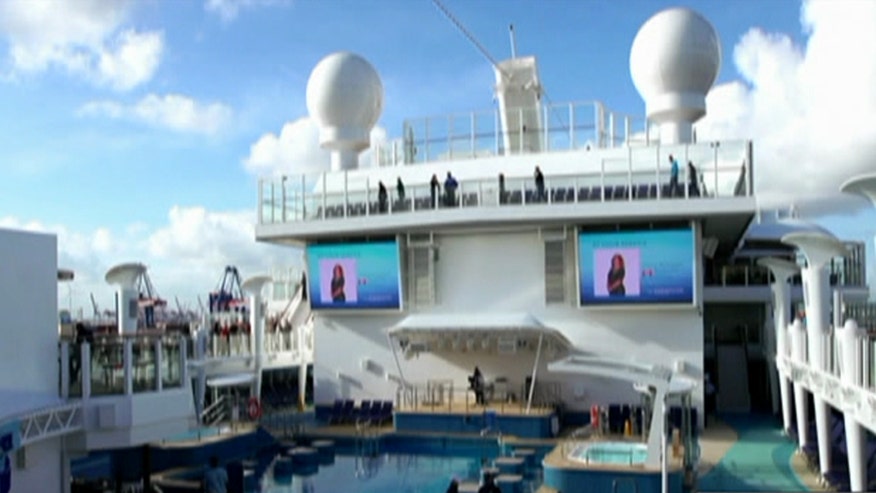 Norwegian Cruise Line Monday christened its newest and largest ship to date, the Norwegian Escape.
Miami native and musical superstar Pitbull, aka Armando Perez, was selected to serve as Godfather for the Norwegian Escape and was the headline performer at ceremonies in Miami.
The 4,200-passenger cruise ship arrived Sunday at PortMiami after 17 months of construction at the Meyer Werft shipyard in Germany.
At 1,065 feet long and 172 feet high, it's currently the world's fifth largest ship and an expanded version of Norwegian's recently unveiled Getaway.
It has 12 pools and hot tubs, 21 bars and lounges, and 28 different dining options. It features a spa with a cold "Snow Room" that produces 4 inches of powdery precipitation, a Broadway-like production of the musical "Million Dollar Quartet," and a three-story rope obstacle that includes a feature called the Plank, which extends eight feet over the ship's side.
Andy Stuart, chief operating officer of Norwegian Cruise Line, told FoxNews.com. the line is responding to the demands of thrill-seeking customers who want more to do while at sea.
"We're always exploring what people are really excited about on land and asking what's possible on ship," said Stuart."The ropes course is three stories high on top of a 20 story ship. So that's something that's really pretty exciting. The plank can go out 8 feet over the ship which is 20 stories high. It's pretty scary."
Among food and beverage highlights is the first Margaritaville restaurant at sea, the first restaurant by the chef Jose Garces on a ship and a draft-beer bar from the Miami microbrewery Wynwood Brewing Company.
"We've also partnered with a local group called The Food Republic, which really brings the most exciting items from the number of items on board this ship," Stuart said.
As with past Norwegian ships, Escape also will feature the line's signature "ship-within-a-ship" luxury suite area called The Haven. The space gives passengers a small, upscale ship experience, while offering all the options of a larger vessel.
"We saw that there was an opportunity for upscale travelers who like the good things in life, but they also like to have a wide range of choices. They can come stay in The Haven and everything is here," Stuart said."But then they can duck in and out of the cruise ship experience. They can go to the Broadway entertainment, they can dine within the 28 dining choices, if they have kids, the kids can participate in the Aqua Park."
The Escape will sail to the Caribbean for weekly seven day sailings starting on November 14th.