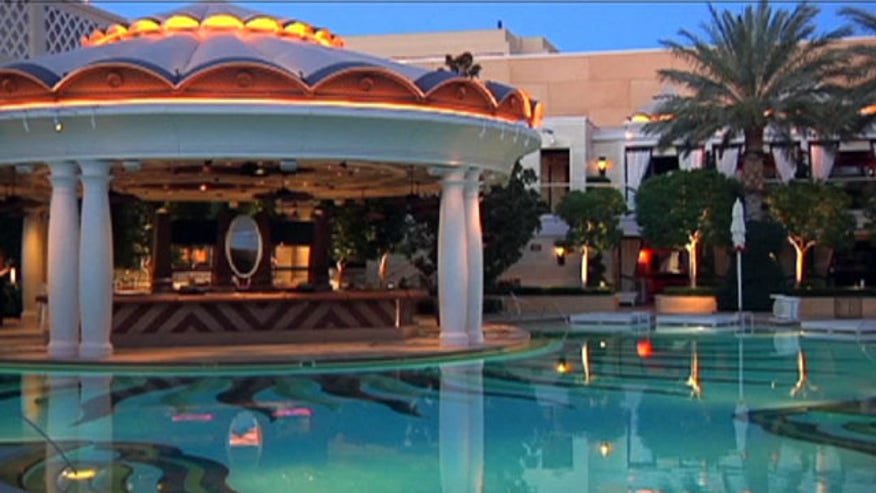 Losing a big hand at the table isn't the only way to blow some serious cash in Las Vegas.
Here are some over-the-top ways to spend a pretty penny in Sin City. Losing it may never feel so good.
1. Drone service at Marquee Nightclub and Day Club. If you're willing to spend about $20,000 in a single visit to the popular club, you have the option of a drone flying through the crowd to deliver bottles of liquor to your table. Talk about taking table service to new heights.
2. Control Bellagio's fountains at Hyde. What better way to feel like the king of The Strip than to control the world-famous Bellagio water fountains. The privilege doesn't come cheap. For a cool $250,000 you're treated to top VIP service at Hyde nightclub. You personally get the gold box that commands the fountains.
3. Champagne Showers at Daylight Beach Club. If drinking a ton of champagne isn't your thing, why not dance in it instead? At Daylight, dozens of bottles of Dom Perignon champagne can be sprayed all over you and your friends. At $5,000-$10,000, there's no better way to cool down in the Vegas heat.
4. Be a real "baller" at Palm's Hardwood Suite. VIP suites can be stiff and uptight, but not the Hardwood suite at the Palms Casino Resort. The 10,000 square foot Hardwood suite is centered around a full-sized, two story basketball court that's been home to a host of late night celebrity parties—many who have signed its infamous 'celebrity wall' inside. The fun starts around $25,000 a night.
5. Parisian class in Sin City at Chateau Nightclub and Gardens. If you want to party like you're in The City of Lights, it can be done in Vegas. Rent out Chateau's entire, private rooftop garden directly below the replica life-sized Eiffel Tower. The service is VIP and the mood is sophisticated and elegant. Pricing starts around $50,000.
6. Drive your dream car at Dream Racing. What better way to blow your cash than to blow off some steam in your dream, exotic car. Dream Racing's Full Throttle package allows you to race a non-street-legal Lamborghini, Ferrari or other exotic car for the day or about 40 laps around the professional racetrack. The price for this is $4,000.
7. A million dollar option at Club XS at WYNN. If money is no object, you might consider Club XS's $1 million Empire package, called the most expensive VIP package on the planet. It includes 18 bottles of ultra-premium Brut Gold and Rose "Dynastie" collection champagnes. The bottles range in size from 750 ML to the record-breaking 30L Midas bottles. XS collaborated with Armand de Brignac and the famed graffiti artist Alec Monopoly to bring the finest champagne to you.
Matt Finn is a Fox News correspondent based in the Chicago bureau. Follow him on Twitter: @MattFinnFNC