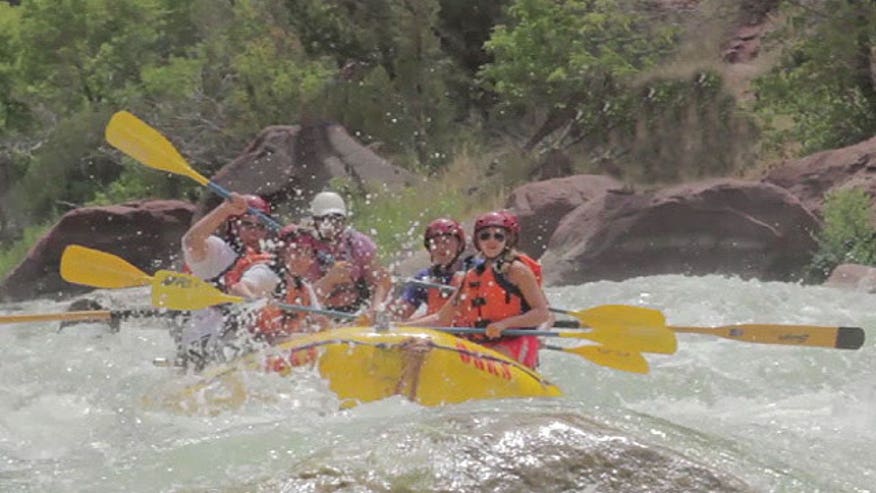 Think camping without the work. Think awesome rides without long theme park lines.
If you like outdoor adventures to include plenty of thrills, white water raft trips are for you. Someone else sweats the details, like what's for dinner or getting the camp site ready. That's not to say you can't bring kids—some trips are appropriate even for kindergartners. Lots of active seniors like to raft too, says the well-known rafting company OARS, which helped pioneer rafting in the West and has seen growing numbers of multigenerational groups sign on.
According to America Outdoors.org, five million Americans take to the rivers every summer.
A day rafting day trip can be less than $50 (the Dead River in Maine, for example). And there were plenty of thrills when we spent a day rafting on the Yellowstone River.
I've done plenty of multi-day raft trips too, from Costa Rica to British Columbia. The rafting company ROW Adventures offers trips as far away as Zimbabwe, just below Victoria Falls. OARS has trips in Bhutan and Chile. You'll find raft trips that focus on food, craft beer, yoga, painting water colors and kids.
Multi-day raft trips aren't cheap. They start at about $260 a day per person but this often includes all meals on the trip, drinks, camping gear, all rafting gear, and professional guides. Get your own group together and you might be able to get a discount. Kids typically are a little less. Dvorak Expeditions has kids-free trips in the West.
Here are four iconic raft trips closer to home that are guaranteed to please:
1. The Colorado River through the Grand Canyon. It's one of the most memorable trips I've ever taken. Arizona River Runners has been running these trips for more than 40 years. See views of the canyon walls, historic Indian ruins and take side hikes in the canyons. Motorized or oar rafts tours are available
2. The Salmon River in Idaho. Raft the Middle Fork through the heart of the largest single Wilderness Area in the U.S. or the Main Salmon, which has more moderate rapids, wide sandy beaches, and lots of wildlife—otter, Big Horn Sheep. Enjoy activities like trout fishing or dip in the hot springs. Both OARS and Row Adventures recommend the Main Salmon for families.
3. The Rogue River in Oregon. For a longer adventure, stay in lodges along the way if you prefer not to camp. Imagine hiking up to play under a big waterfall or watching bald eagles. This is also the place for OAR's Wine on the River, Craft Beer Tasting and Gourmet trips where you learn to prepare food by the river's edge-- and pair it with wines from the Northwest and California.
4. The Green River, Dinosaur National Monument in Colorado. This location is ideal for young families and first time rafters who want to see deep canyons, spectacular red rock formations, prehistoric fossils, petroglyphs and ancient American Indian ruins. There's lots of good hiking, too.
So, are you ready to forgo a theme park for a natural thrill this summer?
Eileen Ogintz is the creator of the syndicated column and website Taking the Kids. She is also the author of the ten-book Kid's Guide series to major American cities and the Great Smoky Mountains. The third-edition of the Kid's Guide to NYC has just been released.