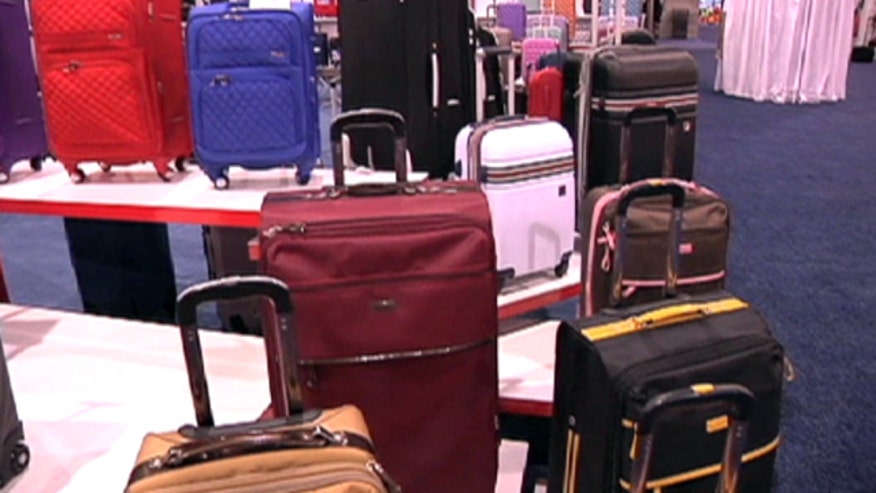 It might be time to ditch that bulky, black suitcase for a modern piece of luggage that almost guarantees an easier travel experience.
Hundreds of cutting edge travel products were unveiled this week at the massive Travel Goods Show in Phoenix. The products are designed with your comfort and safety in-mind.
Here's a look at just some of the newest items.
Safety First
Keep important document safe on the road. IWallet released a new line of lightweight aluminum wallets and passport cases that can be opened only with the swipe of your thumbprint. The cases also have GPS capabilities and protect your credit cards from being hacked while in your pocket.
Traveling to China anytime soon? ReadiMask offers paper thin, medical-grade masks that can instantly be adhered to your face to protect you from smoke or chemicals.
For those who want extra protection in a hotel room, the Door Jammer gives you a sense of security by easily adding an additional lock to any door. You just wedge the clamp underneath a closed door and it prevents it from being opened.
Comfort is Key
Many of us travel by pulling a standard, suitcase on wheels with an extendable handle. It serves its purpose, but after a long day of pulling it around you can end up with the dreaded lock arm and shoulder pain.
Pivotal unveiled an all-new line of bags with a 360-degree handle that swivels. It allows you to bend your arm and pull or push the bag in any direction. The design is such a hit it won first place at this year's Travel Goods Association Innovation Awards. Not bad for a company that is brand new.
Even if you're stuck at the airport, you can catch some shut eye. Nap Anywhere released an alternative to that bulky travel pillow you can never seem to find the room for. The Nap Anywhere starts out nearly paper thin. You bend it into the shape of your neck and it supports the entire weight of your head. Ideal for napping and preventing cramped necks during a long flight.
Travel in Style
Hit the jet way in style. Fashion designer Issac Mizrahi unveiled his first line of luggage in bright patterns, metallic and bold colors.
"There are a lot of people that are sick and tired of carrying plain black, wheeled boxes around," said Jamie Stoltz, Signal Brands associate designer. "They're looking for something that they can express themselves, their personalities, their fashion."
For fashion forward travelers of all ages, Cuties released a new line of animal-themed suitcases featuring built-in pillows, drink holder and lots of storage.
Made in the USA
Made in America is also a big theme in travel right now. Men's accessories company Randa and leather maker Korchmar both released new lines of luggage and accessories made right here in the U.S.
Randa Luggage president Frank Fenton told FoxNews.com the new production will create dozens if not hundreds of jobs across America.
"This is a great opportunity to launch new products but also reintroduce colors, patterns and things like that," said Fenton.
Matt Finn is a Fox News correspondent based in the Chicago bureau. Follow him on Twitter: @MattFinnFNC