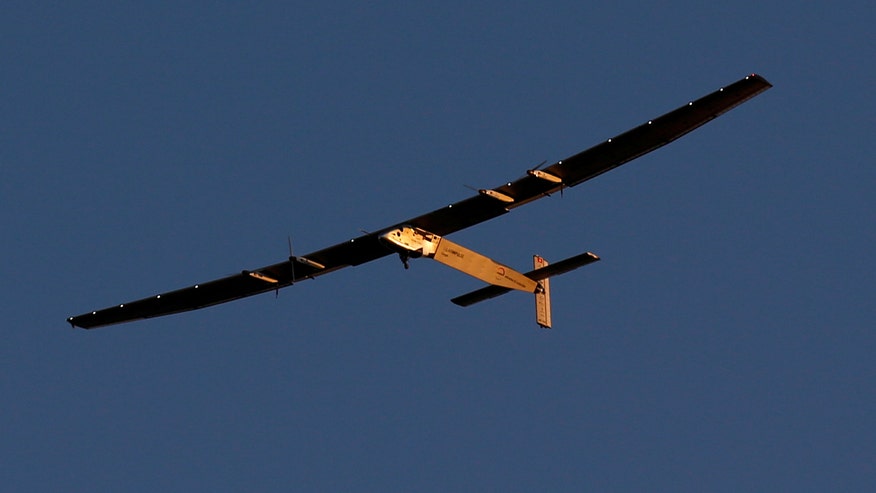 Solar Impulse 2 took off from Seville, Spain early Monday on the penultimate leg of its epic round-the-world journey, a two-day trek across the Mediterranean to Egypt.
Piloted by Andre Borschberg, the solar-powered plane left Seville Airport at 12:20 a.m. EDT. Solar Impulse 2 is expected to land at Cairo International Airport, at around 3 a.m. EDT Wednesday after a flight of approximately 2,200 miles.
Borschberg spoke to FoxNews.com from the cockpit of Solar Impulse 2 about 8 hours into the flight when the plane was flying over the Mediterranean north of Algeria. "It's not at all the same challenges that we went through flying over the ocean," said the pilot, who is taking turns with Solar Impulse Chairman Bertrand Piccard flying the single-seater around the world.
While Solar Impulse 2's historic flights across the Pacific and Atlantic were carefully planned around weather conditions, the biggest challenge for the Mediterranean leg is Europe's busy summertime air traffic.
"We have to work through corridors – we have to go around areas where the [air] traffic is intense," he told FoxNews.com. Solar Impulse 2, for example, has to avoid the many vacation-season flights over Spain's Balearic Islands.
The two-day, two-night flight to Cairo takes Solar Impulse 2 through the airspaces of Spain, Algeria, Tunisia, Malta, Greece, and Egypt.
Shortly after leaving Seville, Solar Impulse 2 flew over the Gemasolar Thermasolar plant in Southern Spain, which is partly owned by mission partner Masdar. "The memory of flying over [the solar power plant] was very strong," said Borschberg. "What they do is what we do with this airplane – produce energy from renewables."
Sun-powered #innovation on land & in the air! #SolarImpulse meets @Masdar 's 1st #CSP plant of its kind, #GemaSolar. pic.twitter.com/ZxrEk8R6hh

— SOLAR IMPULSE (@solarimpulse) July 11, 2016
A larger version of a single-seat prototype that first flew six years ago, Solar Impulse 2 is made of carbon fiber and has 17,248 solar cells built into the wing that supply the plane with renewable energy, via four motors. The solar cells recharge four lithium polymer batteries, which provide power for night flying.
Piloted by Piccard, Solar Impulse 2 became the first solar-powered plane to cross the Atlantic last month after flight of 71 hours and 8 minutes.
The flight from Seville to Cairo is the 16th leg of the global journey, which began when the plane took off from Abu Dhabi in March 2015. Borschberg broke a number of records on the eighth leg of Solar Impulse's 2 journey, landing in Hawaii on July 3 2015 after an incredible 4,480-mile, 118-hour flight from Japan. The journey shattered the record for longest solar-powered flight in terms of distance and duration. Borschberg also broke the record for longest non-stop solo flight without refueling, which previously stood at 76 hours and 45 minutes.
"The strongest experience was flying over the Pacific Ocean," he told FoxNews.com. "That was the first time that we had the airplane fly for such a duration … the intensity of emotion was extremely strong."
However, shortly after takeoff the plane experienced technical difficulties and the Solar Impulse team had to decide whether to continue the risky flight across a vast expanse of ocean or turn back to Japan. "You face moments where decisions are made based on sound analysis, but also, a bit of intuition," said Borschberg. "These are incredible moments and that is one that I will remember all my life."
The plane has travelled more than 22,743 miles since setting off on the first leg of the trip from Abu Dhabi to Oman, and has racked up over 460 hours of flight time.
Prior to its flight from Seville to Cairo, Solar Impulse 2 made stops in India, Myanmar, China, Japan, Hawaii, California, Phoenix, Tulsa, Dayton, Lehigh Valley, and New York. Piccard will fly the final leg of the odyssey from Cairo to Abu Dhabi.
Follow James Rogers on Twitter @jamesjrogers
The Associated Press contributed to this report.