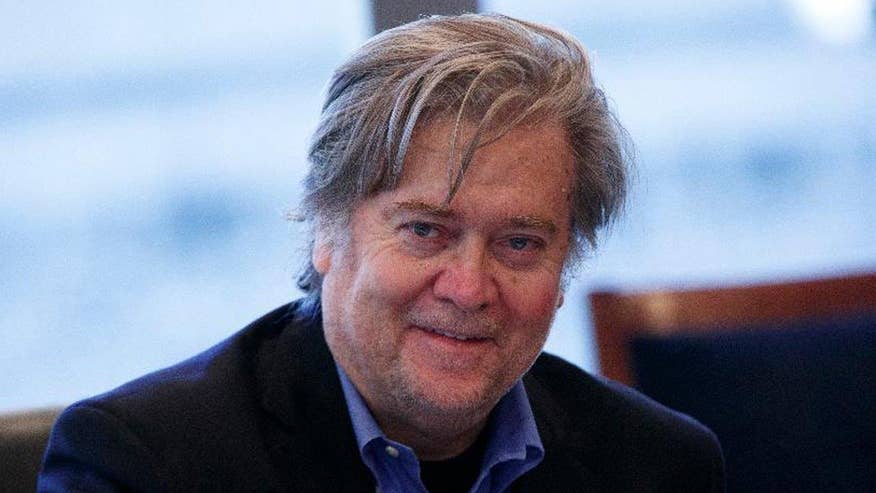 On Feb. 24, 1981, Ronald Reagan went to the Pentagon to give the Medal of Honor to Vietnam Vet Roy Benavidez. A main theme in the speech, given just a month after Reagan's inauguration, was to let military personnel know they mattered.
"There's been no 'thank you' for their sacrifice," Reagan said. "It's time to show pride in them and thank them."
In the audience that day was a young Steve Bannon, now special counsel to President Trump, but then a 27-year-old junior lieutenant in Pentagon operations. Bannon's longtime friend Sonny Masso was standing next to him that day, and says Reagan's nationalistic military message had a huge impact on both men.
"This speech was a game changer," Masso recently recalled, noting the difference between how President Carter had seemingly ignored their sacrifices during his time in office. "It was the first time somebody had shown appreciation. It was the first time somebody appreciated the investment of our lives of our time and also gave us an inspiration for the future."
"He's been at the low levels seeing what people are doing… and at the same time knowing what's going on at the high levels."

- Pat McKim, longtime friend of Steve Bannon
Bannon would later tell Bloomberg News Service: "I wasn't political until I got into the service and saw how badly Jimmy Carter f---ed things up. I became a huge Reagan admirer."
Bannon had joined the Navy in 1977, just as Carter took office, and in six months became an officer---an accomplishment he likes to point out he achieved on merit.
"I'm a naval officer--- a real naval officer," he told an audience in 2011 to laughter. "Not a graduate of the Naval Academy."
Bannon's naval career took on increased significance and scrutiny last November after he transitioned from campaign adviser and alt-right hero to a seat on the National Security Council.
"Having the chief strategist for the president in those meetings who has a significant military background to help guide what the president's final analysis is going to be is crucial," White House spokesman Sean Spicer told ABC News.
So exactly what is Bannon's significant military background and how will it be used to guide the President's analyses?
Bannon spent half of his seven-year Navy career on a now decommissioned Spruance-class destroyer, at the time called the Paul F. Foster. As a junior lieutenant, Bannon was in charge of engineering--- overseeing maintenance of the ship's water purifiers and propulsion engines.
Bannon would later move topside, where he became ship navigator, calculating precise coordinates to guide the ship around the Pacific and Indian oceans. It was here, he says he learned how to think.
"I understand one thing: mathematics," Bannon would tell a South Carolina Tea Party rally in 2016, "and the application of mathematics to the real world."
It makes sense to Dave Ziemba, who served with Bannon and was also a navigator on the Foster.
"Well, the whole process of navigation," he recently explained, "whether it's piloting in and out of port, or celestial navigation out in the open ocean involves a lot of mathematical disciplines from geometry to trigonometry and analysis and interpolation of data."
Bannon later used what he calls his mathematical mind to make millions as an investment banker for Goldman Sachs and as a Hollywood tycoon investing in blockbuster hits like "Seinfeld" before they became successful. His friends say it's the same empirical thinking that compels him to try to address what he sees as America's biggest problems: Debt and globalism.
It also informs his views on radical Islamic terrorism.
"We're now, I believe, at the beginning stages of a global war against Islamic fascism," Bannon said in a 2014 video conference to an audience at the Vatican
It's an apocalyptic stance that has many on the left labeling him an Islamaphobe.
But Bannon's also got enemies on the right, primarily for his vilification of Republican elites, who support what he calls crony capitalism.
"The bonus pool on Wall Street is going to be the same despite all the guys who contributed all the destruction," he said in 2011. "All their stock is worth a ton of money because we wiped them out and gave them free money. There's no recession in the Hamptons or D.C."
In the Navy, Bannon never saw actual combat. But he was at the helm of the Foster as it accompanied the USS Nimitz into the Persian Gulf in the spring of 1980. The Nimitz carried the helicopters and crew of Operation Eagle Claw----the doomed rescue operation of the Iranian hostage crisis.
Masso, who was also on the Foster, said neither knew until later the small role they had played in the failed mission. But it certainly affected Bannon's view of President Carter.
"[Steve] lost confidence, as a lot of the nation did, between the Iranian the hostage crisis, the economy and a botched mission. It was embarrassing, and it made a difference [in how Steve viewed President Carter,]" Masso said.
A few months later Bannon was at the Pentagon, serving on the staff of Chief of Naval Operations Capt. J. Arnold.
"[Bannon] was a very good problem solver," Arnold recently recalled. "When I had a problem that I needed help on, he was a good guy to go to. And he knew people in the Pentagon who knew the answers when I needed answers."
It was around this time Masso says Bannon became politically engaged, recalling watching a Carter-Reagan debate in October of 1980.
"He behaved as if it was a prize fight," he said. "He was on his feet pacing and it was a point, counterpoint and he was quite animated."
Longtime Bannon friend Pat McKim was also at the Pentagon then and says Bannon displayed an amazing acuity for judging people's motives and thoughts.
"He could see this guy is trying to become Chief of Naval Operations," McKim said in a phone interview. "I was clueless, and Steve was like he's lobbying to become CNO…He could sense what was going on behind the scenes."
Bannon's job at the Pentagon included carrying messages to senior officers and writing reports about the state of the Navy fleet worldwide.
"We didn't deal with strategic issues in any way." Arnold said. "There was nothing Steve did in this job working for me that prepared him for the job he's in now."
Still his friends say it was at the Pentagon where Bannon acquired some big ambitions, including telling McKim he wanted one day to be Secretary of Defense.
"And I thought that was interesting," McKim said. "Because most guys that get out of the Navy with political ambitions want to come back as Secretary of the Navy not the Secretary of Defense."
Big plans that led Bannon to take classes at Georgetown University earning him a degree in International Relations. And would also send him to Harvard School of Business, Goldman Sachs and eventually become a leading thinker in the Tea Party movement.
"He left the Navy armed with a strong education and a drive to get mired with dirty hands to help solve] real problems," Masso said.
McKim points out Bannon thrived in two very different worlds in the Navy. First, with the enlisted men on the Foster and then with the power brokers at the pentagon.
"To be able to do both of those is what Steve's done his entire life," said McKim. "He's been at the low levels seeing what people are doing… and at the same time knowing what's going on at the high levels."
Experiences in the Navy, McKim says will allow Bannon to express the needs of some of Americas' most forgotten voices inside some of America's most powerful halls.
Douglas Kennedy currently serves as a correspondent for FOX News Channel (FNC). He joined the network in 1996 and is based in New York.