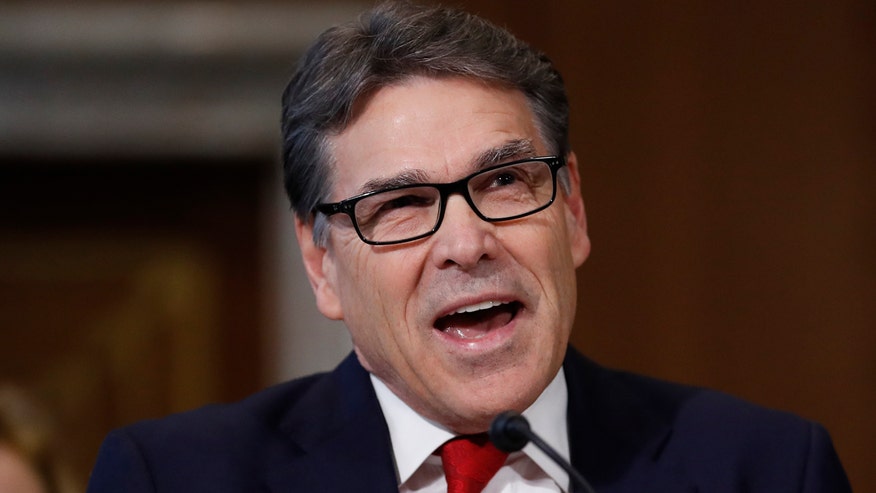 Former Texas Gov. Rick Perry drew laughs at his confirmation hearing to become Secretary of Energy Thursday when he told Sen. Al Franken, D-Minn., how much he enjoyed their meeting in Franken's Senate office.
"Did you enjoy meeting me?" Franken asked, to general laughter.
"I hope you are as much fun on that dais as you were on your couch," Perry responded.
.@GovernorPerry to @SenFranken: "I hope you are as much fun on that dais as you were on your couch." pic.twitter.com/ltFt967Gqb

— Fox News (@FoxNews) January 19, 2017
"Well ... "Franken began before pausing for effect as more laughter broke out.
"May I rephrase that, sir?" a smiling Perry asked.
"Please," Franken responded. "Please, please. Oh, my lord." Perry, almost doubled over with laughter, turned away from his microphone briefly before turning back to say, "Well, I think we found our 'Saturday Night Live' soundbite."
Franken was a writer and actor on the NBC show in the 1970s and 1980s before entering politics.
The exchange was not the only light moment of Perry's hearing. When asked if he agreed with reported plans to cut the department's budget, Perry suggested that those advocating such cuts would "have the same experience I had and forget that they said that."
During 2011 GOP primary debate, Perry famously forgot the Energy Department was one of three federal agencies he wanted to eliminate.