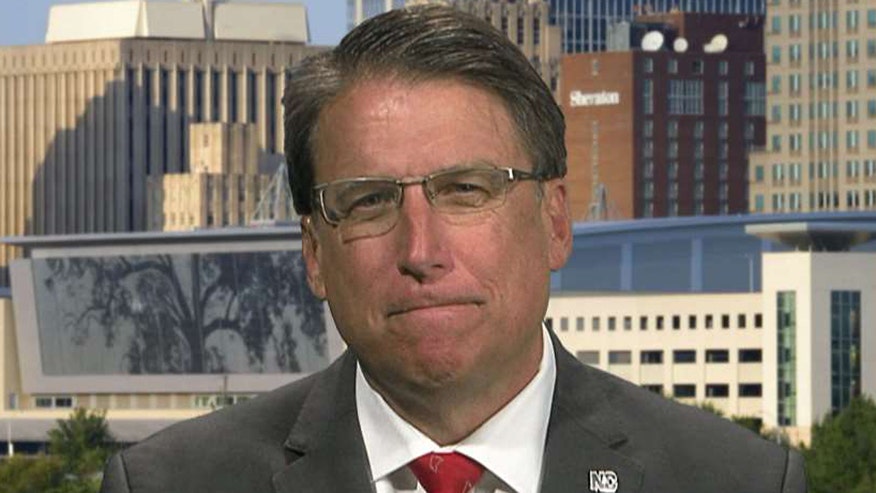 The campaign for North Carolina GOP Gov. Patrick McCrory, whose reelection bid remains too close to call, is seizing on reports of potential voter fraud to raise questions about the integrity of last week's election.
McCrory trails by as many as 5,000 votes against Democratic challenger Roy Cooper -- eight days after the polls closed.
The fraud concerns emerged in a separate local election in Bladen County, where officials have acknowledged "overtly similar" handwriting on several hundred absentee ballots.
While a formal complaint was filed by the winner of that local supervisor race, the McCrory campaign alleges some evidence suggests a group associated with the state Democratic Party may have paid people to cast votes for a write-in Democrat in that race and every other Democrat on the ballot, including Cooper.
Campaign official Ricky Diaz on Wednesday cited evidence suggesting potentially similar situations in other counties, though he declined to say whether this suggests voter fraud is widespread enough to impact the gubernatorial election.
"It warrants scrutiny," he said. "We fully expect it will be looked at."
McCrory has faced political headwinds since July, when he signed legislation requiring transgender people to use restrooms in public buildings that are associated with their birth gender, not the gender to which they identify. The passage of the so-called "bathroom bill" resulted in a country-wide backlash, including the NBA moving its all-star game in February.
The fresh fraud complaints, while focused on Bladen County, could serve to stoke doubts about the ballot-counting statewide.
County election officials sent a letter Nov. 2 to state election officials about finding the similarities in several handwritten ballots.
The letter raised the possibility the similar handwriting could be the result of people legally assisting voters in filling out ballots. However, there was no accompanying documentation to verify this.
The state board of elections confirmed with FoxNews.com that it is investigating the matter and provided a copy of the complaint filed by McCrae Dowless, the winner of the local Bladen County election.
His 53-page complaint argued there are at least 250 questionable ballots connected to five people who were ballot "witnesses" and paid by the Bladen County Improvement Association PAC.
The letter from the county election board to the state election board acknowledges handwriting on the questionable ballots and their envelopes is similar to those of two people cited by Dowless, who ran as an unaffiliated candidate.
"A massive voting fraud scheme has been uncovered in Bladen County," the McCrory campaign said in a recent fundraising email.
The state Democratic Party told the News & Observer newspaper that McCrory's campaign is exaggerating the issue.
"As usual, these claims from the McCrory campaign are over the top and completely false," said Kimberly Reynolds, the group's executive director. "The complaint in question does not even deal with a Democrat."
The Cooper campaign told the newspaper the Bladen County case is "isolated" and it fully supports the investigation.