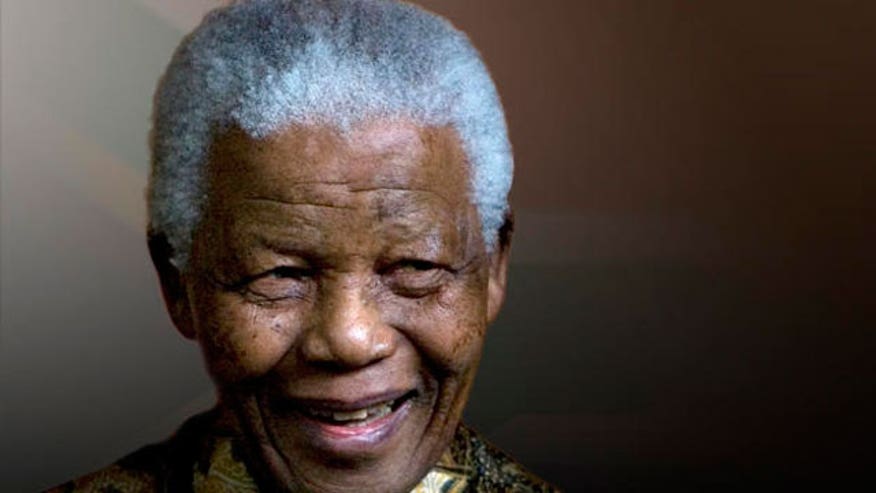 Editor's note: In February 1990, journalist and Fox News political analyst Juan Williams was in South Africa covering Nelson Mandela's release from prison for the Washington Post. Mandela made a deal with Williams to act as his secretary and respond to all the congratulatory letters he was receiving on his release. The invitation gave him special access to the man who would later become his country's first black president.
When Nelson Mandela was finally released from prison after 27 years in jail he was somehow in no rush to leave.
He later told me that at that historic moment – February 11, 1990 at 3 p.m. – he stayed to enjoy a quiet moment with his wife, a friend and 5-month old grandson. Outside the gates of Verster Prison Farm, just outside Cape Town, television cameras, reporters and a jubilant crowd waited for him.
When I talked to him in his home in Soweto a few days later he said: "Even leaving jail can be difficult."
With his death Mandela is celebrated as a man who put his life on the line to end racial injustice in South Africa.
[pullquote]
The prisoner became the first black president of South Africa, a Nobel Peace Prize winner and a beacon of inspiration to people who believe in equal rights and are committed to freedom struggles around the world.
But having briefly known the man, having shaken his large, soft hands, the key memory I have about him is his capacity to forgive.
After all those years of being jailed Mandela still talked easily with white South Africans. He greeted them as his countrymen and always assumed they joined him in search of racial unity and peace.
It would have been so easy to hate.
The laws of apartheid kept the black majority in South Africa from buying land and outlawed their education and their right to vote
Even when he was convicted of violent sabotage against the government and sentenced to life plus five years in 1964 for his leading role in fighting the oppressive, white government he never let his mind stray into racial bitterness.
In his opening statement at his trial in 1964 Mandela admitted to advocacy of violence after "many years of tyranny, exploitation and oppression of my people by the whites." But in a stirring conclusion he said his revolution was not a fight to give the country's black majority the power to oppress white South Africans.
"I have fought against white domination and I have fought against black domination," he said. "I have cherished the ideal of a democratic and free society in which all persons live together in harmony… it is an ideal for which I hope to live for and to achieve… for which I am prepared to die."
His refusal to vilify whites or spur racial hatred was evident even in jail. He used his time to study Afrikaans, the language spoken by Dutch settlers who ran the apartheid system. He treated the white jail guards as men doing a job and not the people responsible for apartheid.
And when he was released from prison he worked with F.W. de Klerk, the white South African president who engineered his release, to bring blacks into a democratic, multi-racial South African government. In fact, de Klerk and Mandela jointly received the Novel Prize in 1993. And in 1994 de Klerk joined Mandela's government of national unity as second deputy president.
When he traveled to the U.S. in 1990 to speak to a joint session of Congress Mandela celebrated the American support for racial equality. His dream for South Africa, he said, is "a future in which all shall, without regard to race, color creed or sex have the right to vote and to be voted into all elective [offices]… To deny any person their human rights is to challenge their very humanity."
The South African leader praised America's founding fathers, men such as George Washington, Abraham Lincoln and Thomas Jefferson, for their work for love of liberty and justice. And he immediately put black American heroes next to them as people who brought about liberty and justice "for all" by calling out the names of civil rights leaders from Frederick Douglass to W.E.B. DuBois and Dr. Martin Luther King Jr.
Clint Eastwood captured America's cross-racial admiration of Mandela when he directed the 2009 movie "Invictus." It featured Mandela – played by Morgan Freeman -- as a man of racial healing. He transcends racial rancor by using rugby to bring black and white South Africans together.
In the movie, Mandela tells the captain of South Africa's 1995 mostly white rugby team, a team that many blacks disparaged as a toy of the white ruling class, that the team belongs to all South Africa and must win for the best of the nation.
At the end of the movie the Mandela character, as portrayed by Morgan Freeman, watches his team win the world championship to the cheers of blacks and whites. And the movie's character recites the lines of the poem "Invictus":
"I am the master of my fate: I am the captain of my soul."
And it is Mandela's loving, forgiving soul that will offer hope and inspiration to freedom loving people for all time.
Juan Williams currently serves as a co-host of FOX News Channel's (FNC) The Five (weekdays 5-6PM/ET) and also appears as a political analyst on FOX News Sunday with Chris Wallace and Special Report with Bret Baier. Williams joined the network as a contributor in 1997.