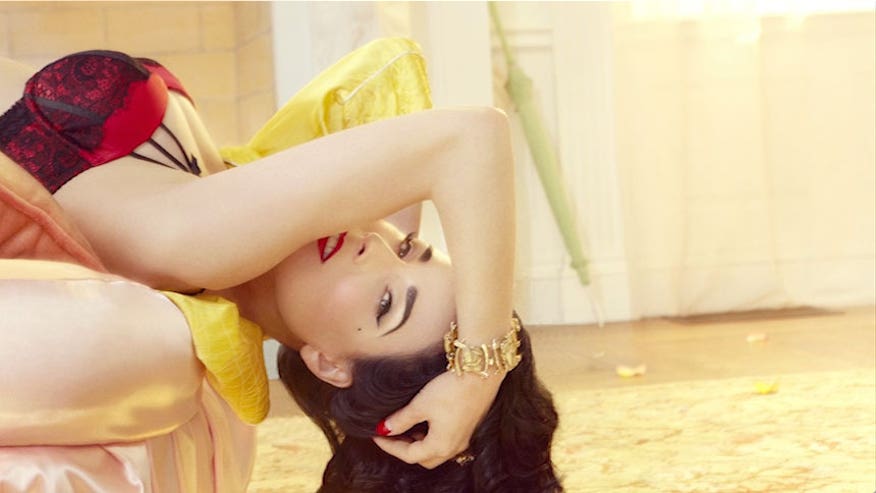 What does it take look like the queen of striptease? Leaving the martini glass for your showgirl routine and piling on the veggies instead.
Burlesque star Dita Von Teese knows a thing or two about looking ah-mazing. (She also knows a thing or two about seduction -- you can check that out in the video above). From strutting in a couture corset and not much else to shimmying on stage as a heart-stopping pinup, the 41-year-old performer and lingerie designer has a dreamy body. Fortunately, there is a way nearly anyone can channel their inner seductive siren, but be warned, it takes plenty of discipline.
Von Teese herself recently revealed her experiences indulging in a Sicilian spa getaway with friend, stylist Fiona Leahy, to The Telegraph, but it was her approach to health and fitness that caught our eye. And let's just say the entertainer is completely dedicated to keeping her figure in tip-top shape.
"I practice good habits in my everyday life," Von Teese told the UK-based publication. "Nothing's a real shock to my body. I don't touch coffee; I don't drink much alcohol; I don't smoke; I eat healthily. And I usually want to put weight on rather than lose it, because my normal regimen is so strenuous."
So what does Von Teese indulge in to stay looking her very best? As a fan of "The Beauty Detox Solution," she prefers being vegan during the day and eating protein in the evenings to keep her feeling full longer. In the mornings, Von Teese skips the java for tea, which is "70 percent green tea and 30 percent fruit," along with a green smoothie. Then during lunch time, it's all about stocking up on more fresh greens.
"I find that, if I only eat a vegetable-based diet in the day, I have a lot more energy," explains Von Teese. "I don't eat dairy or carbs or bread at all. At the end of the day, as usual, I have some animal protein: usually fish or eggs, although about twice a month I might have some red meat."
"I try to eat organic if I can–especially in America, where you have no idea what they've put in your food," adds Von Teese, who spends about half of her time in France. "I don't eat desserts, but I always carry a small bar of dark chocolate with me in case I crave something sweet. If I crave salt, I'll have something like eggs with truffle salt or smoked sea salt."
Von Teese also exercises daily to stay lean. While she's an avid follower of Pilates and ballet, she's also open to new regimens, like the water Zumba class she tried in Sicily, to keep her motivated and breaking a sweat.
"I always think the key to a successful workout is to make sure it's amusing," says Von Teese.
Truthfully, Von Teese's strict approach to staying fit and fabulous may not be for everyone, but it's clearly working for the raven-haired beauty. Like a fine wine, this dancer only gets better with age.