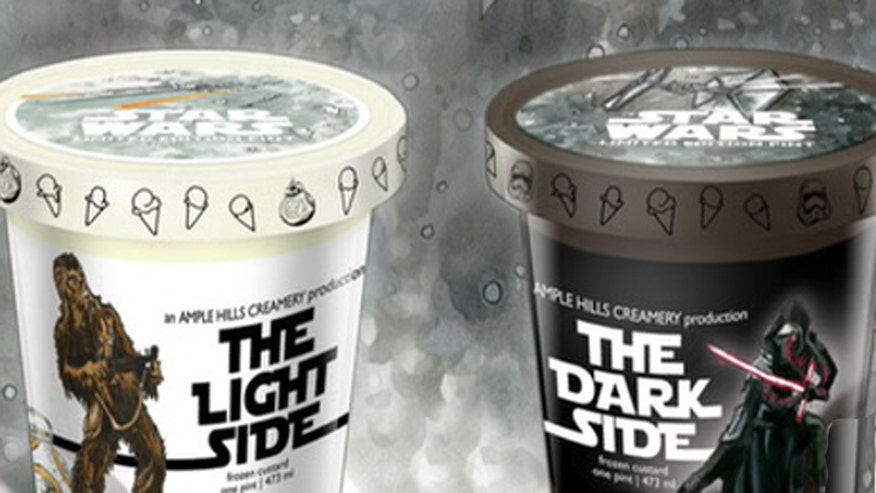 It's a great month to be a "Star Wars" fan with a sweet tooth.
With the release of the highly anticipated "The Force Awakens" just around the corner, Ample Hills Creamery in Brooklyn, New York has partnered with Disney to create two new "Star Wars" ice cream flavors.
The Light Side is a white marshmallow ice cream base with light and dark rice crispie clusters and The Dark Side is a dark chocolate ice cream with espresso fudge brownies and white chocolate pearls. (Each flavor has elements of the opposite side cleverly representing the good and bad in each Force.)
The partnership between a major force like Disney and a small-time ice cream producer like Ample Hills may seem unusual, but the collaboration just naturally crystallized.
"A year ago, [Disney CEO] Bob Iger ordered some ice cream from us and a week later he reached out and said 'I love it! Let me if there's anytime I can do help out,'" Ample Hills founder and owner Brian Smith told Chew on This.
"This is basically like eating a rice crispy treat in ice cream form."
Since then Iger has been mentoring the ice cream shop (which is also one of Oprah Winfrey's favorites) as they grow. So when news of "The Force Awakens" reached Smith, an avid "Star Wars" fan, he knew he had the chops to make something special.
"When I reached out [to Iger] he was excited and put me in touch J.J. Abrams and the people at Lucas Film, and we just took it from there," says Smith of the collaboration.
As a true "Star Wars" aficionado, Smith was determined not only to make something delicious but to tell a real narrative through food.
"I knew we had to do two flavors—light and dark—to represent the two sides of the Force and Luke battling his own demons," said Smith. "We knew how to make all of the elements individually but putting them together to create a story was the most important thing."
Ample Hills makes all of their mix-ins from scratch. In The Light Side, that means puffing up their own rice for the crispie clusters and dusting them in chocolate for the cocoa version. On the Dark Side, Smith said he added espresso to the brownie pieces to make a deeper, complex sweet.
Justin Warner—season 8 Food Network Star winner who also happens to be from Brooklyn, NY-- has been an avid "Star Wars" fan since childhood and thinks the duality of flavors is a great fit for the blockbuster franchise.
"I obviously love all things 'Star Wars' and I don't mean to sound like a sell-out but I think it's a great idea," the Foodie Call host told Chew on This. "Clearly the fact that they made two flavors is a great compliment to the two sides of the Force-- and it's not just like a color."
So which side of the Force did our taster flock to?
Warner said the Light Side is for him and compared it to the Planet Hoth -- the site of the Rebel Alliance's Echo Base.
"I love it, I'm a huge cereal person-- like cereal treats-- so I really like that. It makes me feel very childish, in a good way," said Warner. "I also love the cocoa that just kind of seeps in towards the end."
Overall, most Chew on This tasters loved the Light because it was surprisingly unique. It's a sweet, super creamy formula that melts into a thick marshmallow cream.
"This is basically like eating a rice crispy treat in ice cream form. The cereal is still crunchy which is amazing," said one taster.
But true chocolate lovers won't be disappointed by Ample Hills' Dark Side. Imagine a 70 percent cacao bar in ice cream form with tiny fudgy pieces swirled in.
"The Force is definitely strong with this one," said one taster of the super dark chocolate base.
Said one taster of the combo,"This is basically heaven."
Ample Hills Star Wars ice creams are only available online. A four pack – two Dark, two Light—retails for $36. They'll make a pretty sweet holiday gift for your favorite Jedi.