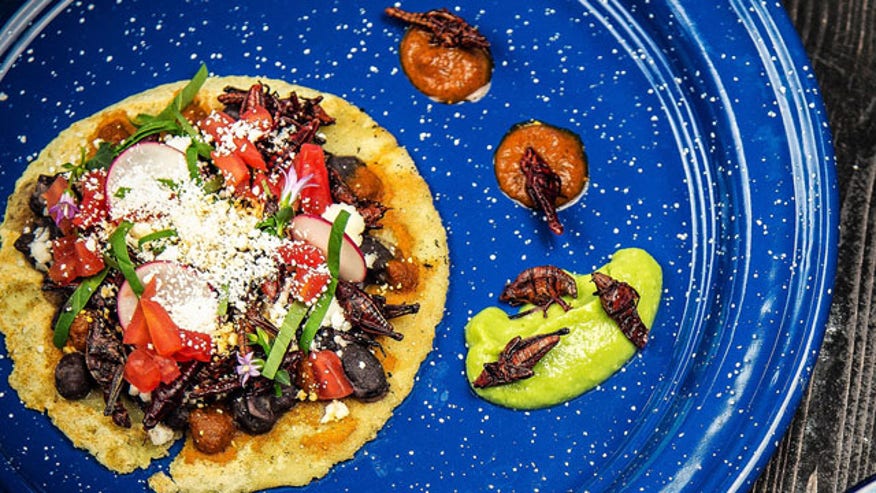 Would you try a dish with grasshoppers, crickets or ants?
The latest food trends aren't always easy to stomach. Yet new restaurants and companies are finding ways to incorporate bug protein.
Exo has a protein bar fortified with cricket flour. We've seen grasshoppers on sushi and in tacos. But The Black Ant is New York City is serving up its namesake in a variety of dishes that may tempt even the most squeamish of eaters.
The restaurant, which opened May this year in New York's trendy East Village, uses ants in a variety of ways—ant salt rims cocktails or is sprinkled over chocolate desserts; while the tiny black critters dot the top of the eatery's ceviche. But these bugs aren't exactly your everyday creepy-crawlies. Chef and restaurant partner Mario Hernandez told FoxNews.com the process is a bit more complicated.
"When the first rain takes place in Oaxaca (Mexico), the flying ants called Chicatanas leave their nests and people of all ages collect them," Hernandez says. "After the ants are collected they are washed and grilled on a comal, a metal or clay dish, in this first step they lose their wings."
The ants arrive in New York City after they've been freeze dried. Not every dish at the Black Ant contains bugs, and Hernandez and his team—including mixologist and owner Jorge Guzman and pastry chef Cesar Moreno—are constantly experimenting with new flavors.
"We incorporate seasonal ingredients in our dishes and tend to try different things not always associated with Mexican cuisine in the states," Hernandez says. "We may even a new dish by this weekend!"
In Mexico, and other countries, bugs aren't just affordable sources of protein but they are considered delicacies. So will the trend take off in the U.S.?
We tried the signature Black Ant Guacamole with all the traditional ingredients you'd expect, rimmed by a healthy dose of black ant—or chicatana-- salt.
The smooth avocado combines perfectly with pasilla chili pepper for serious heat. The ant salt adds a crunchy texture that's pretty unique-- but overall really delicious.