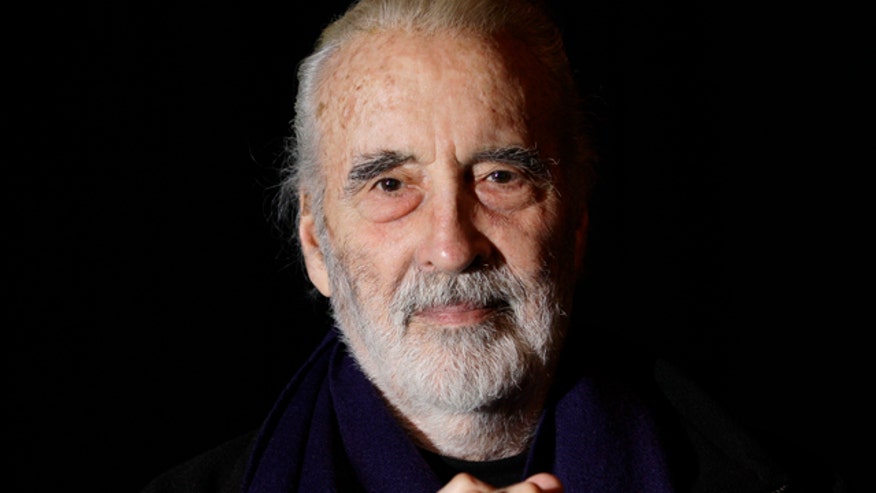 Sir Christopher Lee, the deep-voiced dramatic actor known to several generations for his portrayal of villains in "Dracula," "James Bond" and "Lord of the Rings" movies, has died. He was 93.
The news of Lee's June 7 death was first reported by the U.K.'s Telegraph, which published his death certificate. His wife waited to go public with the news of his death in order to have time to inform family members, according to The Guardian.
Lee had an illustrious military career before he became known in the acting world. He voluntarily enlisted in the military and served in the Royal Air Force and Special Forces for five years during World War II. Poor eyesight prevented him from becoming a pilot, and he served as an intelligence officer in North Africa and Italy.
In 1947, Lee first tried his hand at acting. With his 6-foot, 4-inch towering frame, it didn't take long for Lee's career to take off, and by 1952 he'd landed a role in the Oscar-nominated film "Moulin Rouge." His career took off from there, and he appeared in more than 250 movies, but for many was forever known as the vampire Count Dracula in a slew of "Hammer Horror" movies — the gory, gothic thrillers churned out by the British studio in the 1950s and 1960s that became hugely popular.
In a quote posted on his website, Lee once said, "I haven't spent my entire career playing the guy in the bad hat, although I have to say that the bad guy is frequently much more interesting than the good guy."
His career flourished late in life, with roles in "The Lord of the Rings" trilogy and two of George Lucas' "Star Wars" prequels.
Lee appeared in so many movies that he acknowledged he couldn't remember them all.
"And certainly some of them you want to forget," he said in 2002.
He railed against the typecasting, however, and ultimately the sheer number and range of his roles — from Sherlock Holmes to the founder of Pakistan — secured his place in film history.
"I didn't have dreams of being a romantic leading man," Lee told The Associated Press. "But I dreamed of being a character actor, which I am."
He became Sir Christopher Lee when he was knighted in October 2009, receiving the honor from Prince Charles at Buckingham Palace.
Lee also appeared in several films by Tim Burton, including "Sleepy Hollow" and "Charlie and the Chocolate Factory," and was proud of his turn as Pakistan's founder, Muhammad Ali Jinnah, in "Jinnah."
Lee felt his gift for comedy was under-appreciated. His website said he considered the most-important point in his career to be when he hosted "Saturday Night Live" in 1978, alongside comedy greats like John Belushi, Dan Aykroyd and Bill Murray.
"A lot of people, including the casting directors, have no idea that when I lived in America half of the films I did were comedies," he said in 2006. "They have no idea that I hosted 'Saturday Night Live.' They don't seem to be interested."
Lee married Birgit Kroencke in 1961. Their daughter, Christina, was born in 1963.
The Associated Press contributed to this report.