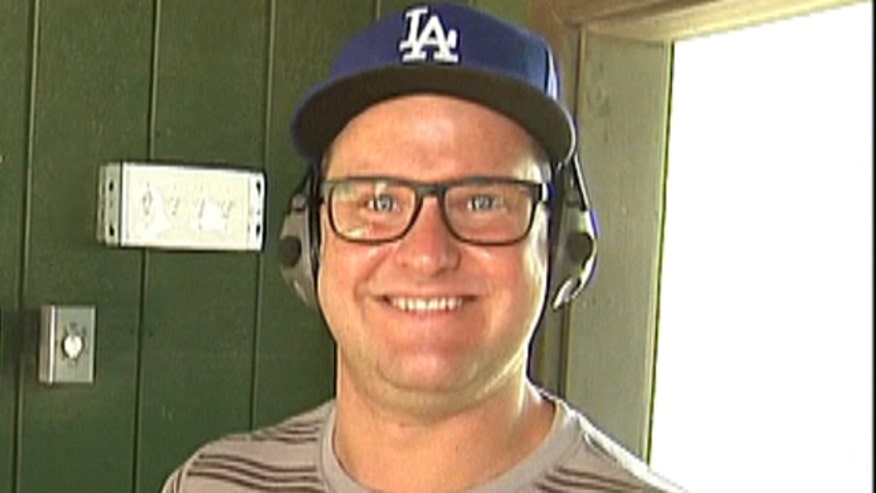 LOS ANGELES – LA Loaded visited the Oak Tree Gun Club – an outdoor gun range in Los Angeles County -- with "Home Improvement" star Zachery Bryan and former Navy SEAL Jake to compare the SIG Sauer p226 and p229 pistols.
"I have twin girls on the way," Bryan joked, so he's on the hunt for some future boyfriend protection.
"The difference is that the SIGp226 is about half an inch shorter in the barrel length," Jake said. "Its overall 7.1 inches as opposed to this one (226) which is 7.7 inches. The barrel is 4.5 inches on the 226, and about 3.9 inches on the 229."
One of the primary features of the SIGp226 and 229 is "the double action." Given that this type of gun does not have a mechanical on/off "safety" feature, the double action serves to reduce the risk of accidental firing.
For the first shot, it is double action, pulling the trigger cocks the hammer and then releases it. When the first round is fired (and each consecutive round), the slide rides back on the frame cocking the hammer.
"The difference is that you're changing the amount of pounds per pressure that you have to pull back on the trigger," Jake explained, adding that the weight for a double action trigger pull is 10 pounds and 4.4 pounds for single action.
The p226/p229 gun is often concealed carried (depending on state laws) with a round in the chamber and the hammer decocked. When decocked, the hammer is not close to the firing pin.
While we all gave it a thumbs up for ergonomics in both handling and firing, Jake pointed out one con.
"It's an extremely reliable gun, rarely will you ever have jams as long as the gun is clean and you have good shooting form," he said. "But the obvious con is that it's a much smaller round."
Ryan – who found out during our test that he was a left-handed shooter – said he "really liked the 226... It didn't have too much kick, but enough. I enjoyed it."
The SIGp226 has a magazine capacity of either 10 or 15 rounds, while the 229 can hold either 10 or 13 rounds of ammunition. The manufacturer's suggested retail price (MSRP) for both the 226 and 229 is $1,015.
Hollie McKay has been a FoxNews.com staff reporter since 2007. She has reported extensively from the Middle East on the rise and fall of terrorist groups such as ISIS in Iraq. Follow her on twitter at @holliesmckay