Boris Johnson to become next British Prime Minister, after winning Conservative Party leadership ballot
By Lukas Mikelionis
Published July 23, 2019
Britain's next Prime Minister will be Boris Johnson after he won a ballot vote of Conservative Party members against Foreign Secretary Jeremy Hunt, it was announced Tuesday.
Johnson, an avid supporter of Brexit and former Mayor of London, had been expected to clinch victory against Hunt. He will replace outgoing Prime Minister Theresa May Wednesday after she announced her resignation last month amid failure to lead the nation out of the European Union.
He won 66 percent of the vote, or 92,153 of the total 159,320 people eligible to vote. Hunt received 46,656 votes, and there were 509 rejected ballot papers. The turnout was 87.4 percent.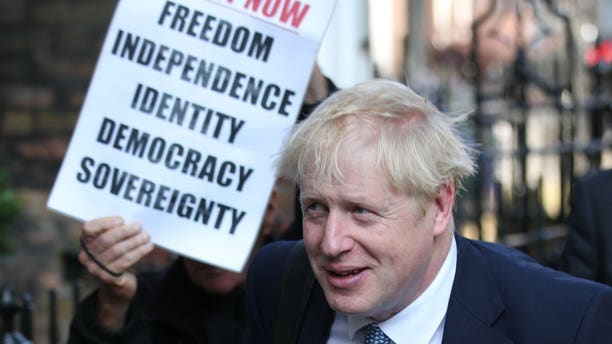 BORIS JOHNSON SAYS IT'S 'BIZARRE' PEOPLE ARE BLAMING HIM FOR RESIGNATION OF UK AMBASSADOR TO US
Johnson will be installed as prime minister in a formal handover from May on Wednesday when he will also visit the Queen and be asked to form a government. In his victory speech, Johnson praised Hunt as a formidable opponent and thanked the outgoing prime minister for her "extraordinary service to this party and our country."
"We know the mantra of the campaign that has just gone by, it is deliver Brexit, unite the country and defeat Jeremy Corbyn, and that is what we are going to do," Johnson added in a brief speech.
"Deliver Brexit, unite the country and defeat Jeremy Corbyn."
President Trump, who previously endorsed Johnson for the position, was among the first world leaders who congratulated Johnson on the victory.
"Congratulations to Boris Johnson on becoming the new Prime Minister of the United Kingdom. He will be great!" Trump tweeted.
Johnson will take the reins of the government at a turbulent time when Britain is at crossroads over Brexit, the Iranian regime sparked an international crisis after seized a British tanker, while even his party members are openly rebelling against him.
He campaigned on getting Britain out of the EU on the scheduled date of Oct. 31 — with or without a deal, a promise that won over supporters of Brexit but created animosity with more moderate Conservatives who fear the consequences of a no-deal Brexit that experts say would plunge the country into recession.
TRUMP DOUBLES DOWN ON BACKING BORIS JOHNSON AS NEXT BRITISH PRIME MINISTER AHEAD OF UK VISIT
May stepped down after Britain's Parliament repeatedly rejected the withdrawal agreement she struck with the 28-nation union. Johnson said he will push to the EU to negotiate despite the bloc saying it won't reopen negotiations.
At least three Conservative cabinet members have announced their resignation even before the results of the vote were unveiled, saying they would rather resign than serve under Johnson and his plan to carry out no-deal Brexit.
But the challenge for Johnson lies not only on the shores of Europe but in the Persian Gulf as well, where he will have to deal with the fallout from the Iranian regime's seizure of a British vessel.
Britain has called the seizure, which comes at a time of heightened tensions between the U.S. and Iran, a "hostile act."
CLICK HERE TO GET THE FOX NEWS APP
Johnson will also have to work to repair the relationship with the U.S. after the now-outgoing British ambassador Kim Darroch disparaged Trump in leaked diplomatic cables, including calling him "inept."
While May and Hunt defended Darroch, Johnson didn't explicitly backed the ambassador. He later offered for not standing behind the diplomat.
https://www.foxnews.com/world/boris-johnson-to-become-next-british-prime-minister-after-winning-conservative-party-leadership-ballot