'Demonic' fish with spikes of armor glows red in terrifying photo
By Jennifer Earl, ,
Published March 29, 2018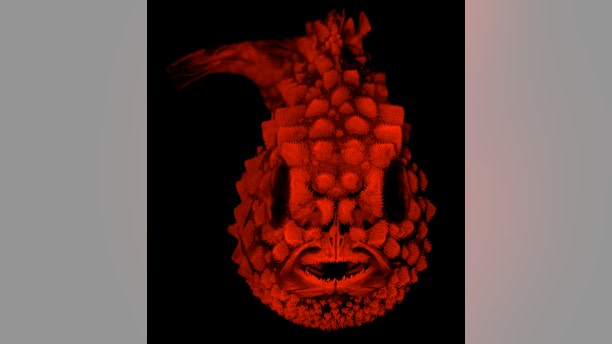 The Pacific spiny lumpsucker is a funny-looking fish with a round body, bubbly eyes and a mouth agape. But under fluorescent lighting it looks terrifying -- "demonic" even.
That's the conclusion Leo Smith, associate professor of ecology and evolutionary biology at The University of Kansas, drew as he researched different techniques to capture head-on images of the fish's skeleton for a method paper. He plans to submit his findings to the American Society of Ichthyologists and Herpetologists.
"Inherently, it's like Cartman from 'South Park,'" Smith told Fox News, adding that it's one of his favorite fish. "They're really cute. They're fun. These guys are best known for their pelvic sucking discs, so they can hold onto things like little rocks."
'OCTO-PIGS' AND 'DEMON GOATS': WHY ARE MUTANT ANIMALS BEING BORN IN ARGENTINA?
He stripped the creature down to its skeleton and cartilage, dunking the fish in cow-stomach enzymes to get rid of its muscle, stained the body with colorful dye and then encased it in gelatin and glycerin -- which is "relatively cheap and gooey to the touch." This allowed him to see the blob-like fish's coat of armor clearly.
"It got flaccid, like a character in 'Scooby Doo.' When you pull the skeleton out it collapses on itself," said Smith, explaining that he had to hold the figure still in the gelatin for at least an hour until it dried.
Once the casing was ready, Smith turned on fluroescent lights and placed the ping pong ball-sized figure under a micropsope. He snapped several pictures of the spikey fish glowing in the dark with visibly empty eye sockets. The lighting, he said, really helped capture the lumpsucker's boney spikes called "tubercles."
REMARKABLE VIDEO SHOWS TIGER AND BEAR LOCKED IN FEROCIOUS FIGHT
"They can't swim away from anything.They have a spiny build with spikes that are like little thumb tacks. Biting down on them would be really unpleasant," Smith said, comparing them to porcupines.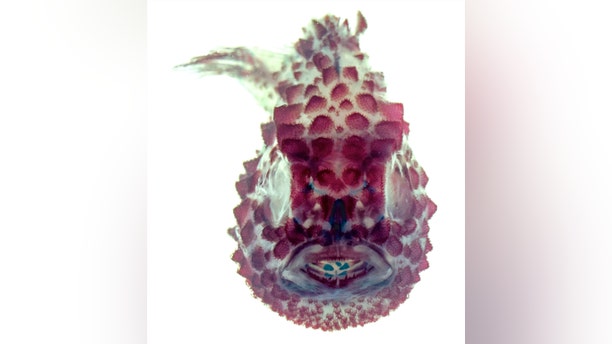 Smith said his research could help others properly position and capture head-on views of fish and reptiles. He compared the case with the gelatin to metal frames archaeologists use to display dinosaurs.
"We've been trying doing this for a long time," he said. "This allows us to pose certain kinds of creatures to reenact natural positions we couldn't do before."
LION WITH LUSCIOUS HEAD OF HAIR BECOMES VIRAL SENSATION
Smith has been studying marine life for more than 23 years.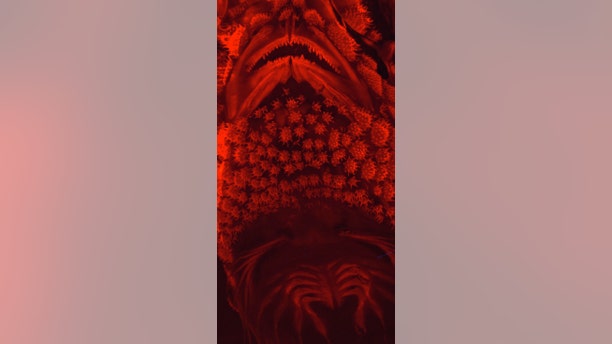 He grew up in the mountains of New Mexico and was a star soccer player in high school. But a heart defect left him unable to continue his athletic career, so he found another hobby: fish.
His father brought home fish one day after a visit to the doctor and he was in charge of taking care of them. He eventually volunteered at a local aquariuam, where he determined he wanted to be a "fish guy."
BALD EAGLES SPOTTED FLOATING ON ICE ALONG THE MISSISSIPPI RIVER
"It kind of snowballed," Smith said. "By the time I graduated I had about 13 or 14 [fish] tanks."
He then went on to study at University of California, San Diego, researching specimens that were hundreds of years old. Now he spends his time teaching and conducting research projects.
"All fish are different. There are different aspects to study," Smith said. "I like the funny, awkward characteristics."
They're easier to study when they're already dead, Smith said, pointing to his most recent project involving the lumpfish.
"When they're dead, you can stop projects and start all over," he added. "You don't have to try to maintain the living."
https://www.foxnews.com/science/demonic-fish-with-spikes-of-armor-glows-red-in-terrifying-photo