Meryl Streep's politically charged comments, from the Golden Globes to a Colbert-hosted fundraiser
By Jennifer Earl
Published December 03, 2018
Meryl Streep describes herself as a "man-eating feminist," and she's hungry for change. The actress has been outspoken about her disapproval of President Trump and his administration in recent years — especially when she's given the opportunity to address an audience.
Streep's public feud with Trump started in January 2017 — just days before he was slated to officially be sworn into office — when the actress took to the microphone during the Golden Globes to express her disappointment in the outcome of the 2016 presidential election.
Here's a look at some of her most politically-charged comments since then.
Trump's kids are "in jeopardy"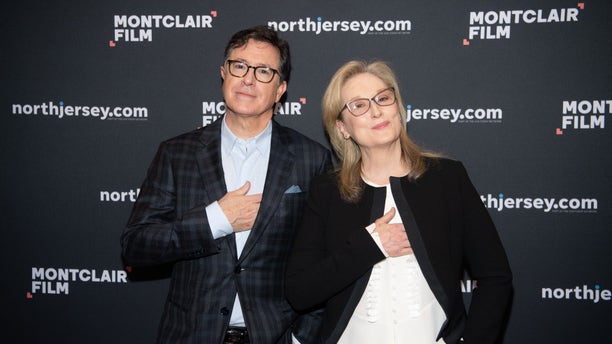 In early December, at a fundraiser hosted by late-night host Stephen Colbert in New Jersey, the 69-year-old once again used her platform to wonder aloud about the president's behavior should his family be threatened by ongoing investigations.
The actress was introduced by Colbert as the "greatest living actor of our generation," though the comedian — an outspoken Trump critic — quickly added she was also once called "one of the most overrated actresses in Hollywood" by Trump.
MERYL STREEP SAYS PEOPLE SHOULD BE AFRAID NOW THAT DONALD TRUMP'S KIDS ARE 'IN JEOPARDY'
"I'm scared by [Trump]," Streep told an audience of nearly 3,000 on Dec. 1. "By his possibility. I empathize with him. I can't imagine what his 3 a.m. is like. There is a gathering storm. Everybody feels it. He feels it. His children are in jeopardy and I feel that. I think, what if my children were jeopardy? I would do anything. Anything! To get them out of trouble. So we should be afraid."
I "don't really want to be" a political leader
In December 2017, shortly after her Golden Globes speech went viral, Streep clarified to Buzzfeed News that she doesn't intend to become the face of the anti-Trump movement. She said she's "actually shy," so she doesn't feel comfortable leading what many refer to as the "resistance."
"It's affected my life because I don't really — I don't want to be that. I don't want to be that," Streep told the site. "I'm a really private person ... so it's hard for me to do all this stuff."
Once again, Streep suggested her "The Post" costar, Tom Hanks, should consider running against Trump in 2020.
"I mean really, this guy, there really is no one who knows more about history, statesmanship. No, seriously, it's true!" she said during a panel hosted by Buzzfeed in New York City.
Ivanka and Melania should "speak now"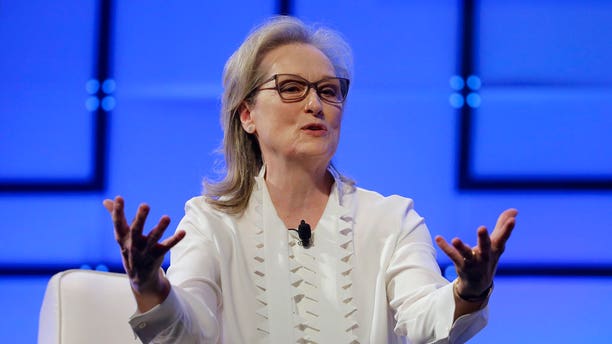 Streep demanded the first lady and Trump's oldest daughter, Ivanka, speak out amid the "Me Too" movement in January 2018.
Admittedly, Streep previously told Fox News she didn't immediately denounce disgraced film mogul Harvey Weinstein because she "did not know about Weinstein's crimes."
"I wasn't deliberately silent. I didn't know. I don't tacitly approve of rape. I didn't know. I don't like young women being assaulted. I didn't know this was happening," Streep said in a statement.
MERYL STREEP SLAMS HARVEY WEINSTEIN FOR USING HER STATEMENT IN HIS DEFENSE
When a reporter from The New York Times pressed Streep on her response to people "waiting" for her to speak out about Weinstein, Streep turned the attention on the first family.
"I don't want to hear about the silence of me. I want to hear about the silence of Melania Trump. I want to hear from her. She has so much that's valuable to say. And so does Ivanka. I want her to speak now," she told the newspaper.
Golden Globes
During the 74th annual Golden Globes, Streep was named the winner of the Cecil B. DeMille Award. As she accepted her prize, the star urged members of the media to hold Trump accountable for his words and actions. And she slammed him for his behavior on the campaign trail, specifically toward journalists.
"This instinct to humiliate, when it's modeled by someone in the public platform, by someone powerful, it filters down into everybody's life, because it kinda gives permission for other people to do the same thing," Streep said. "Disrespect invites disrespect; violence incites violence. And when the powerful use their position to bully others, we all lose."
Streep's speech infuriated Trump, who called her "one of the most overrated actresses in Hollywood" and a "Hillary flunky who lost big" on Twitter.
Streep sarcastically responded to Trump's remarks nearly a month later during a speech at the Human Rights Campaign Greater New York Gala.
"Yes, I am the most overrated, over-decorated, and currently, over-berated actress ... of my generation," she quipped to the crowd, according to Vanity Fair. "But that is why you invited me here! Right?"
https://www.foxnews.com/entertainment/meryl-streeps-politically-charged-comments-from-golden-globes-to-colbert-fundraiser