Emily Ratajkowski mocks Piers Morgan's criticism of her sexy video
By Kathleen Joyce, ,
Published December 07, 2017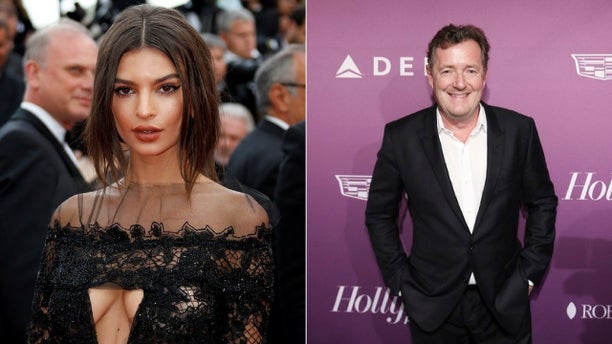 Model Emily Ratajkowski responded to British television personality Piers Morgan's criticism of a sexy video she did for Love magazine.
Ratajkowski did the video for the magazine's advent calendar which captured the model wearing lingerie and rubbing spaghetti provocatively all over her body. The video was posted on the magazine's Instagram.
The caption of the video read: "To me, female sexuality and sexiness, no matter how conditioned it may be by a patriarchal ideal, can be incredibly empowering for a woman if she feels it is empowering to her. The way I dress, act, flirt, dance, have sex — those are my decisions and they shouldn't be impacted by men. Being sexy is fun and I like it. I should never have to apologize for that."
EMILY RATAJKOWSKI ACCUSED OF RIPPING OFF SWIMWEAR LINE
Morgan took to his Twitter to criticize the video saying it was Ratajkowski's way of "promoting feminism."
"Somewhere, Emmeline Pankhurst (a British political activist who helped women gain the right to vote) just vomited," Morgan tweeted. He also included screenshots of the spaghetti-induced video.
The model fired back stating she never claimed her video was a "feminist statement."
"But now it's worth saying that telling women what to do with their bodies & sexuality is actually just classic sexism. I can have opinions about feminism & also do sexy photo shoots k thanks," Ratajkowski wrote.
7 THINGS YOU DIDN'T KNOW ABOUT EMILY RATAJKOWSKI 
This was not the first time Morgan has been critical of Ratajkowski. In July 2016, Morgan commented on her Harper's Bazaar shoot where she posed nude.
Morgan asked Ratajkowski if she needed him to buy her clothes because she "looked freezing." The model fired back, "thanks, but I don't need clothes as much as you need press."
https://www.foxnews.com/entertainment/emily-ratajkowski-mocks-piers-morgans-criticism-of-her-sexy-video