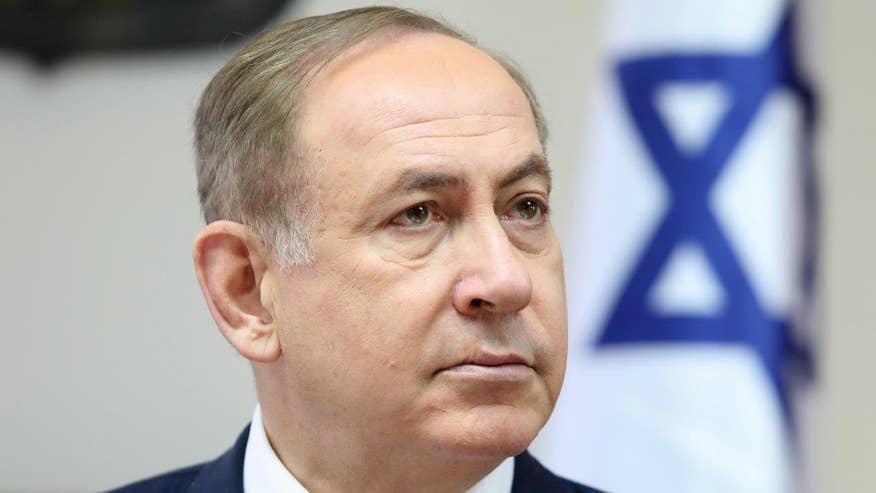 Israeli on Thursday defended its decision to attack an arms depot near the Damascus airport – saying it was "compatible with Israel's policy."
Israeli Intelligence minister Yisrael Katz, speaking on the Israeli Army radio, would not comment on the strike but said it did not violate protocol. Reuters reported early Thursday that five strikes hit an ammunition depot that was known to be used by Iranian-backed militias.
"It absolutely matches our declared policy," he told the radio station, "a policy that we also implement."
Israel has largely stayed out of the fighting in Syria, though it has carried out a number of airstrikes on suspected Iranian weapons shipments it believed were bound for the Lebanese militant group Hezbollah. Iran and Hezbollah, both bitter enemies of Israel, along with Russia have sent forces to support President Assad.
In a visit to Moscow on Wednesday, Israeli Defense Minister Avigdor Lieberman said that Israel "will not allow Iranian and Hezbollah forces to be amassed on the Golan Heights border."
Lieberman, who is attending a security conference in the Russian capital, met with Russian Defense Minister Sergei Shoigu and Foreign Minister Sergei Lavrov on Wednesday.
A statement issued by the Defense Ministry said Lieberman discussed the situation in Syria with Russian Defense Minister Sergei Shoigu and Foreign Minister Sergei Lavrov on Wednesday. All three were in the Russian capital attending a security conference.
"Defense Minister Lieberman expressed concern over Iranian activity in Syria and the Iranian use of Syrian soil as a base for arms smuggling to Hezbollah in Lebanon," the statement said.
On Tuesday, a senior Israeli officer said that the Israel Air Force has destroyed about 100 Syrian missiles, many of which were due to be delivered to Hezbollah, in an attack last month. It was a rare admission on Israel's part to admit they took military action in Syria.
Israel has repeatedly warned against "game-changing" weapons reaching Hezbollah from Syria, which along with Iran supports the militant group. Hezbollah fired more than 4,000 rockets on Israel in the 2006 war.
This week's explosion was heard across the Syrian capital, jolting residents awake, the head of the Syrian Observatory for Human Rights Rami Abdurrahman said.
Israel has been largely unaffected by the Syrian civil war. It has also carried out a number of airstrikes on suspected weapon convoys it believed were destined for Hezbollah.
The Associated Press contributed to this report