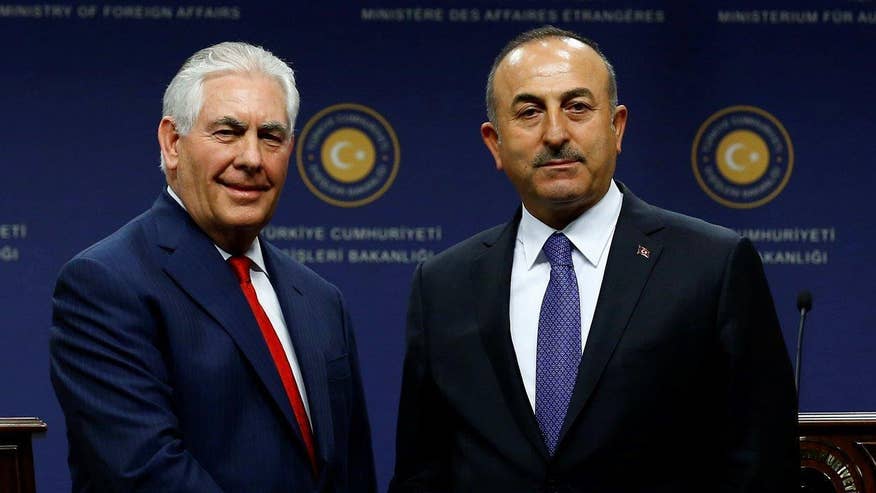 Amid a hailstorm of poison gas attacks, Russian cluster bombings, and displacements of tens of thousands of refugees—all actions judged by the United Nations to be war crimes—Syria's long-running civil war has returned to extreme levels of brutality, even as U.N. officials continue to place wan hopes on a near-comatose peace process in Geneva.
Meantime, military experts are pointing to a continuing radicalization of Syrian opposition forces in a new offensive against the Assad regime that is increasingly led by militias affiliated with Al Qaeda and ISIS.
The experts ascribe the prominence of radical jihadist forces in significant measure to a deliberate Russian effort to weaken more moderate elements through their continued illegal bombing attacks against civilians.
"What we have seen in recent weeks, even before the recent offensive, is a surge in Russian air strikes that was likely in anticipation of the offensive itself."

- Jonathan Mautner, Institute for the Study of War
"What we have seen in recent weeks, even before the recent offensive, is a surge in Russian air strikes that was likely in anticipation of the offensive itself," says Jonathan Mautner, an analyst at the Institute for the Study of War, a Washington-based independent think tank specializing in Middle East military operations.
Among other things, he told Fox News, the renewed Russian attacks have focused on "critical civilian infrastructure"—which includes hospitals, schools, and civilian government buildings—in an effort to divert rebel forces into civil defense, and also to "punish" the civilian populations that support the rebels.
As a result, the rebel attack, which began on March 21, has to a large extent been "relatively blunted," in the past few days the opinion of Genevieve Casagrande, an ISW analyst who specializes in the Syrian opposition. Nonetheless, she notes, a "second phase" of the offensive has been launched by forces that have close ties with Al Qaeda and it "remains to be seen" if that will be successful.
As usual, however, the main victims of the counter-offensive have been civilians and humanitarian workers, including medical personnel who are, as in the past, special targets of the Assad regime and Russian air forces as they respond in the west-central Syrian governate of Hama and neighboring Idlib.
Officials of the Syrian American Medical Society, or SAMS, a non-profit group that maintains more than 100 hospitals in Syria, reported a variety of chemical attacks against hospitals and civilian targets in both areas over the past week, in which a doctor was killed and several other medical workers suffered injuries, along with at least 200 other people.
In attacks in Idlib near the village of Latamneh, SAMS said, the symptoms of victims pointed to the possibility that other poisons, similar to the nerve gas sarin, had been used in regime barrel bombs along with now-familiar chlorine gas. The medical group says it intends to specifically identify the toxins.
The SAMS doctor, Ali Darwish, died after a chlorine barrel bomb was dropped on the entrance of an rural hospital near Hama. The gas flooded underground rooms where Dr. Darwish had refused to leave his patients.
"We have had to stop operations in four hospitals in that area," Dr. Ahmed Tarakji, president of SAMS, told Fox News, who attributed the attacks to Assad forces using helicopters, and said they now seemed to be "part of regular Syrian tactics."
SAMS has declared itself "appalled and disheartened by the inaction of the international community while clearly documented crimes against humanity are being committed in Syria on a daily basis."
If anything, however, atrocities are likely to be stepped up even further, as the rebel offensive, and Assad counter-offensive, continues to unfold. And on the rebel side, according to Casagrande, a further complication was the reported use by radical jihadist forces of TOW anti-tank missiles that had been covertly supplied by the U.S. to other, more moderate rebel groups, via Turkey.
Such weapons in the hands of jihadists, she said, was likely the result of radical groups "merging and absorbing" moderate forces that have been specifically targeted and weakened by Russian strikes.
"The hardliners have also exploited the strikes," she told Fox News. "We have seen them attack the moderates after strikes take place. The moderates are under attack from two sides."
The political effect is two-fold: it provides an incentive for Washington to cut back on its covert supply lines for fear of equipping radicals, and also builds credibility for the Assad narrative that everyone opposing the regime is a radical terrorist—which in turn justifies further use of brutal anti-civilian measures.
As a result of the success of the tactic, says Mautner, "the Russians have directed most of their resources against the more acceptable forces, which is accelerating the radicalization of the opposition."
Moreover, Russia is "not conducting peace negotiations in good faith," he noted, referring both to the Geneva peace process, which renewed sessions on March 23, or in a related process dominated by Russia, Turkey and Iran in the Khazakstan capital of Astana.
Any ceasefires as a result of those diplomatic exercises, observed Casagrande, "are just a means to take pause before escalating attacks against civilians. The opposition is not willing to adhere to a ceasefire for that reason."
They also provide opportunities for the extension of regime "siege and starve" tactics to squeeze opposition areas into submission, then eradicate them through forced displacement of the civilian populations.
The usefulness of the talks was also scorned by Valerie Szybala, executive director of The Syria Institute, a non-partisan, non-profit research institution in Washington, who observed that "anything that leaves the Assad regime in power is going to insure that tens of thousands of people die in Syrian torture chambers."
All of those tough-minded observations contrasted strongly with the tones of U.N. officials decrying the intensifying conflict, and urging a return to peace talks that so far have not produced anything except more extreme fighting.
Stefan da Mistura, the U.N. special envoy who has been responsible for Geneva-based peace discussions, pronounced himself "deeply concerned" on March 25 over the renewed escalation, which he said had "significant negative consequences for the safety of Syrian civilians, humanitarian access and the momentum of the political process" to replace Assad.
He said he had written letters to top foreign policy officials in Russia, Iran and Turkey with pleas "to undertake urgent efforts to uphold the ceasefire regime."
A day earlier, after a flurry of trips to Moscow, Tehran and Ankara, he had insisted that the Geneva peace talks were still viable, even though "I am not expecting breakthroughs and I am not expecting breakdowns."
He still expected, he said, "a credible ceasefire," because "there is no other alternative," and because the ugly conflict's external sponsors "appeared to be sincerely trying" to get back to one.
George Russell is Editor-at-Large of Fox News. He is reachable on Twitter at @GeorgeRussell and on Facebook at Facebook.com/George.Russell
George Russell is editor-at-large of Fox News and can be found on Twitter: @GeorgeRussell or on Facebook.com/GeorgeRussell