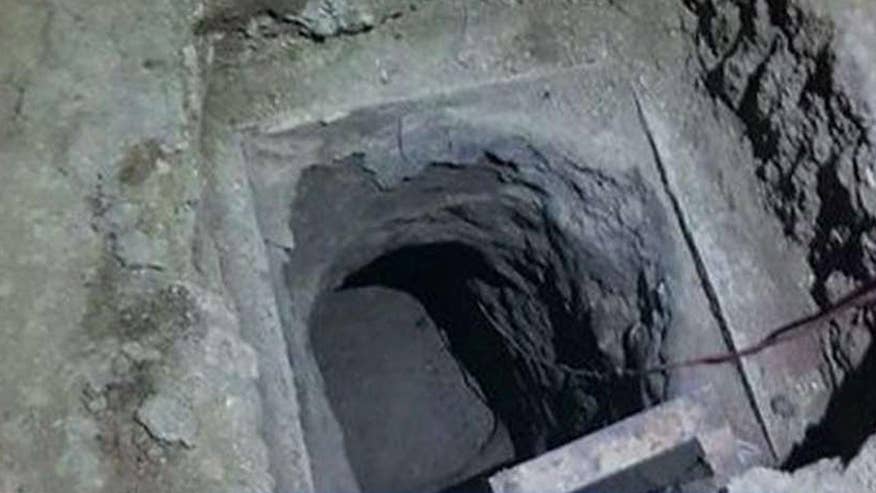 Two more of the 29 inmates who escaped from prison in northern Mexico last week were recaptured Sunday, the Public Security Office of Tamaulipas said, and authorities are looking for the 14 men still at large.
A total of 15 inmates have been recaptured since they tunneled their way out of a prison in Tamaulipas capital, Ciudad Victoria.
Officials said that 10 of the 14 inmates at large were incarcerated for street crimes and the other four are members of organized crime organizations.
29 SUSPECTED CARTEL MEMBERS BREAK OUT OF MEXICO PRISON THROUGH 120-FOOT TUNNEL
Ciudad Victoria has been dominated for years by the fragmented Zetas cartel.
Se lleva a cabo el sellado del túnel pic.twitter.com/zV7H36f0Hf

— VoceriaSeguridadTam (@VoceriaSegTAM) March 25, 2017
The tunnel opening was hidden in a hut that inmates had illegally constructed in a part of the prison they essentially controlled, the Tamaulipas state security spokesman Luis Alberto Rodriguez said.
The tunnel, about 5 yards deep and 40 yards long, has since been refilled.
The escape of so many inmates comes just two years after the
highly publicized prison break of Mexican drug kingpin Joaquin "El Chapo" Guzman, who escaped twice from maximum-security jails, the second time through a mile-long tunnel dug to the shower in his cell.
'EL CHAPO' EXTRADITION THROWS SINALOA CARTEL -- AND MEXICO - INTO VIOLENT SPIRAL
That tunnel escape was highly embarrassing for the government of Mexican President Enrique Pena Nieto, and Mexican officials were seen as eager to hand the headache off to the United States afterward.
Guzman was extradited to the United States in January.
The AP contributed to this report.