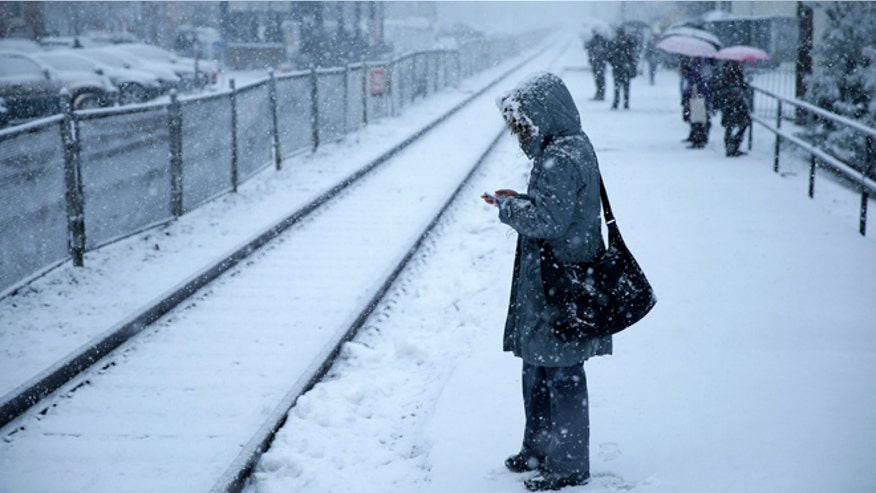 Residents along the East Coast and in the Appalachians woke up to snow Tuesday, leading to widespread closures of schools and government offices and a near-disappearance of the traffic that usually strangles the Washington region.
By mid-morning, the National Weather Service had downgraded its outlook for the storm, calling for snowfall totals of 1 to 3 inches on the Eastern Seaboard. Tuesday's storm followed a stronger-than-expected burst of winter weather on Sunday that left several inches in Philadelphia and northern Delaware and Maryland.
Snow and ice prompted officials at the Philadelphia International Airport to temporarily ground departing flights and slowed motorists across New Jersey.
In Washington, snow was falling at daybreak, but traffic problems failed to materialize as many workers stayed home. Non-emergency federal employees were granted an excused absence and others were told to telecommute, according to the U.S. Office of Personnel Management.
Public schools were closed in Washington, Philadelphia and parts of Delaware, Maryland, West Virginia, Kentucky and Tennessee.
In Ohio, overnight snowfall in central and southwest parts of the state was making the morning commute Tuesday slow and messy and delayed the opening of hundreds of schools.
Outside Washington, in Virginia's Fairfax County, traffic was light Tuesday morning. With temperatures hovering around freezing, highways that had been plowed and treated were passable, but conditions began to deteriorate after 8 a.m. as the pace of the snowfall increased.
The usually bustling Springfield Metro station was nearly deserted. Those who did have to work said the lack of traffic made the slushy roads easier to navigate.
"I wish it was like this all the time — minus the snow," said Maelin Traylor, 28, of Springfield. "The traffic was wonderful."
Jean Walsh, 72, of Springfield, said she was accustomed to much worse weather growing up in Buffalo, N.Y., and never considered skipping work.
"To me, this is nothing. It's melting when it's hitting. I don't think they should have closed the government," Walsh said. "It's no big deal and I've got work to do."
By 10 a.m., the National Weather Service had canceled its winter storm warning for the Eastern Seaboard, including Baltimore, Washington, Philadelphia, and Wilmington, Del. In downtown Washington, roads were mostly wet and not much snow was sticking.
Elsewhere, eastern and central Kentucky and southwest Virginia were expected to get 1 to 3 inches of snow. All of West Virginia was likely to see snow Tuesday, with 2 to 4 inches forecast for north and central parts of the state and 3 to 5 in the mountains.
Rick Hemphill, a retired deputy court clerk, had a busy Tuesday morning ferrying family members to and from their jobs in rural Washington County, Md., through several inches of fresh snow. He said he grew up driving in snow in mountainous western Maryland.
"Snow is snow," Hemphill said as he refueled his four-wheel-drive vehicle near his Hagerstown-area home. "The closer you get to the city, it gets worse because they get it less often."
Some Washington workers still had to pop up umbrellas and bundle up to head to work. Harris Sidiq, an accountant, was walking to work Tuesday morning.
"I worked for another accounting firm, and it took a lot for us to actually have a shutdown due to inclement weather," he said. "I guess it's just the industry. That's how it is. You work, work, work until the world stops. Then you might be able to stay home."