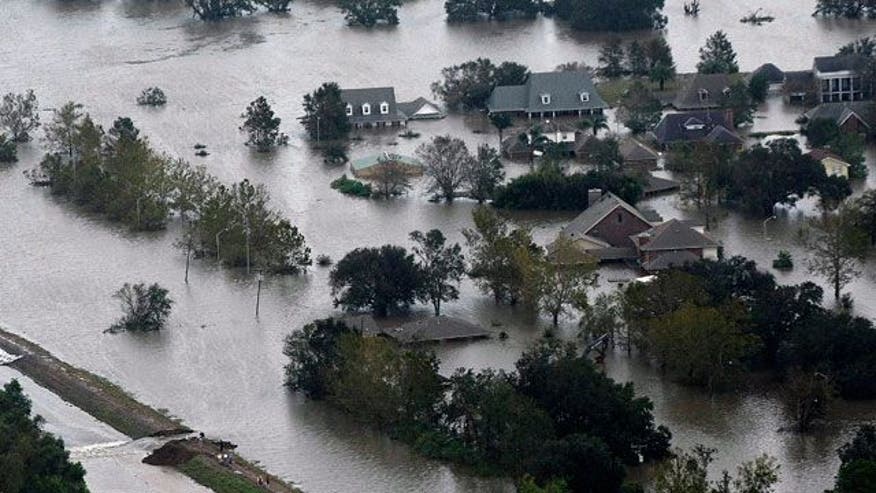 NEW ORLEANS – The storm that had been Hurricane Isaac crawled into the central U.S. on Friday, leaving behind a soggy mess in Louisiana and two newly reported deaths. Neighborhoods were underwater and even homes that stayed dry didn't have lights, air conditioning or clean water.
It will be a few days before the soupy brown water recedes and people in flooded areas can return home. New Orleans itself was spared, thanks in large part to a levee system fortified after Katrina devastated the Gulf Coast in 2005.
Republican presidential challenger Mitt Romney planned to tour the storm's damage in Louisiana Friday with the state's Republican governor, Bobby Jindal. President Barack Obama's team later Friday said Obama would visit the state Monday.
Meanwhile, New Orleans lifted its storm-related curfew but was hardly back to normal.
"I have a battery-operated fan. This is the only thing keeping me going," said Rhyn Pate, a food services worker who sat on a porch with other renters. "And a fly swatter to keep the bugs off me -- and the most important thing, insect repellent."
Isaac dumped as much as 16 inches of rain in some areas, and about 500 people had to be rescued by boat or high-water vehicles. Many people said more water inundated their homes during this storm than during Katrina.
At least five deaths were reported in Louisiana and Mississippi. The latest two victims, a man and a woman, were discovered late Thursday in a home in the hard-hit town of Braithwaite, south of New Orleans. Their names were not immediately released.
An unidentified man died in a restaurant blaze that firefighters could not control because of Isaac's strong winds Wednesday. Another man died falling from a tree during the storm, and a driver was killed when a tree crushed his truck. The storm earlier killed 24 in Haiti and five in the Dominican Republic.
And the storm's damage may not be done. Officials were pumping water from a reservoir to ease the pressure behind an Isaac-stressed dam in Mississippi on the Louisiana border. They planned to punch a hole in the dam to release excess water in a controlled fashion Friday.
Crews also intentionally breached a levee that was strained by Isaac's floodwaters in southeast Louisiana's Plaquemines Parish.
In Louisiana, the storm cut power to 901,000 homes and businesses, or about 47 percent of the state. That was down to 39 percent, or about 821,000, by Thursday evening, the Public Service Commission said.
Officials said it would be at least two days before power was fully restored.
On a street turned river in Reserve, on the east bank of the Mississippi River, two young men ferried neighbors to the highway, using boards as paddles.
Lucien Chopin, 29, was last to leave his house, waiting until his wife and three kids, ages 7, 5 and 1 were safely away. His van was underwater and water flowed waist-high in the house he'd rented.
"It's like, everything is down the drain. I lost everything. I've gotta start all over," he said.
Isaac hit on the seventh anniversary of Katrina, a far stronger hurricane that devastated New Orleans.
The two storms had little in common. Katrina came ashore as a Category 3 storm, while Isaac was a Category 1 at its peak. Katrina barreled into the state and quickly moved through. Isaac lingered across the landscape, dumping copious amounts of rain.
Both storms, however, caused the Mississippi River to flow backward. And both prompted criticism of government officials -- in the case of Isaac, officials' calls for evacuations so long after the storm made landfall caused some consternation.
Eric Blake, a specialist at the hurricane center, said although Isaac's cone shifted west as it zigzagged toward the Gulf Coast, forecasters accurately predicted its path, intensity and rainfall. He did say the storm came ashore somewhat slower than anticipated.
Blake cautioned against using Katrina as a benchmark for flooding during other storms.
"Every hurricane is different," Blake said. "If you're trying to use the last hurricane to gauge your storm surge risk, it's very dangerous."