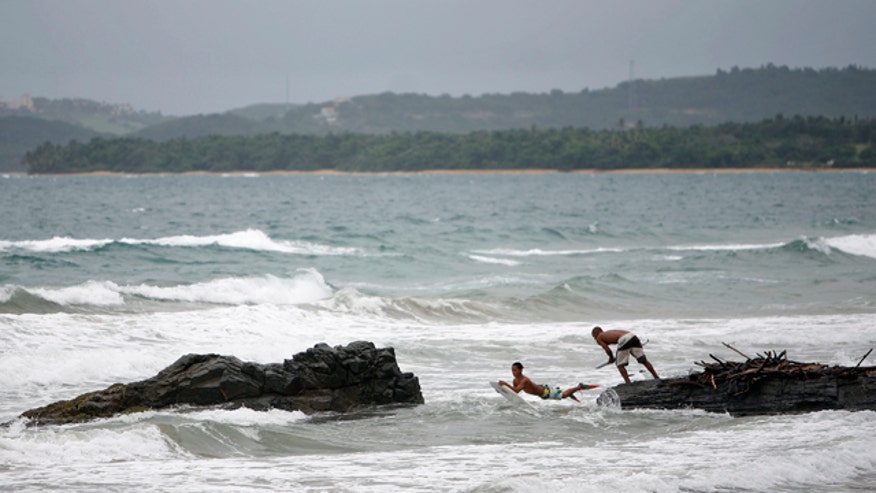 SAN JUAN, Puerto Rico – Tropical Storm Irene barreled toward Puerto Rico late Sunday after hitting St. Croix, packing heavy rains and winds that closed airports and flooded low-lying areas in the Leeward Islands.
The fast-moving storm, moving west-northwest at roughly 15 mph (24 kph), was taking an unpredictable path that left people in the islands of the U.S. Caribbean anxious about the winds and rain to come.
The U.S. National Hurricane Center in Miami said that Irene was strengthening and could even become a hurricane before reaching Puerto Rico in the coming hours. Its maximum sustained winds late Sunday night were 70 mph (110 kph) and it was located 50 miles (85 kilometers) southeast of San Juan, Puerto Rico.
On its current forecast track, Irene was expected to pass over Puerto Rico late Sunday and over Hispaniola, the island shared by the Dominican Republic and Haiti, on Monday or Monday night. Nearly 600,000 people in Haiti still live without shelter after last year's earthquake.
Puerto Rico's main airport was swamped with people, the usual Sunday crowds combined with people rushing to get off the island before the storm or stranded because flights to a number of other islands had been canceled. There were long lines at check-in counters and at the airport hotel.
Jenny Chappell of Richmond, Virginia, returning from a weeklong business trip in Puerto Rico, was among those booking a room at the airport hotel, assuming that her 1 a.m. flight, at the height of the storm, would be canceled.
"My friend told me get a room, get some water, get some snacks because if anything goes down you'll need it," Chappell said.
Strong winds and battering rain were expected late Sunday over Puerto Rico, including its outlying islands of Culebra and Vieques, where 150 tourists were evacuated, according to Gov. Luis Fortuno. At least 4,000 people were without power and another 13,000 without water as the storm approached. U.S. forecasters had earlier expected the storm's center to pass just south of Puerto Rico's southern coast, but now said it could pass near or over the island of nearly 4 million inhabitants.
"The storm is wobbling a little bit. It is moving more to the west-northwest than we anticipated earlier," said Cristina Forbes, an oceanographer at the center. Sustained winds must reach 74 mph (119 kph) for the storm to be classified as a hurricane.
In the U.S. Virgin Islands, Gov. John deJongh declared a state of emergency in order to impose storm curfews.
"We've got what appears to be a direct hit on St. Croix," said governor spokesman Jean Greaux, who did not immediately have details about any possible damage on the largest and poorest of the U.S. Virgin Islands.
Emergency shelters were opened on St. Croix, where the port was closed. The Hovensa LLC refinery on St. Croix also closed its port because of the storm but operations remained normal at the refinery, one of the largest in the Western Hemisphere, said spokesman Steve Strahan.
In the southeastern Puerto Rican town of Patillas, Edgar Morales, owner of a roadside food stall, was one of the few business owners who opened Sunday despite the approaching storm.
"We're going to stay open until God allows it," said Morales, 35, who scanned TV news about the tropical storm with some of his customers.
Jose Rivas, 46, said he woke up early Sunday to place storm shutters on his house, fill his car with gas and take out money. He said he and his wife along with their two sons will spend the night at a hotel next to their house in Patillas.
"We'll leave as soon as the sea starts rising," he said.
In advance of Irene, Puerto Rican authorities urged islanders to secure their homes and pick up debris that high winds could turn into dangerous projectiles. Maritime officials advised people to stay away from the ocean because Irene could bring a dangerous storm surge to the coast.
"I strongly recommend that swimmers and recreational boaters avoid the ocean and that the general public stay away from shoreline rocks until the tropical storm passes and weather and surf conditions normalize," said Capt. Drew Pearson, a U.S. Coast Guard commander.
All schools and nearly all government offices in Puerto Rico will remain closed on Monday, Fortuno said.
The National Hurricane Center said the main impediment to the storm's progress over the next couple of days will be interaction with land. If Irene passes over Hispaniola's mountains or over parts of eastern Cuba, the storm could weaken more than currently expected.
"However, if the system ends up moving to the north of both of those land masses it could strengthen more than expected," wrote forecaster Richard Pasch.
The center's current forecast has Irene hitting southern Florida as a hurricane by Thursday.
Early Sunday, the storm churned up rough surf along a group of small islands in the eastern Caribbean that includes Antigua & Barbuda, St. Kitts & Nevis, Guadeloupe, and St. Maarten.
The storm caused some flooding in low-lying areas, and several countries and territories reported scattered power outages, but there were no immediate reports of serious damage or injuries. The storm was expected to dump up to 7 inches (18 centimeters) of rain on the islands.
Forecasters said tropical storm force winds extended outward up to 150 miles (240 kilometers), mainly to the north of Irene's center.