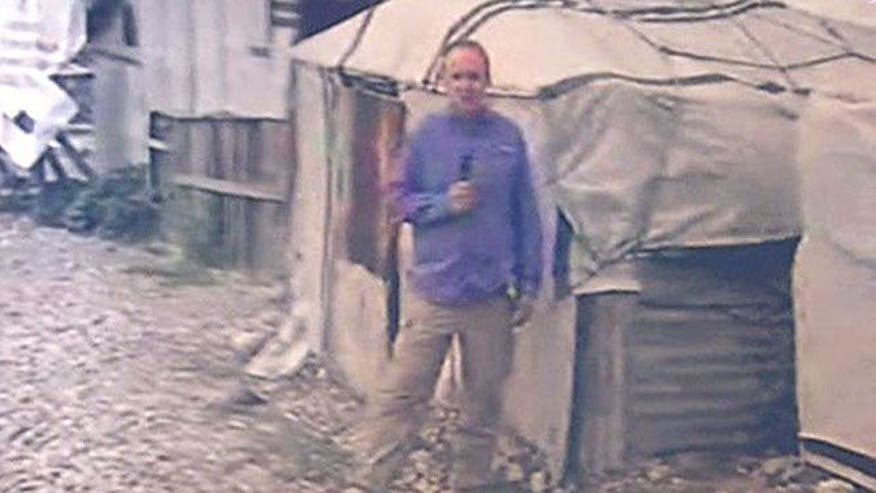 PORT-AU-PRINCE, Haiti – Former Tropical Storm Emily has broken apart after causing floods and damaging hundreds of homes in Haiti.
National Hurricane Center forecasters in Miami, Florida, said late Thursday that the storm is now a low pressure system that is dumping rains over Hispaniola. All watches and warnings have been canceled.
Strong winds whipped through palm trees in the capital of Haiti while heavier rains fell further north, damaging homes as well as a cholera treatment center. But there were no reports of deaths.
The storm hovered off the south coast of Haiti on Thursday, causing flooding, damaging hundreds of homes and threatening greater misery for multitudes living in tent camps or the flood-prone countryside.
The storm's heavy rains prompted the government of the neighboring Dominican Republic to move at least 1,600 people because of the threat of flooding and mudslides.
Emily dropped more than 5 inches around the southwestern Dominican city of Barahona and an equal amount was still expected in the area, said Miguel Campusano, a forecaster with the Dominican meteorology office.
In Haiti, about 600,000 people are still in flimsy tents and shanties because of the January 2010 earthquake, strong winds whipped through palm trees in the capital while heavier rains fell further north, damaging homes as well as a cholera treatment center, said Marie Alta Jean-Baptiste, the country's civil defense director. But there were no reports of deaths.
In the capital, which has most of those left homeless by the earthquake, the rain was relatively light so far, but the government evacuated a few families from a camp for quake victims to a school that is being used as a storm shelter, said Jean-Joseph Edgard, an administrator in Haiti's Civil Protection Department.
The storm seemed to pause Thursday morning, then resumed a slow march to the west-northwest off the coast of the island Haiti shares with the Dominican Republic, and forecasters said they expected it to hit Haiti later in the day. Emily had maximum sustained winds of 50 mph.
Forecasters said the storm was likely to cross eastern Cuba on Friday and might touch Florida on Saturday, though the projected track would keep its center offshore.
John Cangialosi, a hurricane specialist with the hurricane center, said up to 20 inches of rain was possible in isolated high-elevation areas. That is enough to cause serious problems in a country prone to catastrophic flooding.
There was reason for concern. A slow-moving storm in June triggered mudslides and floods in Haiti and killed at least 28 people. Widespread poverty makes it difficult for people to take even the most basic precautions.
Joceline Alcide stashed her two children' birth certificates and school papers in little plastic bags that aid groups handed out. It was her only means to protect herself.
"There really isn't much more we can do. We just got these bags," the 39-year-old Alcide said, standing outside her teepee-like tarp shelter.
The National Hurricane Center said the storm was moving to the west-northwest at about 5 mph and it was centered about 90 miles south of Port-au-Prince.