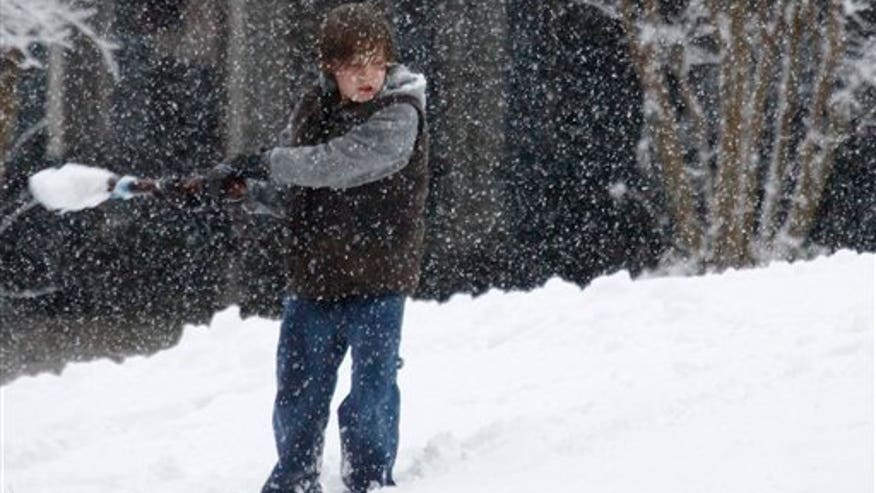 ATLANTA -- A rare snow storm in the U.S. South has knocked out power to thousands and caused hundreds of accidents.
Even before the first flake fell, flights were canceled Friday at the world's busiest airport in Atlanta. A Starbucks on the Gulf Coast closed for the day, citing a steady drizzle and temperatures in the mid-30s Fahrenheit as "inclement weather." Classes were canceled nearly everywhere.
As much as 7 inches fell in central South Carolina, one of the hardest-hit areas. The powder wasn't expected linger, though, like it has in the U.S. capital and states to the north. That region was hit with back-to-back blizzards in the past week that dumped 3 feet of snow.
Near Montgomery, Alabama, a car plunged off an icy road into a pond, killing two brothers ages 4 and 2, State Trooper Kevin Cook said. The boys' mother, who was driving, survived.
In the Dallas area, students celebrated the day off.
"I was like, yes!" said 14-year-old Ashleigh Hartsock, a high school student in suburban Frisco whose Facebook page was going crazy with messages rejoicing over the school closure.
She was among many Texans who braved the cold with a comical lack of winter gear. In a city that gets an average of 2 inches of snow a year, heavy boots, thick gloves and sleds were scarce.
Several children at a Frisco park attempted to sled down a slight incline that passes for a hill in the Dallas area. Wearing knit gloves covered in plastic baggies and grocery bags over their tennis shoes, they rode garbage can lids, tops to plastic containers and pieces of cardboard.
Federal forecasters said every state but Hawaii had snow on the ground somewhere Friday, a freakishly rare occurrence. It was even snowing along East Coast beach towns.
"I knew it could happen, but I didn't expect much snow down here," said Frank Pinter, Savannah's street maintenance supervisor, who moved here four years ago from northern Ohio.
"It's such an unusual event for this area, we don't maintain a stockpile of salt or anything."
Airlines scrapped more than 1,800 flights, many of them at Hartsfield-Jackson Atlanta International Airport, which sees 2,700 arrivals and departures on an average day. Of that total, hundreds were halted at Dallas-Fort Worth International Airport, which got more than a foot of snow from Thursday into Friday.
The cancelations quickly jammed up air traffic around the country.
"It's frustrating," said Russ Cereola, a New York salesman trying to fly home from Atlanta. "There's no snow on the ground yet, and they're canceling flights. Now I understand inbound stuff is probably canceled, but this is a little nuts."
Many places were seeing snow for the first time in a generation or longer, and some people weren't quite sure what to do.
"We don't even sell snow shovels. They'd have to go to the old-time coal shovels, which is the closest thing I have," said Todd Friddle, the manager at a Lowe's home-improvement store in the Charleston, South Carolina, suburb of Mount Pleasant.
For the first time in its 88-year history, Grandview Florist in the Panhandle community of Gonzalez had to reschedule Valentine's Day deliveries for winter weather. Owner Marie Pierce, 77, managed the chaos while creating arrangements from lilies and roses in the back of the rural shop.
"The schools and some businesses are closed, so we are sending our drivers to customers' homes instead," said Pierce, whose grandmother started the shop in 1923.