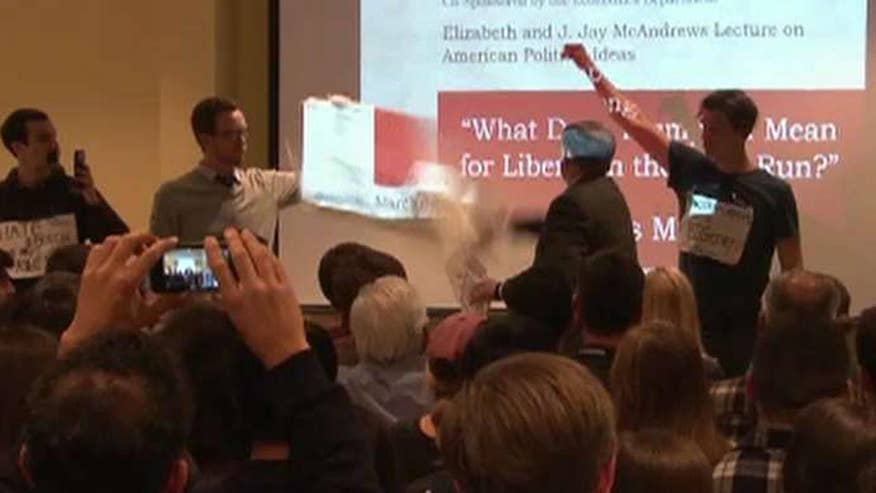 A group of protesters briefly halted a speech from the controversial scholar Charles Murray at Villanova University Thursday – but if they'd planned to shut it down, it didn't work.
The activists chanted "No Murray! No KKK! No fascist USA!" among other things, at the school outside Philadelphia. Video showed two protesters identified as faculty members holding up a banner – before a school official ripped it down.
Campus safety officers escorted the protesters out of the hall, and Murray returned to his lecture – about the effects of so-called "Trumpism" on liberty.
Critics have said Murray linked intelligence to race with scientific racism in his 1994 book, "The Bell Curve," a claim Murray has denied.
'BLOWHARD' DREXEL PROFESSOR ANGRY OVER KINDNESS TO MILITARY 'LIVES IN A BUBBLE,' BIN LADEN'S KILLER SAYS
His visit to Villanova came on the heels of a lecture at Vermont's Middlebury College earlier this month that escalated into rioting after a group of protesters rocked a car.
"It's just tough for me to hear people make these claims without actually having read his work. And I'm also someone who hasn't read his work so I'm not trying to stand above anyone else. I'm really just trying to listen – just trying to learn," Villanova junior Evan McVail told Fox 29.
People who came to actually hear him talk said he avoided his more controversial topics.
The Associated Press contributed to this report.