'INTERESTING ITEM'
President Trump Wednesday discussed his accusation that President Obama ordered "wires" at Trump Tower tapped during last year's presidential campaign in an exclusive interview with Fox News' "Tucker Carlson Tonight." Trump said that the administration "will be submitting things" to the House Permanent Select Committee on Intelligence "very soon." The president added that he "will be, perhaps speaking about this next week" and predicted that "you're going to find some very interesting items coming to the forefront over the next 2 weeks. (WATCH JONATHAN HUNT REPORT ON NEW TRAVEL BAN CHALLENGES LIVE AT 10 AM ET ON FOX NEWS CHANNEL)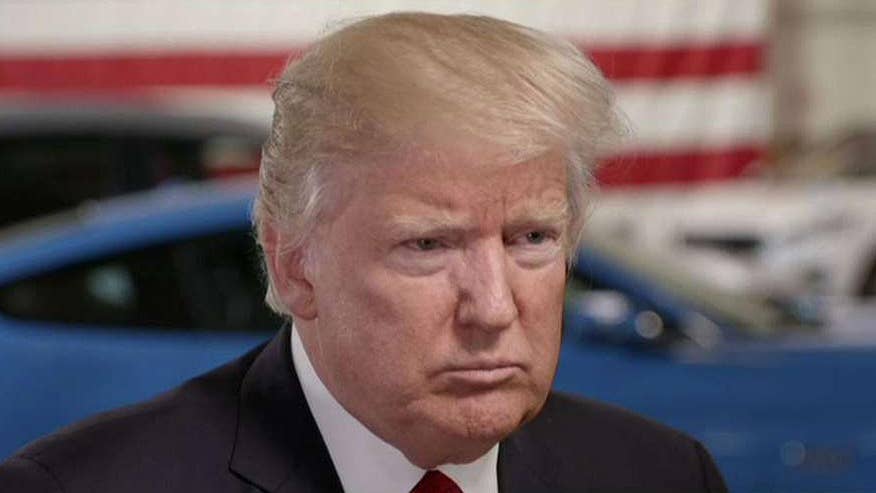 TRUMP'S FIRST BUDGET PLAN
President Trump's first budget, which is set to be released Thursday at 7 a.m. ET, will dramatically cut funding for the Environmental Protection Agency and State Department in order to fund new military and immigration enforcement spending. The "skinny" budget will likely face opposition in the House and Senate and will likely be amended several times before it gets past. Besides major cuts to the EPA and State Department, the budget also calls for a cease in federal funding for NPR and PBS.
FOX NEWS OPINION
REP. PHIL ROE: The VA must be held accountable. Here's what Congress needs to do
In the past several years, VA's civil service rules have hampered the department's ability to dismiss an employee who engaged in an armed robbery; to recoup $400,000 in relocation benefits from two senior employees who abused their authority; and hold employees accountable for their failures to manage major construction projects, including the new hospital in Aurora, Colorado, that is now several years and nearly a billion dollars over-budget. Even worse, the VA said it would have taken up to a year to fire a nurse who assisted in a veteran's emergency surgery while under the influence of alcohol. The lack of accountability at the VA isn't just a failure to our heroes; it's dangerous.
COMING UP ON FNC
NOON ET: Speaker Ryan hosts the Friends of Ireland Luncheon with President Trump and Irish PM Kenny in attendance. Watch live on FoxNews.com
2 PM ET: White House briefing with Sean Spicer. OMB Director Mick Mulvaney is slated to join. Watch live on Fox News Channel and FoxNews.com
1:35 PM ET: Launch window opens for a SpaceX Falcon 9 carrying the EchoStar XXIII communications satellite at Kennedy Space Center. Watch live on FoxNews.com
2:30 PM: Secretary of State Tillerson holds joint news conference during his first trip to Asia. Watch live on FoxNews.com
6 AM ET: President Trump makes remarks at the St. Patrick's Day reception. Watch live on Fox News Channel and FoxNews.com
FOX BUSINESS
COMING UP ON FOX BUSINESS: The DNC's new Chair Tom Perez will join "Mornings With Maria" at 8 AM ET.
One day after home builder optimism hit a 12-year high, investors will get fresh data on U.S. housing at 8:30 AM ET. This data will be closely watched by Wall Street one day after the Federal Reserve raised interest rates for the second time in three months.