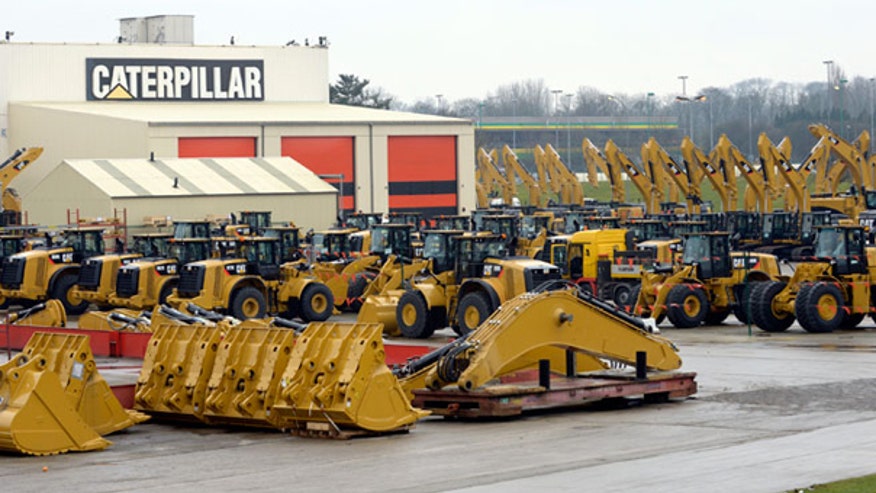 Caterpillar confirmed to Fox News that law enforcement raided offices at the company's headquarters, exectuting search warrants on three properties in the Peoria, Ill. area Thursday.
"Law enforcement is present in various Peoria-area Caterpillar facilities executing a search warrant. Caterpillar is cooperating," said Caterpillar spokeswoman Corrie Heck Scott.
A spokesperson for the Dept. of Justice tells Fox News the FDIC Office of Inspector General, IRS Criminal Investigation and the Commerce Dept.'s Office of Export Enforcement were involved in the raid.
Federal agents arrived to Caterpillar's global headquarters mid-morning and begain seizing documents and electronic records.
The Dept. of Justice tells Fox News agents also showed up to Caterpillar's East Peoria and Morton locations.
Shortly afterwards, Caterpillar stock fell, losing almost 5 percent of its value.
When asked, the Justice Dept. did not comment on the nature of the search warrants and said there has been nothing publically filed on the raids.
Caterpillar has been subponaed a few times in recent years mainly regarding its relationships with U.S. and non-U.S. subsidaries.
Caterpillar is fighting the IRS on taxes and penalties totalling about $2 billion from profits assigned to a Swiss subsidiary.
Matt Finn is a Fox News correspondent based in the Chicago bureau. Follow him on Twitter: @MattFinnFNC