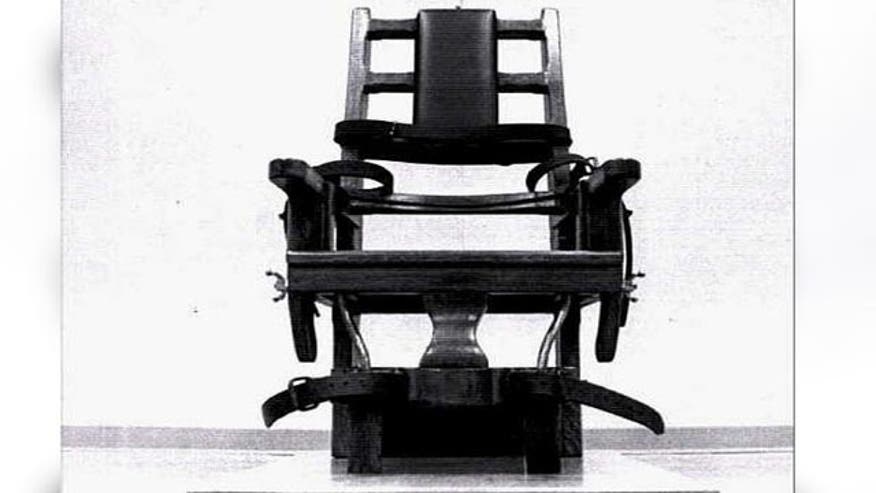 Mississippi lawmakers want to bring back the firing squad, electric chair and gas chamber as execution methods, a step three other states have taken recently, but for a different reason.
Oklahoma reintroduced the gas chamber, Utah the firing squad and Tennessee the electric chair in response to a nationwide scarcity of lethal injection drugs for death row inmates.
Mississippi legislator Andy Gipson said he introduced House Bill 638 in response to lawsuits filed by "liberal, left-wing radicals" challenging the use of lethal injection drugs as cruel and unusual punishment.
'WASN'T HIS INTENTION': MOM SPEAKS OUT AFTER 9-YEAR-OLD GIRL KILLED IN HOME INVASION
"I have a constituent whose daughter was raped and killed by a serial killer over 25 years ago, and that person's still waiting for the death penalty. The family is still waiting for justice," Gipson told the Associated Press.
Gipson's bill passed the House Wednesday, 74-43, and moves to the Senate for more debate.
Mississippi hasn't been able to acquire the execution drugs it once used, and it last carried out an execution in 2012. The state has 47 people on death row, and some have been there for decades.
The 33 states with the death penalty all have lethal injection as the primary method of execution, according to the Death Penalty Information Center and its executive director, Robert Dunham. The center says only Oklahoma and Utah have firing squads as an option; eight states have electrocution, five have the gas chamber, and three have hanging.
The firing squad became an option in Utah in 2015.
That same year, Oklahoma Gov. Mary Fallin signed legislation to use nitrogen gas as an option.
Tennessee enacted a law bringing back the electric chair in 2014.
"It's interesting that what we anticipated would happen is happening," Dunham told FoxNews.com Friday. "As states are having difficulty obtaining drugs for lethal injections, they're looking at different options."
He expects legal challenges in states that reintroduce old execution methods.
"What you will see is when states change their method of execution, there are invariably legal challenges that arise," Dunham said.
Jim Craig, an attorney who is suing Mississippi over lethal injection drugs, told The Associated Press on Wednesday that each of the proposed new methods of executions would be challenged in court.
"Every single one, in essence, just injects a whole new series of issues in the existing case," said Craig, who is with the New Orleans-based Roderick & Solange MacArthur Justice Center.
He said with the firing squad, for example, the state would have to set protocols and procedures to reduce the risk of torture, and he doubts the Department of Corrections has prepared to do that.
Utah ended firing squad executions in 2004 amid complaints that they were inhumane, the Los Angeles Times reported in 2015.
Utah inmates on death row, convicted before 2004, could still choose the firing squad, the paper reported. Ronnie Lee Gardner, a convicted murderer who shot and killed a lawyer during a prison escape attempt, was the last inmate executed in Utah by a firing squad in 2010.
Oklahoma officials told Fox 25 in November they haven't established protocols to use nitrogen gas as a backup execution method but have heard from a company offering pain-free and mistake-free gas chamber executions.
The company sent a letter to Oklahoma Department of Corrections guaranteeing the "demise of any mammalian life within four minutes," according to the station.
The Associated Press contributed to this report.