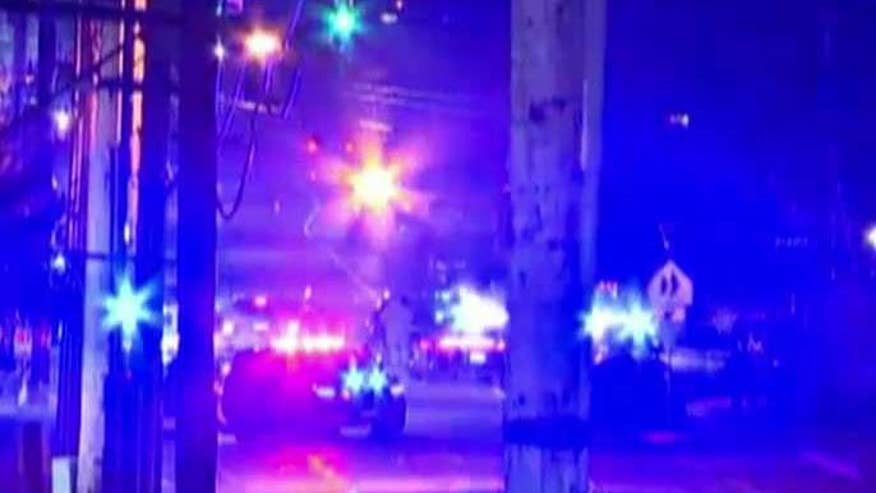 A repeat felon arrested in the shooting that left a 61-year-old police officer in critical condition north of Seattle was ordered held on $1 million bail Friday, officials said.

VIDEO: BODY CAMERA CAPTURES SHOOTING OF GEORGIA POLICE OFFICERS
Ernesto Lee Rivas, 44, was taken into custody overnight following an hour-long standoff at a home in Mount Vernon, during which he repeatedly fired at officers, the Washington State Patrol said. Hostage negotiators spent several hours communicating with him.
Two other people were also arrested, but authorities did not immediately release details about their involvement in the case.
FIRST LAW ENFORCEMENT OFFICER FACING FEDERAL TERRORISM CHARGES IS INDICTED
The wounded officer was shot when he responded to the home for a report of another shooting Thursday evening, in which the victim was grazed by a bullet. The identity of the officer, who has about 30 years of service, was expected to be released Friday afternoon.
The wounded officer was taken to Skagit Valley Hospital before being transferred to Harborview Medical Center in Seattle, according to hospital spokeswoman Susan Gregg.
A judge ordered Rivas held in lieu of $1 million bail, the Seattle Times reported. It was not immediately clear if Rivas has obtained an attorney.
Court and Washington State Patrol records show that Rivas is 44 and has eight felonies on his record, including unlawful possession of a firearm in 2011 and unlawful imprisonment in 1998. He was subject to a domestic violence protection order last year after the mother of his child accused him of stalking her at work.
Washington State Patrol Sgt. Keith Leary told reporters earlier the 61-year-old Mount Vernon officer had been wounded Thursday evening while responding to the call about a shooting victim and a suspect began shooting from a house.
Leary said the victim from the initial call was grazed by a bullet and was taken to a local hospital for treatment. It wasn't immediately known if the two shootings were connected, Leary said.
The neighborhood in Mount Vernon, about 60 miles north of Seattle, was closed by police while officers and a SWAT team were attempting to negotiate.
The shooting comes less than a month after a Tacoma police officer was killed responding to a domestic violence call. Officer Reginald "Jake" Gutierrez, 45, was fatally shot Nov. 30. The suspected gunman was killed by a sheriff's marksman, ending an 11-hour standoff.
Skagit Valley College said Thursday night that because of police activity the Mount Vernon campus was in lockdown and closed. The school tweeted "everyone get inside and stay inside."
Fox News' Michael Setsuda and The Associated Press contributed to this report.