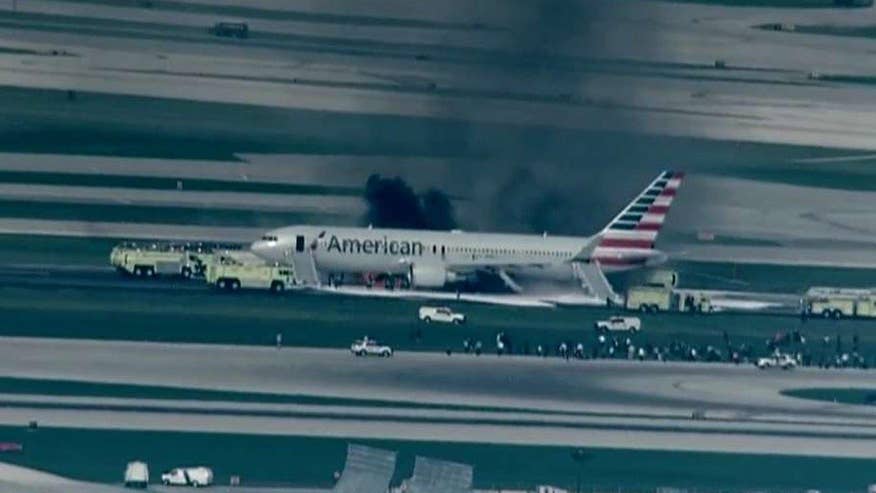 An American Airlines plane blew out a tire and caught fire at Chicago's O'Hare International Airport Friday, according to officials.
American 383 caught fire while rolling out for departure off ORD RWY 28R pic.twitter.com/J1p2LXVTSy

— ORD Airport Insider (@ORDInsider) October 28, 2016
The airplane that caught fire was Flight 383, a Boeing 767 flying from O'Hare to Miami with 161 passengers on board and nine crew members, according to Fox 32 in Chicago.
EMERGENCY AIRCRAFT DOWN AT OHARE 2 11 RESPONSE details to follow

— Chicago Fire Media (@CFDMedia) October 28, 2016
Flight 383 to Miami aborted takeoff after the incident and passengers were deplaned. Seven passengers and a flight attendant reported minor injuries.
"[The plane] blew a tire at 2:35 p.m. [local time] and aborted take off," the Federal Aviation Administration said in a tweet. "FAA investigating."
Massive plumes of smoke could be seen rising from the tarmac from terminal windows in photos on Twitter. There were reports the fire also damaged an engine.
Chicago fire officials said on the department's Twitter account that there was an extra-alarm emergency response at the airport for an "aircraft down."
Several ambulances were on the scene. Published reports said the fire came as a fire drill was scheduled to take place, perhaps adding to consusion.