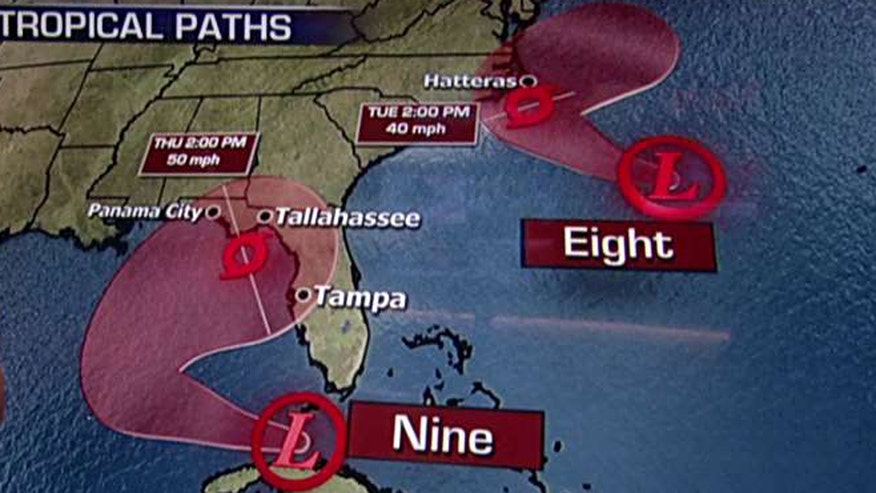 A tropical depression churning 400 miles off the coast of North Carolina on Sunday had weather watchers eyeing a potential upgrade to a tropical storm that could impact the Outer Banks as early as Sunday night, while residents along the Gulf Coast are keeping their eyes on another potential system.
Tropical Depression Eight had maximum sustained winds of 35 mph and was moving westward at about 9 mph, according to a 5 p.m. National Hurricane Center update. The depression was located 355 miles southeast of Cape Hatteras. No coastal watches or warnings were currently in effect, but a tropical storm watch could be required for "interests along the Outer Banks" as the depression progresses.
The next advisory on the system was set for 11 p.m.
If the depression developed further it would be named Tropical Storm Hermine, the NHC said.
The storm's center is expected to pass offshore of the Outer Banks on Tuesday.
Separately, Tropical Depression Nine also formed Sunday afternoon over the Florida Straits heading towards the Gulf of Mexico.
The system, formerly known as Invest 99L, looked more organized on Sunday, with thunderstorms developing nearer the low just to its east. The heavy storms the system brought to Cuba and the Bahamas will spread across south Florida into Monday.
If it develops further, it will be named Hermine, according to the NHC.
During the day on Monday, the system will move slowly into the more favorable environment of the Gulf Mexico where there is very warm water and a much less hostile wind shear environment.
The storm is expected to impact the Gulf Coast sometime later this week, but forecasters should present a much better picture of the future scenarios with this disturbance.
In addition to the two tropical depressions, Hurricane Gaston was gathering strength as it moved northwestward in the Atlantic, but forecasters said it posed no threat to land. The center said Gaston reformed as a hurricane Saturday night.
On Sunday, Gaston was clocking maximum sustained winds of 105 mph. The storm was located about 600 miles east of Bermuda and was moving northwest at about 5 mph.
Hurricane-force winds extended outward up to 25 miles from the center, and tropical-storm-force winds extended outward up to 140 miles.
The Associated Press contributed to this report.