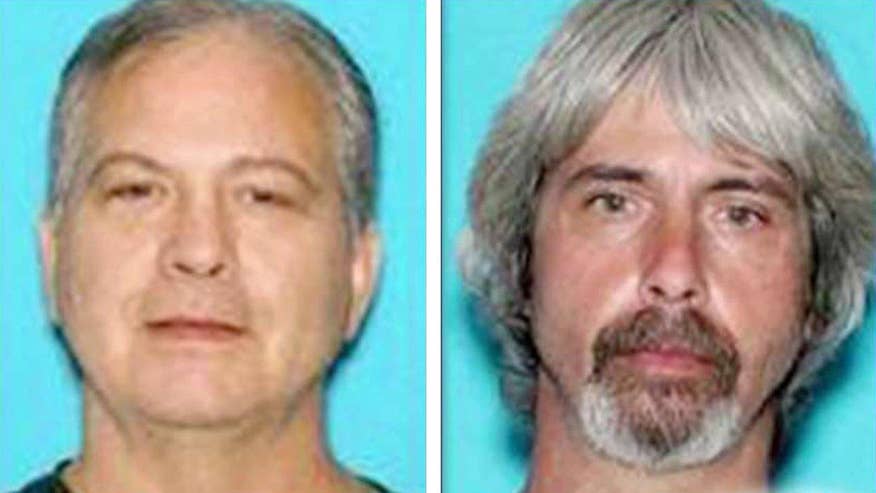 The convicted felons suspected of murdering a missing Washington state couple last week have dumped the car they were using in their desperate escape and are now in a new vehicle headed for Mexico, investigators said Tuesday afternoon.
Brothers John Reed and Tony Reed are now thought to be driving a 2002 Gold Acura 32T with Arizona plate BNN-9968, the Snohomish County Sheriff's Office said in a news release. A license plate reader detected the vehicle in Calexico, Calif. on Monday. The Volkswagen EOS Coupe they had initially driven was found abandoned in Phoenix on Monday, deputies add.
"The exact location of the Reed brothers is unknown, but there is reason to believe they may be trying to flee to Mexico," the news release said.
The brothers were officially charged with murder by Snohomish County prosecutors Tuesday afternoon.
Murder suspect vehicle located in Phoenix. Reed brothers believed to now be driving '02 Gold Acura (AZ BNN-9968) pic.twitter.com/pXfVlO9XPp

— Snohomish Sheriff (@SnoCoSheriff) April 19, 2016
Police are hunting the brothers, ages 53 and 49, in connection with the deaths of Patrick Shunn and Monique Patenaude. Shunn and Patenaude disappeared on April 11 and authorities said "it's clear" they're dead, though no bodies have been found. The Reed brothers are considered "armed and dangerous."
Search crews on Monday were trying to reach a mound covered with a tarp and freshly cut branches in a wooded area near where abandoned vehicles belong to Shunn, 45, and Patenaude, 46, were found, according to court papers viewed by The Herald of Everett.
The property dispute between John Reed and the couple stems from a March 2014 mudslide that killed 43 people and damaged several properties in the Arlington neighborhood where the three lived, The Herald reported. In the aftermath of the disaster, several properties were eligible for buyouts and Reed accepted one for $244,000. Reed allegedly continued to live on the land he sold back to Snohomish County, however, and Shunn and Patenaude reported him a few weeks ago, according to search warrants viewed by The Herald.
The squatting incident, however, was not the first time John Reed allegedly fought with the couple.
In 2013, Shunn called 911 to report Reed for threatening Shunn and his wife over a brush-cutting disagreement. Reed allegedly told Shunn he would "shoot or assault" the couple "if they didn't leave Reed alone." It was apparently just one of "ongoing and constant" issues between the two parties.
After the mudslide, Reed told a deputy that he blamed others who lived in the area for triggering the tragedy and that he could shoot the people responsible and hide their bodies in the woods, The Herald reported.
Dried blood was found in the bathtub and bedroom of Reed's former home and blood was found in Shunn's and Patenaude's ditched vehicles. It was unclear whose blood it was.
John Reed also was seen on the vanished couple's property on April 13, two days after they vanished. Reed had a key to the gated driveway because it was next to his old property.
A neighbor in the area also told police he recently found a shotgun that didn't belong to him in his garage. Reed reportedly was familiar with the garage and the shells found in the shotgun were similar to ones found in a bedroom on Reed's former property, according to court papers viewed by The Herald.
Surveillance video shows the vehicles belonging to Reed and Patenaude approaching the area where they were later discovered dumped at about 3 a.m. on April 12. That's the same time records show the couple's cell phones were moved from their home and traveled two miles west, The Herald reported. After three hours, the phones returned to the area of the couple's home and were shut off.
Both John and Tony Reed have felony convictions. John Reed was prosecuted in 2014 for violating state natural resource laws and also was involved in a previous drug case, The Herald reported. Investigators found an underground room at John Reed's former Arlington property they believe had been used in a marijuana growing operation. Tony Reed's rap sheet stretches back three decades and includes assaulting a police officer in one instance and assaulting a man with a pool cue and pliers in another.