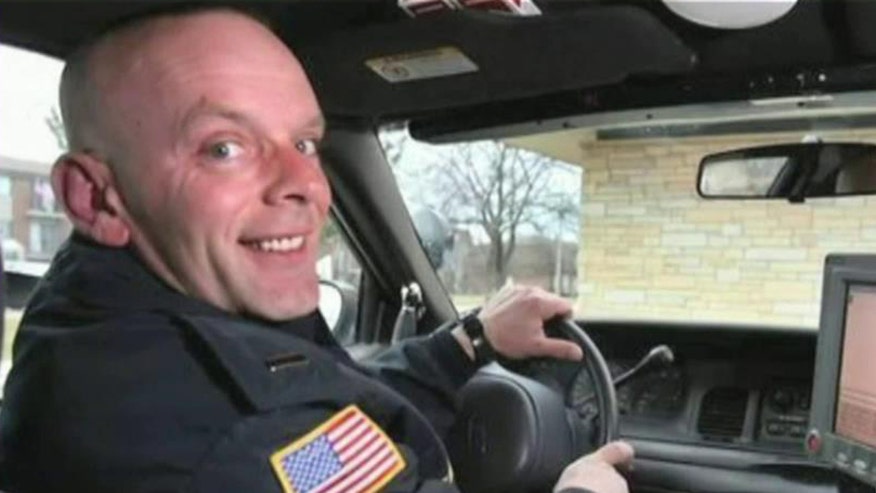 An Illinois police lieutenant who investigators say killed himself out of fear he'd be exposed as an embezzler also allegedly harassed colleagues and arranged a sham marriage so his son could pocket additional military benefits.
Fox News can confirm a former Fox Lake police officer, Denise Sharpe, filed a sexual harassment lawsuit in 2003 against Lt. Joe Gliniewicz claiming he forced oral sex on her multiple times, telling her that female officers weren't liked and she would be fired if she didn't comply. The lawsuit claims he did this on the job and on trips for the youth program he'd been commended for organizing.
Gliniewicz was suspended for 30 days because of the allegations and was advised to seek sexual addiction therapy. Some argue he should have been fired at the time.
The lawsuit was ultimately thrown out because Sharpe and her attorney missed court dates. Speaking to Fox News multiple times, Sharpe says she ultimately sued her attorney for misrepresentation and won a hefty sum.
Two sources say Joe Gliniewicz arranged the sham marriage for his son, D.J. Gliniewicz, to get military marriage benefits.
D.J. Gliniewicz -- who is in the Army -- married a woman named Kathryn Marie Grams in July 2013. The marriage ended after less than two years.
Under their arrangement, Grams, who went by Katie, would receive about $500 a month, according to a longtime friend of the family who is seen in video and in the community after the lieutenant's death. Sources say Joe Gliniewicz was first having an affair with Grams, then convinced his son he'd receive thousands more annually from the Army if he married her.
Multiple sources tell Fox News the lieutenant was known for having a string of affairs. Police say they have interviewed Grams.
Joe Gliniewicz, a well-known figure in the bedroom community of 10,000 people 50 miles north of Chicago, was found dead near his patrol car on the morning of Sept. 1.
Though Gliniewicz was initially thought to be the victim of a murder by suspects he'd claimed to be pursuing, authorities announced Wednesday that he in fact killed himself to cover up his theft of thousands of dollars from the youth program. Gliniewicz's wife Melodie and son D.J. are now being investigated in connection with the scheme.
The Chicago Sun-Times reported that among the documents in Gliniewicz's personnel file, which was released late Thursday, was a February 2009 letter sent to the village's then-mayor signed by several of the officer's colleagues. It included allegations of sexually harassing a dispatcher and grabbing women's breasts at department Christmas parties; complaints from bouncers at local bars for being drunk and belligerent; walking out on a $300 tab at one bar; taking his family on a trip to Wisconsin in his squad car and allowing members of the youth program unsupervised access to the police department and to wear clothing labeled "police," misidentifying themselves as officers.
It was not clear from the file whether any action was taken in response to the letter.
In 2003, a dispatcher complained Gliniewicz tried to intimidate her by bringing guns into the radio room after the two had a disagreement during which Gliniewicz allegedly told her he could put three bullets in her chest if she didn't stop acting foolishly. A couple weeks later, the chief eliminated Gliniewicz's job as commander of support services because of his "problems with the communications division."
But there is no evidence Gliniewicz got in serious trouble, and in 2006, he was promoted to lieutenant in control of the patrol division.
Gliniewicz's file contained numerous commendations for good work early in his career with the department, which began in 1985. But in just a few years, he was racking up reprimands and suspensions for lying about being sick and giving motorists the wrong court dates on their traffic citations.
The Sun-Times reported that in 1988, a detective reported Gliniewicz to his supervisor after the office was found passed out behind the wheel of his pickup truck. The detective's report said Gliniewicz had his foot on the gas pedal and the engine was "running full-throttle". The detective said he had the truck towed and drove Gliniewicz home himself. The next day, the detective learned that Gliniewicz had reported his truck stolen and had gone out to look for it.
When the detective questioned Gliniewicz, the officer said he had been drinking and could not recall what happened to his truck. However, he claimed his roommate's girlfriend had seen it at Gliniewicz's house earlier that morning.
The latest revelations about Gliniewicz's behavior came hours after investigators revealed that he had sent a text in April asking a woman to set up a meeting with a "high ranking gang member to put a hit on the village manager," whom he feared would expose him as a thief.
Gliniewicz sent another message in May saying he had thought of "planting things," which made more sense after investigators found small packages of cocaine in Gliniewicz's desk after he died, Det. Chris Covelli told the Associated Press.
"We never found any explanation why those drugs were in his desk at the police station," Covelli said.
Lake County Major Crimes Task Force Commander George Filenko, who led the investigation, said the 30-year police veteran clearly intended to mislead investigators.
Recovered text messages and other records show Gliniewicz spent the money on mortgage payments, travel expenses, gym memberships, adult websites, withdrawing cash and making loans, Filenko said.
Just why he tried to make it look like murder remains unclear. Filenko said he didn't know whether a suicide finding would prevent his family from receiving benefits.
The initial outpouring of grief in the 52-year-old officer's village has been replaced by a sense of betrayal. Many tributes have come down. Some signs praising the man once called "G.I. Joe" have been replaced, one by a poster labeling him "G.I. Joke."
Fox News' Matt Finn, Madelin Fuerste and The Associated Press contributed to this report.
Click for more from the Chicago Sun-Times.