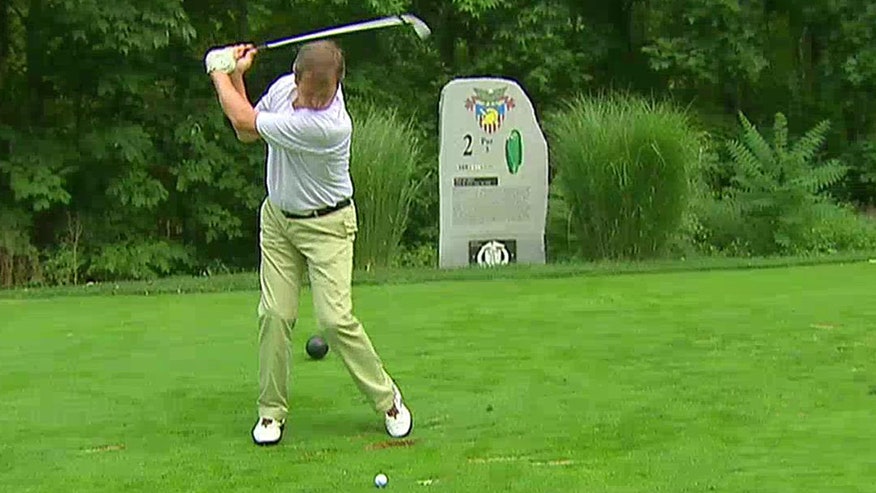 I admit it. I'm a terrible golfer. I'm happy when I break 100. I'm also happy when I sink a 75-foot putt, as you might've seen me do in my special report on West Point and its historic golf course. (OK, it might have been closer to 20 feet, but I didn't have a tape measure and it sure looked like a long roll to me!)
Active duty military personnel get first dibs on tee times -- as they should -- but it's still easy to get on the course, and by New York standards, not very expensive. A weekday round is $60 for civilians, $78 on weekends, with various discounts for military and retired military personnel.
That money not only maintains the course but also is funneled into recreation programs for the cadets at West Point -- you can truly feel good about plunking down your money. Plus, it's a challenging course, designed by the legendary Robert Trent Jones, Sr.
Each hole is recently dedicated to one of the major wars in which our nation has fought; markers at each tee box remember the wars and honor the warriors, especially those from West Point. If you like golf and you're in the New York City area, the West Point course is definitely worth playing.
The Thayer Hotel is also inside the West Point gates, open to the public and historic in its own right. Many of its rooms are dedicated to some of the most historic figures to have graduated from West Point -- a school that has produced presidents, astronauts, captains of industry and a myriad of leaders in every discipline imaginable.
It's a fascinating place to stay -- and the Sunday brunch is to die for! Be sure to make reservations because that event is extremely popular. You can combine a stay at the hotel with a golf outing, tours of West Point and other area attractions if you choose. Here's the website: http://www.thethayerhotel.com
If you make the journey and enjoy it, please let me know!
Jon Scott serves as co-anchor for "Happening Now." Scott joined FOX News Network in October of 1996, two months prior to its launch. Click here for more information on Jon Scott.