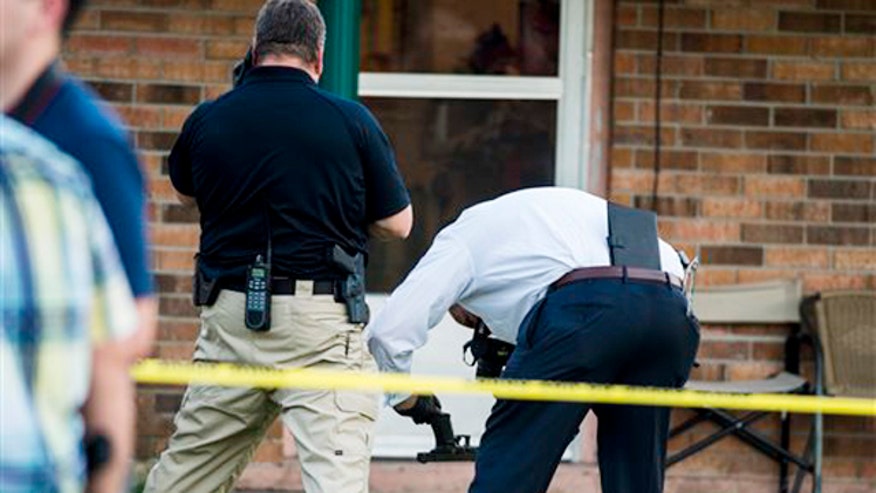 A Louisiana police officer was shot and killed by his cousin Wednesday when he responded to a stabbing that killed one woman and injured two others, officials said.
The suspect in the attacks, identified as 35-year-old Harrison Riley Jr., then drove from the house in Sunset, a town of approximately 2,900 people in the southwestern part of the state, and crashed into a convenience store about three blocks away, barricading himself in an office and telling police that he wouldn't come out and was ready to fight.
Riley, of nearby Arnaudville, La., was arrested after a nearly two-hour standoff when SWAT team members lobbed tear gas and "C-gas" into the building, then broke in using hammers and fire axes.
St. Landry Parish Sheriff Bobby Guidroz said he was told Riley is originally from New Orleans and has an extensive criminal history there. He had recently moved to Arnaudville, the sheriff said.
Guidroz identified the dead as Officer Henry Nelson, 51, and Shameka Johnson, 40, and the wounded as her sister Shurlay Johnson, 34, and Wiley's wife, Courtney Jolivette Riley, whose age the sheriff didn't know.
Riley was being kept in a hospital for observation because he said one of his ribs hurt, the sheriff said. He said Riley will be booked with first degree murder and first-degree murder of a police officer -- separate crimes, each carrying a possible death penalty, as well as two counts of attempted first-degree murder, criminal damage to property and resisting arrest.
Guidroz said the violence began with an argument between the Rileys at a house belonging to the Johnsons' mother. "He began stabbing the Johnson sisters when they intervened to protect his wife," Guidroz said. "Officer Nelson arrived, and a fight ensued." Guidroz added that Nelson apparently was killed with his own handgun.
Sunset Police Chief Luis Padilla said that Nelson had been with the police department since 2002 was someone who "loved life. Came in with a smile to work and left work with a smile."
Padilla added that Nelson and Riley were cousins. Shameka and Surlay Johnson are sisters of Shaterral Johnson, who is the interim mayor of Grand Couteau, a town just to the northeast of Sunset.
Nelson had planned to begin a month's vacation on Thursday to spend time with his teenage daughter, who lived out of town, Padilla said.
Nelson -- one of six officers under Sunset Police Chief Luis Padilla -- was the second Louisiana police officer killed in four days and the fifth in four months. State Trooper Steven Vincent was shot Sunday and died Monday. Shreveport Officer Thomas LaValley was shot to death Aug. 5, New Orleans Police Officer Daryle Holloway on June 20, and New Orleans public housing police Officer James Bennett Jr. on May 25.
Nini Truong, the 15-year-old daughter of the convenience store's owner, told the Associated Press she was in the store's back office doing homework when Riley's car crashed through the front window. Truong said Riley was covered with blood when he got out of the car and "was shoving people around, asking where my dad was." When she told him her father was not there, Riley went into another office and closed the door.
Sometime later, the Sunset Mini Mart burst into flames. Firefighters quickly put out the blaze. The state fire marshal was working to determine the cause of the fire, Guidroz said.
The Associated Press contributed to this report.