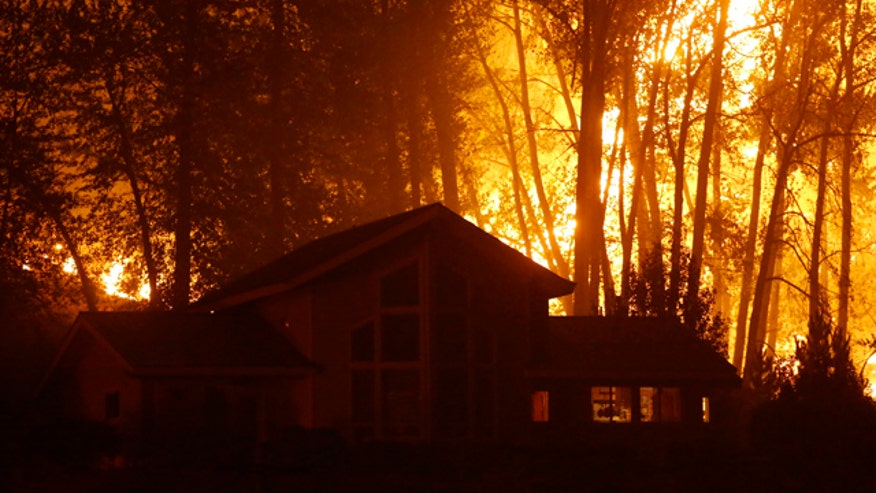 Three firefighters killed battling raging wildfires in Washington state were being mourned Friday across the state and the country, even as thinly stretched crews were joined by private citizens as they battled more than 100 fires in five states across the west.
The men who died battling the Washington blaze, Tom Zbyszewki, 20, Andrew Zajac, 26 and Richard Wheeler, 31 were members of an elite crew that scoped out the size of a wildfire before other firefighters were sent in. Their vehicle crashed Wednesday and, before they could escape, flames rolled over them. Four other firefighters nearby were injured, one critically.
The fatalities came as some 29,000 firefighters, including responders from as far away as New Zealand, joined local crews in their struggles against fires that have consumed 11,000 square miles so far. Most of the ravaged land has been in Alaska, but an increase in fires in the Idaho, Oregon, Montana, Washington and California has caused competition for firefighting resources with some requests going unmet.
Some fires have simply been unstoppable. Steve Ellis, deputy director of the U.S. Bureau of Land Management, earlier this week flew over a 443-square-mile rangeland fire in southwest Idaho and said he could see where retardant bombers put in lines that the fire easily crossed.
"What we're getting now are much more intense fires because of all those years of suppression," said John Freemuth, a Boise State University professor and a public lands expert. "Those kinds of intense fires are usually not allowed to burn."
Authorities issued a mandatory evacuation order for the north-central Washington town of Tonasket Thursday evening as wildfires fanned by high winds raged out of control. The Okanogan County Emergency Management department issued the order for the town of 1,000. Residents were told a shelter was open at Brewster High School.
On Friday, the complex of fires grew more than 100 square miles in a single day, creating a situation too chaotic to even track how many homes had burned.
"We have lost them, but I don't know how many," Okanogan County Sheriff Frank Rogers told the Associated Press. "We've got no idea."
The three deaths were a grim reminder of the dangers faced as wind-whipped forest fires swept through parched woodlands. Zbyszewki had been fighting fires for two years to pay for his education at Whitman College in Walla Walla, Wash., Q13 Fox reported. He was set to return to school next week.
His parents fought wildfires for 20 years and fighting fires was his family's legacy, the station said.
"He was the light of our life," his broken-hearted father Richard Zbyszewski told the station. "We'd give anything to have (Wednesday) not happen."
"He was the light of our life."

- Richard Zbyszewski, father of fallen firefighter
"We just want people to know what a wonderful person he was, how bad we feel about it all," the father said. "There's no way we can replace a son."
A local newspaper interviewed Tom Zbyszewski last year about the emotions he faced fighting a wildfire while trying to save a neighbor's or friend's home, the station said.
"That puts another level of strain on local firefighters," he told the Methow Valley News. "We have to put that out of our minds so we can focus on the fire."
Wheeler was a West Michigan native and fourth-generation firefighter who still lived in West Michigan during the winter, Wood TV 8 in Grand Rapids, Mich., reported.
"He died a hero," Wheeler's mother, Karen Morey, told the station Thursday night. "He was a loving husband, wonderful son and brother. He will be greatly missed."
Wheeler graduated from South Haven High School in 2003, according to his father-in-law, Doug Gruber. He had been fighting wildfires for 10 years.
In Michigan, Wheeler was pursuing a degree in natural resources management at Grand Valley State University.
Zajac, 26, of Downers Grove, Ill., and most recently of Winthrop, loved the outdoors. He completed a nearly 5-month north-to-south hike of the Pacific Crest Trail in 2013 with his girlfriend, the Wenatchee World reported.
He had a biology degree from Case Western Reserve University and a master's degree from University of South Dakota in 2014, according to his LinkedIn page, the paper said.
Zajac was a two-year starter at right tackle for Case Western's football team. He also fought wildfires in New Mexico.
The tragedy Wednesday night cast a pall in Washington state and brought to 13 the number of firefighters killed across the West this year during one of the driest and most explosive wildfire seasons on record.
The blazes have "burned a big hole in our state's heart," Gov. Jay Inslee lamented Thursday, describing the outbreak as an "unprecedented cataclysm."
"These are three big heroes protecting small towns," the governor said, urging residents to "thank a firefighter."
Fire officials with notebooks and cameras walked the hills and banks near Woods Canyon Road outside Twisp, investigating how the disaster happened. Authorities gave few details, shedding no light, for example, on the crash, other than to say that it was not the accident itself that killed the victims, but the fire.
The deaths happened in the scenic Methow River valley about 115 miles northeast of Seattle, where a series of blazes covering close to 140 square miles had merged. The flames burned an undetermined number of homes and triggered orders to about 1,300 people in the outdoor-recreation communities of Twisp and Winthrop to evacuate.
The critically injured firefighter was Daniel Lyon, 25. He was airlifted to Seattle's Harborview Medical Center, Q13 Fox said.
Lyon reportedly has burns over 60 percent of his body. He's awake, but heavily medicated, hospital officials said.
The three other injured firefighters were reportedly released from local hospitals, the station said.
The Associated Press contributed to this report.