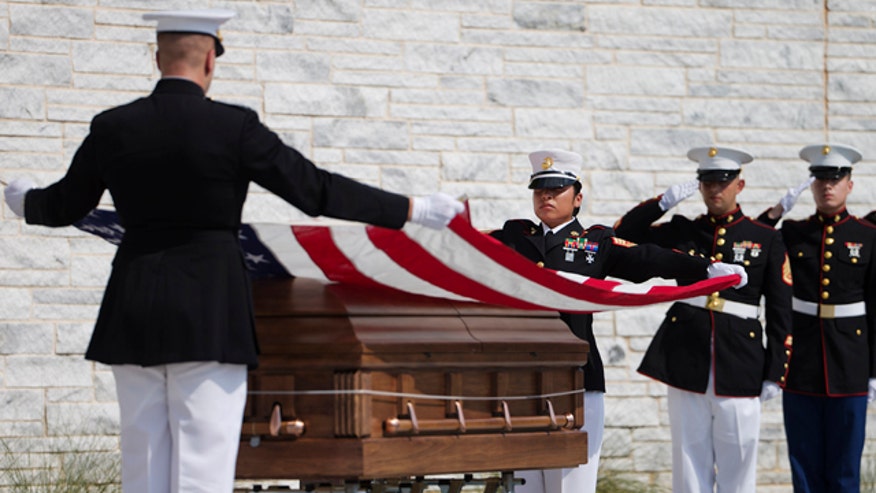 The four Marines who were killed when a gunman opened fire at a Navy Operational Support Center reportedly will only be eligible to receive a Purple Heart award if the FBI declares the shooter had ties to a terror organization.
The Marine Corps Times reports Purple Heart packages are being prepared for the Marines who lost their lives in the shooting in Chattanooga, Tennessee. The FBI has only referred to Mohammad Youssuf Abdulazeez as a "homegrown violent extremist."
"Determination of eligibility will have to wait until all the facts are gathered and the FBI investigation is complete," Marine Corps public affairs officer Maj. Clark Carpenter told the Marine Corps Times.
The Marine Corps is also looking into the requirements for awarding a Purple Heart to Sgt. DeMonte Cheeley, who was injured in the attack, said Capt. Alejandro Aguilera, a spokesman for the 6th Marine Corps District told the Marine Corps Times.
Cheeley was shot in the leg after Abdulazeez pulled up to his recruiting office and opened fire through the storefront window.
To receive the Purple Heart, it must be demonstrated that active-duty troops were killed or wounded by someone in contact with or inspired and motivated by a foreign terrorist organization.
Marines Lance Cpl. Squire "Skip" Wells, Gunnery Sgt. Thomas Sullivan, from Hampden, Mass., Sgt. Carson Holmquist, of Polk, Wisc., and Staff Sgt. David Wyatt, of Burke, N.C. were all killed in the July 16 attack. Navy Petty Officer Randall Smith also died in the attack.
Federal officials are still working to determine whether Abdulazeez had been radicalized to attack the recruiting centers.
Click for more from the Marine Corps Times.