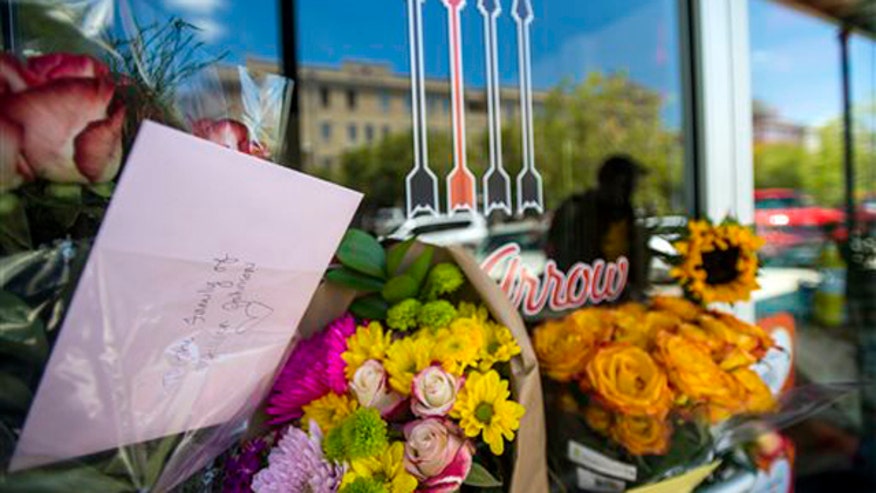 A teacher praised for her heroism in Thursday's shooting at a Louisiana movie theater is offering forgiveness to the mentally-troubled drifter gunman.
Allister Martin pulled a fire alarm after she was shot in the knee during a showing of "Trainwreck" in Lafayette. Police say John Houser fatally shot two women and wounded nine others, including Martin, before killing himself. Now Martin is ready to forgive.
"We have to forgive him and pray for him," she said of the gunman, according to her father who spoke to Fox News.
After her heroics, Martin ran from the theater and hid behind a bush, afraid the shooter would try and finish her off, her dad Pat Viator said.
He said his daughter comes from a family of devout Catholics and he couldn't be more grateful those are the words she expressed so soon after the tragedy.
Viator also said his daughter was shaken up but resting after her discharge from the hospital early Friday.
Martin and her colleague and movie companion, Jena Meaux, were credited with helping save lives after House pulled out a .40-caliber semi-automatic handgun and opened fire.
Meaux jumped in from of Martin, shielding her from a hail of bullets including one aimed at her head. Meaux was shot in the leg. The wounded Martin still managed to pull the alarm, alerting some 300 people in the giant multiplex that something wasn't right.
Police say Houser then tried to blend into the crowd heading outside as the alarm blared. But he turned back as police officers approached, reloading and firing into the crowd before killing himself with a single shot inside the theater, police said.
Lafayette Police said Saturday they were investigating tips called in by people about Houser as they worked to reconstruct his movements before the shooting and establish a motive.
They said they were still interviewing victims and witnesses and studying Houser's cell phone records, internet postings and other contacts, trying to establish what prompted the right-wing extremist with a long history of erratic behavior and violent threats to open fire.
"Our intelligence section is still analyzing a lot of that," Lafayette Police Col. Paul Mouton said, adding that many people "feel they have had some sort of contact or run in with this individual."
Lousiana Gov. Bobby Jindal hailed the two teachers for their courage. He said of Martin, "Even though she was shot in the leg, she had the presence of mind to pull the fire alarm to help save other lives. A lot of folks in that situation would just be thinking about themselves."
Meaux and Martin are teachers at Jeanerette Senior High School in the Iberia Parish School District. They are both from New Iberia, a town of about 30,000 people approximately 30 miles southeast of Lafayette.
Meaux was also released from the hospital.
Cammie Maturin, the president of the Iberia chapter of the Louisiana Association of Educators, told The Times-Picayune that she had started a GoFundMe page to raise money for the women's medical expenses. As of 3 p.m. Saturday the fundraising effort had raised $23,000, more than half of its stated $40,000 goal.
"They were special to us before last night, and even more special now. What they did last night is very depictive of what they do in the classroom every day," Jeanerette Senior High School Principal, Linda Freeman told KLFY-TV.
Fox News' Elizabeth Robichaux Brown and the Associated Press contributed to this story.