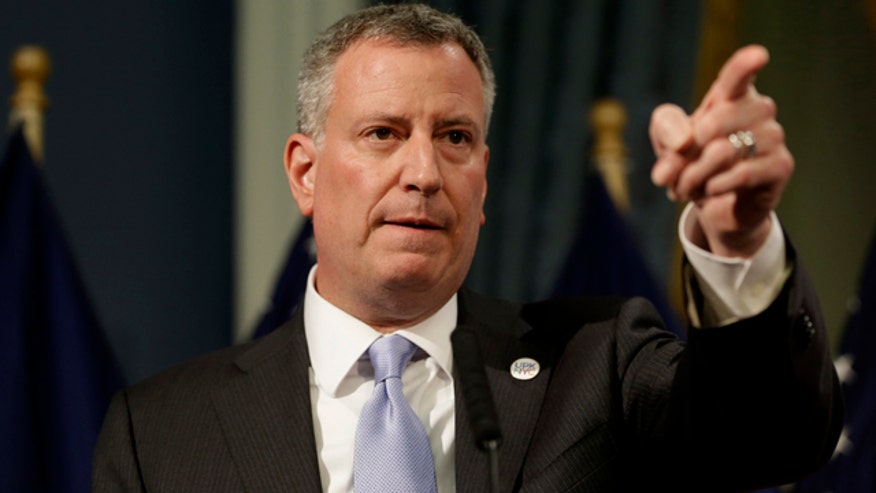 Uber, the app-based mode of transport favored by millennials worldwide, is battling politics, bad press and claims its disruption of the car-for-hire business presents a danger on the streets, but a partial victory in New York shows the company is more than willing to fight for its future.
Founded just six years ago in San Francisco and now valued at more than $40 billion, Uber ended -- or at least pumped the brakes on -- a feud with the Big Apple, where lawmakers and Mayor Bill de Blasio were threatening to cap the number of drivers allowed on city streets. But in a surprise deal announced late Wednesday, the city agreed to table the limits until completion of a four-month study on whether Uber cars are in fact increasing traffic and harming the environment. The partial cave came after Uber put out an ad showing drivers from a broad racial and ethnic spectrum and pushed back aggressively at the political undertones of the plan.
"There is nothing progressive about protecting millionaire taxi donors who mistreat drivers and discriminate against riders and no amount of name calling by Mayor de Blasio will change that," Uber spokesman Matt McKenna said in a statement to FoxNews.com. "Eventually, the mayor will have to explain why he's against creating 10,000 jobs and protecting reliable rides in communities outside Manhattan."
"There is nothing progressive about protecting millionaire taxi donors who mistreat drivers and discriminate against riders and no amount of name calling by Mayor de Blasio will change that."

- Uber spokesman Matt McKenna
Uber officials say they are unleashing the entrepreneurial drive of thousands, and the company's supporters noted that de Blasio's 2013 mayoral campaign received $250,000 in direct contributions from the taxi industry. But the fight against New York's well-organized taxi lobby could provide a blueprint for skirmishes across the country and around the world. Critics in government and the private sector alike believe the company profits mainly by operating outside the reach of regulation, undercutting taxis, limos and even mass transit, while clogging streets.
Uber has vowed to defend its business model with hard data, which it mined for the New York dust-up.
"Mayor de Blasio said he wanted a 'data driven approach,' when, in reality, his approach has been to hide the data that shows his policies are flat out wrong," Uber's New York General Manager Josh Mohrer said Wednesday, before the deal was struck.
In New York, there are roughly 1,733 Uber vehicles south of 59th Street over 24 hours and 1,904 Uber vehicles south of 59th Street from 7 a.m. to 7 p.m., according to Uber. In contrast, Uber said, there are more than 13,400 yellow cabs doing 90 percent of their trips in Manhattan nearly 24 hours a day, seven days a week.
The New York City Taxi & Limousine Commission contests Uber's claims -- saying the company's bases have added about 25,000 new vehicles to the system over the past two years.
"Congestion has a clock on it," de Blasio's spokesman Wiley Norvell told FoxNews.com Wednesday.
"The rapid influx of 2,000 new cars a month could have serious impacts on the mobility, health and safety of New Yorkers," Norvell said. "Without action, we'd face for-hire companies adding nearly as many new cars in the next six months as there are taxicabs in all of New York City. But the administration is no less concerned about the protections and rights of drivers, passengers, people with disabilities, as well as the health of our broader transit system. This is a sector that's evolving rapidly, and a holistic approach is necessary to make sure its future growth meets the values and the interests of the public."
The Uber debate in New York is part of a global backlash -- from France to Germany to India and China -- that labels Uber's business model as unfair competition and one that evades regulations in order to profit. Protests in Paris last month turned violent, with the city's taxi drivers blocking roads and torching cars. Two Uber executives in France were arrested and detained during the upheaval -- accused of operating an "illicit" business.
Uber drivers who use their own cars are considered "independent contractors" -- not employees -- and therefore not eligible for health benefits and other protections normally afforded by a union. The company, however, claims more than 62 percent of its drivers are working full-time or part-time on another job.
Uber's opponents say its drivers are not compensated enough -- and that the company can arbitrarily cut their pay. Critics also claim Uber does not properly screen its drivers -- citing instances of sexual assault in major U.S. cities as well as abroad.
Stricter labor laws are needed, critics say, to keep the privately-held company in check.
In December, Uber was slapped with a civil suit in its home state by San Francisco District Attorney George Gascón and Los Angeles District Attorney Jackie Lacey for several alleged misdeeds, including, "making false and misleading statements to consumers." Uber, Lacey charged, refused to comply with reasonable regulations as required by California law.
"As a result, Uber continues to put consumers at risk by misleading the public about the background checks of its drivers and its unwillingness to ensure that correct fares are charged," she said.
To use Uber, passengers must first create an account with the service through the app on their iPhone or Android device -- which includes the customer's name, mobile number, email, language and billing information. After logging in with a username and password, the passenger selects his or her vehicle preference -- for instance, a black car, which can seat up to four people, or an SUV, which can seat up to six. The customer then marks the pick-up location on a map with a pin and the driver uses the phone holder's coordinates to arrive at the location. The cost of the ride depends on the time and distance. During certain peak times -- like New Year's Eve -- Uber enacts what it calls "surge pricing."
The controversy over Uber, which currently operates in 58 countries and 46 states, has also entered into the U.S. presidential race.
Hillary Clinton, the current Democratic front-runner, vowed to "crack down on employers who misclassify employees as independent contractors," calling it "wage theft," in an economic policy speech July 13 -- though she did not mention Uber or any other company by name. That same week, one of her Republican rivals, Jeb Bush, used the ride-sharing app to zip around San Francisco.
Cristina Corbin is a Fox News reporter based in New York. Follow her on Twitter @CristinaCorbin.