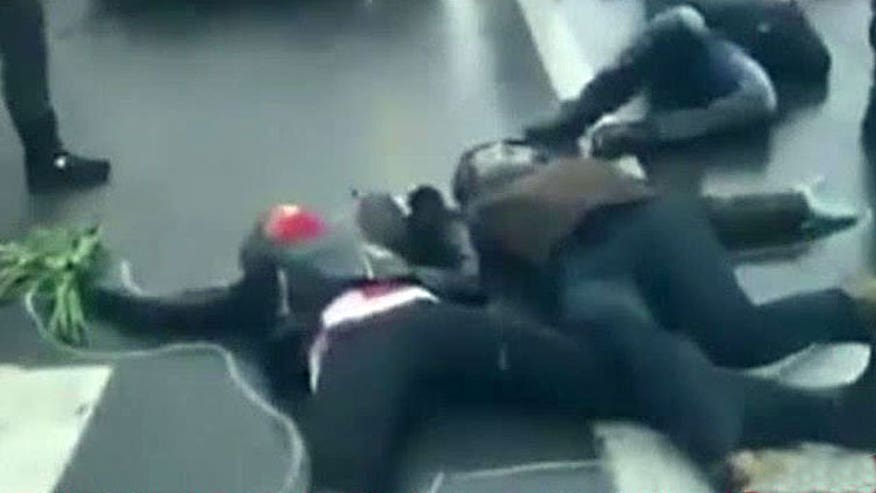 Police officials in Ferguson, Missouri and other cities across America are bracing for possible violence Monday as they await a grand jury decision over whether or not to press charges against a white policeman who killed an unarmed black teen in August, sparking months of protests.
It comes a day after hundreds of people took to the streets of St. Louis, briefly blocking a major intersection to protest the death of 18-year-old Michael Brown.
Dozens of protesters could be seen lying down in the street outside of a movie theater hosting a film festival, pretending to be shot in an action intended to evoke the memory of Brown, according to Reuters.
"This is a mature movement. It is a different movement than it was in August. Then it just had anger, justifiable anger," DeRay McKesson, a 29-year-old protest leader, told Reuters.
Both protests Sunday, which marked the 100th day of demonstrations, were peaceful.
A St. Louis County grand jury, which has been meeting since Aug. 20, is expected to decide this month whether Officer Darren Wilson will be charged with a crime for killing Brown after ordering him and a friend to stop walking in the street on Aug. 9.
Residents and officials in the region fear another wave of rioting if the grand jury decides not to indict Wilson.
"We are bracing for that possibility. That is what many people are expecting. The entire community is going to be upset," said Jose Chavez, 46, a leader of the Latinos en Axion community group.
[pullquote]
For some cities, a decision in the racially charged case will, inevitably, re-ignite long-simmering debates over local police relations within minority communities.
"It's definitely on our radar," said Lt. Michael McCarthy, police spokesman in Boston, where police leaders met privately Wednesday to discuss preparations. "Common sense tells you the timeline is getting close. We're just trying to prepare in case something does step off, so we are ready to go with it."
In Los Angeles, rocked by riots in 1992 after the acquittal of police officers in the beating of Rodney King, police officials say they've been in touch with their counterparts in Missouri, where Gov. Jay Nixon and St. Louis-area law enforcement officials held a news conference this week on their own preparations.
"Naturally, we always pay attention," said Commander Andrew Smith, a police spokesman. "We saw what happened when there were protests over there and how oftentimes protests spill from one part of the country to another."
In Las Vegas, police joined pastors and other community leaders this week to call for restraint at a rally tentatively planned northwest of the casino strip when a decision comes.
Activists in Ferguson met Saturday to map out their protest plans. Meeting organizers encouraged group members to provide their names upon arrest as Darren Wilson or Michael Brown to make it more difficult for police to process them.
In a neighboring town, Berkeley, officials this week passed out fliers urging residents to be prepared for unrest just as they would a major storm — with plenty of food, water and medicine in case they're unable to leave home for several days.
In Boston, a group called Black Lives Matter, which has chapters in major cities, is organizing a rally in front of the police district office in the Roxbury neighborhood the day after the grand jury's decision.
In Albuquerque, N.M., police are expecting demonstrations after dealing with a string of angry protests following a March police shooting of a homeless camper and more than 40 police shootings since 2010.
Philadelphia police spokesman Lt. John Stanford said he anticipated his city will see demonstrations, regardless of what the grand jury returns.
But big-city police departments stressed they're well-equipped to handle crowds. Many saw large but mostly peaceful demonstrations following the 2013 not-guilty verdict in the case of Florida teen Trayvon Martin, who was shot and killed by neighborhood watch coordinator George Zimmerman. In New York, hundreds of protesters marched from Union Square north to Times Square, where a sit-in caused gridlock.
The New York Police Department, the largest in the nation, is "trained to move swiftly and handle events as they come up," spokesman Stephen Davis said.
In Boston, McCarthy said the city's 2,200 sworn police officers have dealt with the range of public actions, from sports fans spontaneously streaming into the streets following championship victories to protest movements like Occupy.
"The good thing is that our relationships here with the community are much better than they are around the world," he said. "People look to us as a model. Boston is not Ferguson."
The Associated Press contributed to this report.