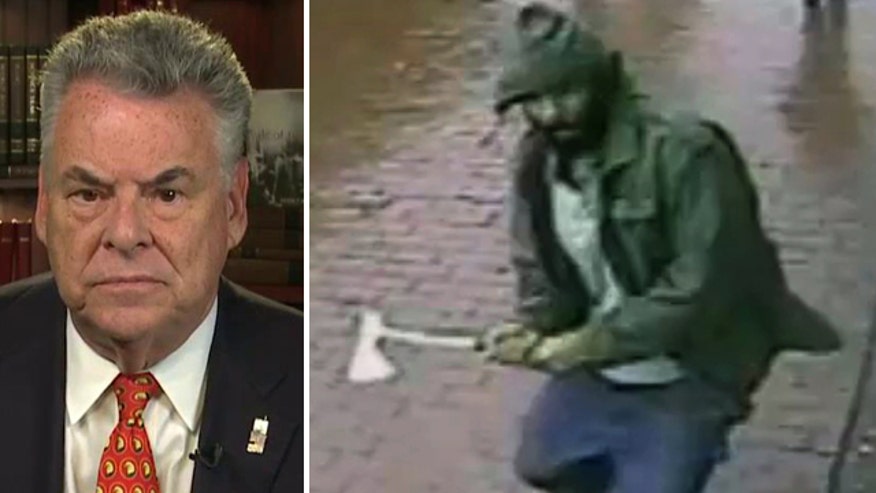 NYPD detectives are still trying to determine Friday why a man attacked a group of police officers with a hatchet — and have not ruled out that Islamic extremism played a role.
Officers shot and killed a man identified as Zale Thompson, 32, of Queens, who fractured the skull of Officer Kenneth Healey, 25, at about 2 p.m. Thursday in the Jamaica section of Queens. Videotape and witness accounts apparently showed Thompson intentionally targeting four rookie officers. Thompson was seen minutes before the attack pulling a hatchet from his backpack and then began attacking the officers, slicing a second cop on the arm before he was fatally shot, the New York Post reports.
"There's nothing we know at this time that would indicate that [Islamic terrorism] is the case," NYPD Commissioner William Bratton told reporters during a press conference at Jamaica Hospital. "That's what the investigation will attempt to determine."
Healey remains in critical but stable condition, police said Friday. A 29-year-old woman walking nearby was struck in the back by a stray police bullet and remains in stable condition, police sources told the Post. The second injured cop, Officer Joseph Meeker, is in stable condition.
Police have obtained a warrant to search Thompson's computer for clues about the attack. His recent online activity indicates he was a convert to Islam and ranting about injustices in American society.
Thompson, whose Facebook page includes a passage from the Koran and a photograph of a masked militant, is being investigated for possible terrorist connections.
"There are suspected terror ties," one source told the newspaper.
Thompson, who served in the Navy from February 2001 to August 2003, allegedly called for a revolution on American soil on his Facebook page, but the messages were no longer visible early Friday.
"America's military is strong abroad, but they have never faced an internal mass revolt," Thompson posted on the social media site. "They are weaker at home. We are scattered and decentralized, we can use this as an advantage. They are centralized and strong, which can be exploited as a weakness. Think of a swarm of bees (negroes) that surround and attack an elephant (America) to death."
The suspect also called for guerilla warfare.
"Helicopters, big military will be useless on their own soil," another post read. "They will not be able to defeat our people if we use guerilla warfare. Attack their weak flanks ... If you get wounded who cares. If you die who cares. Eventually they will surrender and then the war will be over."
Thompson was a "very educated" proponent of "black power" and a graduate of the College of New Rochelle in Harlem, one classmate who asked not to be identified told the Post.
"He always spoke positively," the source said.
But former neighbors at Thompson's Brooklyn address said he had become "weird" and argumentative in recent months before moving to Jamaica earlier this year.
While in the Navy, Thompson served as a builder constructor and was assigned to units based in Port Hueneme, Calif. He was awarded several citations, including the National Defense Service Ribbon and the Sea Service Deployment Ribbon, Navy officials confirmed Friday.
Sources told the Post that Thompson held the hatchet in two hands — like a baseball bat — and swung three times. The first swing broke the cop's arm, while the second was a miss. The third struck Healey in the back of the head, sources said.
"The cops yelled, 'Drop it!'" witness Larry Bethune told the newspaper. "He raised his arm up high and brought it straight down on the cop's head."
Another witness recalled seeing the young officer's horrific head injury as Thompson was apprehended.
"He looked like he couldn't move, and blood was gushing out of his head," Kelli Reddica said. "Blood just drenched the side of his face."
Fox News' Rick Leventhal, Justin Fishel and The Associated Press contributed to this report