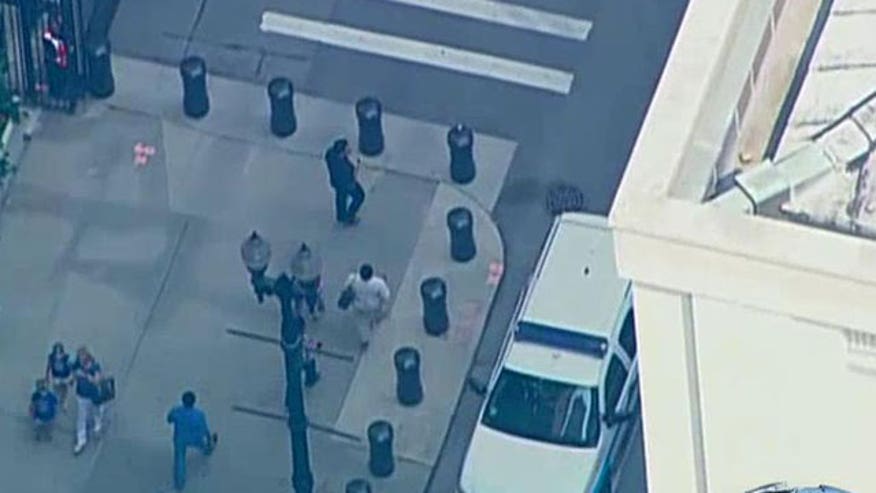 The Chicago CEO shot and critically wounded Thursday by a demoted executive remains in critical condition Friday after suffering a gunshot to the head and stomach, MyFoxChicago.com reported.
Steven LaVoie, 54, the CEO of the technology company ArrowStream, is hospitalized in Northwestern Memorial Hospital after a worker pulled a gun out during a private meeting he requested with LaVoie inside the downtown Chicago building.
Chicago Police Superintendent Garry McCarthy said the gunman then fatally shot himself.
"Apparently he was despondent over the fact that he got demoted," McCarthy said, adding that the alleged shooter was among "a number of people" being demoted as the company downsized.
The alleged gunman was later identified by the Cook County Medical Examiner's office as 60-year-old Anthony DeFrances.
A man by the same name is listed as an executive on the website for ArrowStream, a supply-chain management technology company whose address is on the 17th floor of Bank of America building, where the shootings occurred.
According to ArrowStream's website, LaVoie founded the company in 2000, and DeFrances joined the next year and was currently its chief technology officer. Both men are listed as married with three children.
Police were called just before 10 a.m. to the building, which is a few blocks from the Willis Tower, the country's second-tallest skyscraper, and a block from the Chicago Board of Trade.
Officers cordoned off the immediate area outside, and SWAT team members and other officers rushed inside. They found two men on the floor, both of them shot, according to police.
Workers elsewhere in the building said they received warnings from building security over the intercom and in emails around 10 a.m. telling them there was a security situation in the lobby and to stay at their desks.
"It was a tense atmosphere, everybody was walking around, you wanted more details but they wouldn't give us much," said Stefano Freddo, who works on the building's 10th floor.
He said someone came over the intercom a few minutes later to tell them it was safe to leave their offices.
Freddo, 32, said security officers are stationed in the building, and that workers need a badge showing they work there to gain access to the elevators in the lobby. But he said there are no metal detectors in the building.
"Maybe we should have those," he said.
Click for more from MyFoxChicago.com
The Associated Press contributed to this report