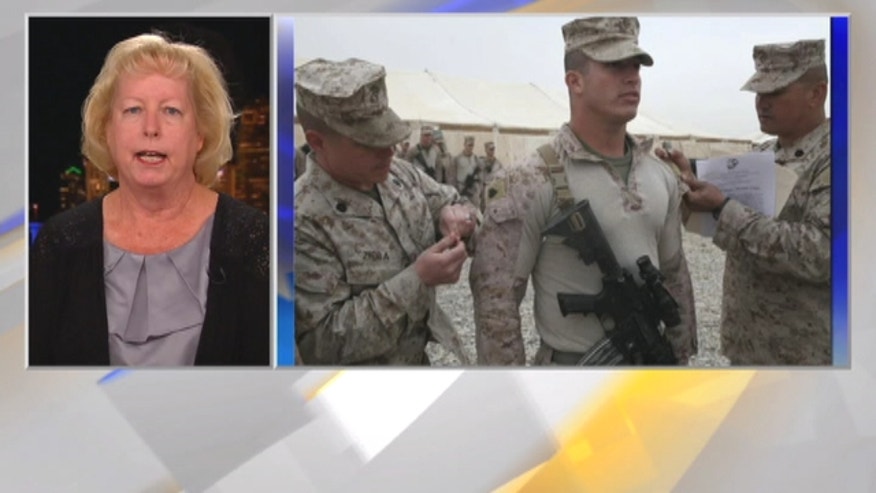 The new lawyer for Andrew Tahmooressi, the U.S. Marine held in Mexico for more than two months after mistakenly crossing the border with registered guns, is planning a new legal strategy to win the sergeant's freedom.
Tijuana-based attorney Lamberto Jesus Esquer Dabdoub will be looking at the prolonged amount of time Tahmooressi was held at the border in the custody of the Mexican military March 31 in what Tahmooressi felt was a failed shakedown.
[pullquote]
"Andrew felt something was fishy when the military showed up and wanted to arrest him after the customs officials were willing to accompany him back to the U.S.," said his mother,Jill Tahmooressi, who plans to travel to Tijuana next week for a news conference with Esquer. "Andrew told me he felt there was an implied expectation of a bribe of some sort by the military but nothing was ever directly requested. He was very uncomfortable with their demeanor."
The Tahmooressis fired Andrew's previous attorney amid claims he told the Marine to lie about past travels across the border. The legal shakeup has thrown the already-vague timetable for his case into limbo. But when the case gets back on the docket in Tijuana, Esquer plans to focus on the seven-hour period Tahmooressi spent in custody but without charges at the border between San Ysidro, Calif. and Tijuana.
Jill Tahmooressi, of Weston, Fla., said speculation that a wire transfer was requested by the military was untrue. But Esquer believes it was improper for Tahmooressi to be held at the border for so long without charges.
Extortion in these cases is not unusual. When another former Marine, Jon Hammar, wound up in a Tamualipas prison last year in a similar case, his family allegedly received a threatening extortion call from inside the prison.
"Thank God we haven't experienced that," Jill Tahmooressi said.
But the Tahmooressis and their attorney believe there was an unarticulated motive for him being held at the border for so long before being transferred to the notorious La Mesa prison, where he immediately faced threats of rape and death.
"He was detained at the border around 11 p.m. on March 31, and wasn't booked into the prison until 6:30 a.m.," Jill Tahmooressi said. "It was when the military showed up at the scene that everything went south."
Jill Tahmooressi said that her son's pickup truck was impounded and the cost of recovering it will be at least $6,000. His personal belongings, excluding the three weapons which are being held as evidence, were released to a female friend Andrew has in Tijuana at his arraignment, including a laptop computer.
The two court proceedings that were scheduled for June 4 and 5 have been cancelled after the Tahmooressis fired their initial attorney, Alejandro Osuna, who suggested Andrew tell the judge he had never been to Mexico, which was untrue. A May 28 hearing at which two Mexican soldiers, two customs agents and Tahmooressi were to make statements will be rescheduled.
"I had him (Esquer) vetted by the legal departments of three different corporations who do business in Mexico," Jill Tahmooressi said.
FoxNews.com was unable to contact Esquer. He is listed as graduating from the Universidad Autonoma De Baja California in 2008. He is not listed on the U.S. State Department's list of recommended attorneys.
Evidence that was originally to be presented at the June 4 hearing pertained to a review of the 911 tape where Tahmooressi, after realizing he erroneously drove across the border between San Ysidro, Calif. and Tijuana, with three legally purchased weapons, asked for helping going back to the U.S.
The following day's hearing was a field trip for the defense, prosecution, and a court-appointed officer, since it was unlikely the judge would have attended, to actually go to the port of entry to examine the veracity of Tahmooressi's story of how chaotic and easy it is to accidentally cross into Mexico.
The concerns over how poorly lit and confusing the freeway at the border is being addressed by local California state officials.
Jill Tahmooressi said her new legal team is gathering evidence and getting up to speed with the case after firing Osuna
"The new legal team is putting Andrew's defense together, which will prove his innocence," she said.
She said a press conference is scheduled for June 12, in Esquer's Tijuana office.
"I am talking to a security expert to accompany me," she said.
Despite lackadaisical responses from the U.S State Department and Department of Defense in securing the Afghanistan war hero's release, Jill Tahmooressi feels her son will be vindicated.
An expert in the Mexican legal system believes the system will likely run its course.
"The initial statements will be submitted and the judge will schedule another hearing to present evidence," said Octavio Rodriguez, Justice in Mexico project coordinator at the University of San Diego. "If the judge has already accepted the case then I don't see that it will be dismissed for lack of evidence. My assumption is that the case will continue until a final decision is made."