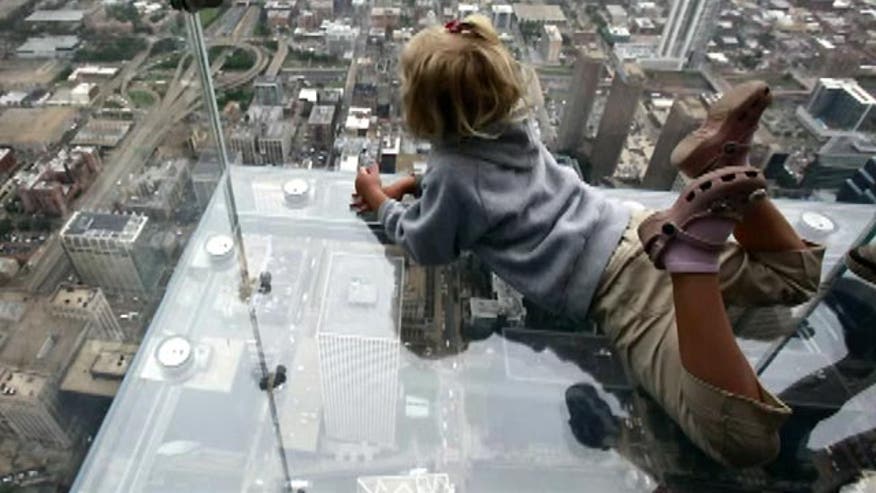 The observation decks on the 103rd floor of the Willis Tower in Chicago that appeared to crack beneath a family reopened Friday after it was inspected and fixed by the building.
Bill Utter, a building spokesman, told MyFoxChicago.com that the cracks reported Wednesday night were actually on a scratch-resistant coating of the glass structure, and never jeopardized the structural integrity of the box.
"The public was never at risk," Buildings Commissioner Felicia Davis told the station. "The integrity of the structure was never compromised. There is this additional layer on top that is intended to take the scrapes and scratches from routine use by the public. That coating on the glass cracked."
The issue surfaced after relatives visiting from California reported hearing the glass floor begin to crack.
Alejandro Garibay, who was visiting the tower with his family, said: "When I put my hand down to push myself and stand up, I hear it and I feel the glass just crack. I felt on my palm all these little pieces of glass."
After alerting an observation deck worker, the family took out their cellphones to take pictures of the cracks.
"I remember heavily breathing, then I hugged my cousin Tony like, 'Oh my God, we're alive," said David Cazares.
The tower features four glass enclosures collectively called The Ledge, which opened in 2009 and give tourists the feeling of standing suspended in midair 1,353 feet above the ground and 4 feet away from the building. They're actually more like boxes than balconies, with transparent walls, floor and ceiling.
Visitors are treated to unobstructed views of Chicago from the building's west side and a heart-stopping vista of the street and Chicago River below — for those brave enough to look straight down.
Click for more from MyFoxChicago.com.
The Associated Press contributed to this report.